Archive for the 'Protest' Category
Are we running out of time?  For the last several years, we have been living in a false bubble of hope that has been fueled by massive amounts of debt and bailout money.  This illusion of economic stability has convinced most people that the great economic crisis of 2008 was just an "aberration" and that now things are back to normal.  Unfortunately, that is not the case at all.  The truth is that the financial crash of 2008 was just the first wave of our economic troubles.  We have not even come close to recovering from that wave, and the next wave of the economic collapse is rapidly approaching.  Our economy is like a giant sand castle that has been built on a foundation of debt and toilet paper currency.  As each wave of the crisis hits us, the solutions that our leaders will present to us will involve even more debt and even more money printing.  And each time, those "solutions" will only make our problems even worse.  Right now, events are unfolding in Europe and in the United States that are pushing us toward the next major crisis moment.  I sincerely hope that we have some more time before the next crisis overwhelms us, but as you will see, time is rapidly running out.
The following are 12 things that just happened that show the next wave of the economic collapse is almost here…
#1 According to TrimTab's CEO Charles Biderman, corporate insider purchases of stock have hit an all-time low, and the ratio of corporate insider selling to corporate insider buying has now reached an astounding50 to 1….
While retail is being told to buy-buy-buy, Biderman exclaims that "insiders at U.S. companies have bought the least amount of shares in any one month," and that the ratio of insider selling to buying is now 50-to-1 – a monthly record.
#2 On Friday we learned that personal income in the United States experienced its largest one month decline in 20 years…
Personal income decreased by $505.5 billion in January, or 3.6%, compared to December (on a seasonally adjusted and annualized basis). That's the most dramatic decline since January 1993, according to the Commerce Department.
#3 In a stunning move, Michigan Governor Rick Snyder says that he will appoint an emergency financial manager to take care of Detroit's financial affairs…
Snyder, 54, took a step he avoided a year ago, empowering an emergency financial manager who can sweep aside union contracts, sell municipal assets, restructure services and reorder finances. He announced the move yesterday at a public meeting in Detroit.
If this does not work, Detroit will almost certainly have to declare bankruptcy.  If that happens, it will be the largest municipal bankruptcy in U.S. history.
#4 On Friday it was announced that the unemployment rate in Italy had risen to 11.7 percent.  That was a huge jump from 11.3 percent the previous month, and Italy now has the highest unemployment rate that it has experienced in 21 years.
#5 The youth unemployment rate in Italy has risen to a new all-time record high of 38.7 percent.
#6 On Friday it was announced that the unemployment rate in the eurozone as a whole had just hit a brand new record high of 11.9 percent.
#7 On Friday it was announced that the unemployment rate in Greece has now reached 27 percent, and it is being projected that it will reach30 percent by the end of the year.
#8 The youth unemployment rate in Greece is now an almost unbelievable 59.4 percent.
#9 On Saturday, hundreds of thousands of protesters filled the streets of Lisbon and other Portuguese cities to protest the austerity measures that are being imposed upon them.  It was reportedly the largest protest in the history of Portugal.
#10 According to Goldman Sachs, bank deposits declined all over Europe during the month of January.
#11 Over the weekend, the deputy governor of China's central bank declared that China is prepared for a "currency war"…
A top Chinese banker said Beijing is "fully prepared" for a currency war as he urged the world to abide by a consensus reached by the G20 to avert confrontation, state media reported on Saturday.

Yi Gang, deputy governor of China's central bank, issued the call after G20 finance ministers last month moved to calm fears of a looming war on the currency markets at a meeting in Moscow.

Those fears have largely been fuelled by the recent steep decline in the Japanese yen, which critics have accused Tokyo of manipulating to give its manufacturers a competitive edge in key export markets over Asian rivals.
#12 Italy is an economic basket case at this point, and the political gridlock in Italy is certainly not helping matters.  Former comedian Beppe Grillo's party could potentially tip the balance of power one way or the other in Italy, and over the weekend he made some comments that are really shaking things up over in Europe.  For one thing, he is suggesting that Italy should hold a referendum on the euro…
"I am a strong advocate of Europe. I am in favor of an online referendum on the euro," Beppe Grillo told Bild am Sonntag.

Such a vote would not be legally binding in Italy, where referendums can only be used to repeal laws or parts of laws, but would carry political weight. Grillo has said in the past that membership of the euro should be up to the Italian people.
In addition, Grillo is also suggesting that Italy's debt has gotten so large that renegotiation is the only option…
In an interview with a German magazine published on Saturday, Mr Grillo said that "if conditions do not change" Italy "will want" to leave the euro and return to its former national currency.
The 64-year-old comic-turned-political activist also said Italy needs to renegotiate its €2 trillion debt.

At 127 per cent of gross domestic product (GDP), it is the highest in the euro zone after Greece.
"Right now we are being crushed, not by the euro, but by our debt. When the interest payments reach €100 billion a year, we're dead. There's no alternative," he told Focus, a weekly news magazine.

He said Italy was in such dire economic straits that "in six months, we will no longer be able to pay pensions and the wages of public employees."
And of course government debt has taken center stage in the United States as well.
The sequester cuts have now gone into effect, and they will definitely have an effect on the U.S. economy.  Of course that effect will not be nearly as dramatic as many Democrats are suggesting, but without a doubt those cuts will cause the U.S. economy to slow down a bit.
And of course the U.S. economy has already been showing plenty of signs of slowing down lately.  If you doubt this, please see my previous article entitled "Consumer Spending Drought: 16 Signs That The Middle Class Is Running Out Of Money".
So what comes next?
Well, everyone should keep watching Europe very closely, and it will also be important to keep an eye on Wall Street.  There are a whole bunch of indications that the stock market is at or near a peak.  For example, just check out what one prominent stock market analyst recently had to say…
"Every reliable technical tool is warning of major peaking action," said Walter Zimmerman, the senior technical analyst at United-ICAP. "This includes sentiment, momentum, classical chart patterns, and Elliott wave analysis.

"Most of the rally in the stock market since 2009 can be chalked up to the Federal Reserve's attempt to create a 'wealth effect' through higher stock market prices. This only exacerbates the downside risk. Why? The stock market no is longer a lead indicator for the economy. It is instead reflecting  Fed manipulation. Pushing the stock market higher while the real economy languishes has resulted in another bubble.

"The next leg down will not be a partial correction of the advance since the 2009 lows. It will be another major financial crisis. The worst is yet to come."
Sadly, most people will continue to deny that anything is wrong until it is far too late.
Many areas of Europe are already experiencing economic depression, and it is only a matter of time before the U.S. follows suit.
Time is running out, and I hope that you are getting ready.
So what do you think?
How much time do you believe that we have left before the next wave of the economic collapse strikes?
Please feel free to post a comment with your thoughts below…
Hilarity ensues.  (Click for larger image.)
A protester handed President Barack Obama a note while shaking hands along a rope line in New Hampshire today.  AP photographer Charlie Dharapak smartly zoomed in so you can read the note for yourself.
For those of you who like to know (myself included) the technical information on how Charlie shot the pictures, here it is. Both frames were made with a Canon 1D Mark IV with a 70-200mm zoom lens. The exposure was 1/250 @ f2.8 rated at 1600iso. The first image was shot at 70mm and the close up was shot at 160mm.
Source: Paid to See
Now we're talking.
I'm getting word (via Twitter) that the Oakland branch of "Occupy Wall Street" has finally done what I recommended as the only course of peaceful action that will matter:
They have called for a GENERAL STRIKE November 2nd.
Why will a General Strike work?
Simple: It attacks the government in a lawful, peaceful manner in the one way they cannot counteract: It cuts off their funding!
You can't tax what doesn't happen, basically.  This is the people's way to peacefully withdraw consent to being governed.
You buy nothing, you perform no work, you do nothing that is taxable.
The implicit threat is that you cut the legs out from under the government's ability to fund itself.  This is an entirely lawful action and I said in 2008 that this was the appropriate thing to be doing.
Well, here you have it.  One ex-Marine — a combat veteran — took a rubber round in the head.  He is in critical condition and may die.  That was not a mistake; that was aimed fire and an intentional assassination.  Sorry folks, that's facts – from 50′ you don't "miss" and hit someone in the head with these things if you're shooting for the legs or other non-vital parts.  He was shot in the head by someone who aimed for the head.  Those projectiles are not "non-lethal" and the bomb thrown by a cop at the people trying to come to his assistance after he fell wasn't tossed accidentally either.
So here's the deal folks: Do you have a pair of clankers or are you still sporting mouse-sized nerfs?
Yeah, I know, participating in a General Strike means personal sacrifice.  Heh, that's how it is when you make choices.  There are costs.  Nothing's free, including doing nothing.  Four years of constructive consent has not brought you continued prosperity.  It has not brought the economy out of the slump and employment has not returned.  It has done nothing for you, and everything for the scammers and fraudusters on Wall Street and in DC.
Four years into this and there's been no end to the fraud.  No admission of what happened and who was responsible.  No change.  No honesty.  No truth.  And no prosecutions of any materiality.  Yeah, I know, they are going after one former board member now.  That's nice. 
But Obama just announced that he intends to "refinance" a bunch of home mortgages (again) and the primary beneficiary of doing so will be not you but the banks as that program includes a waiver of any fraud claims against the original mortgage so it cannot be "put back" on the originator.
Yeah, the "benefits" here will be small for the banks, since the number of people who will qualify will be small and the damages on a fraudulent loan that is paying (which you must be in order to qualify) are zero.  But fraud is still a crime, and this will make ignoring the criminal side t ivial as well.
I've said that it's time to choose for the four years.  Well, now you have a group that has thrown down the gauntlet for you and provided a date: November 2nd.
Elephant-size or mouse-size — clankers or nerfs?
That's the question, and you will answer that question on November 2nd.
And incidentally, if there is no constructive response out of DC?
DECLARE NOVEMBER 25th-27th AS THE NEXT ONE.  AND YEAH – I'LL DO IT.  NO SPENDING OR WORK OF ANY SORT.  NOT ONE DAMN NICKEL.
**************************************************************************
To The Naysayers For November 2nd (And Nov. 25-27)
So you have a job and thus you won't risk anything to stop spending and participate in a General Strike.
Cool.  That's your choice, of course.
But let me ask this: If not now, when?
See, this fraud has been going on for 30 years.  But it has picked up to a fever pitch in the last four.  FedUpUSA and Tickerforum organized marches on Wall Street and in Washington DC in 2008 after the unlawful actions related to Bear Stearns and the rest of the financial system.  Pretty much nobody showed up.  Those who do deserve praise (and gratitude), but they were few in number.
Now "Occupy Wall Street" (in its various incantations) has thousands in the streets in peaceful protest and has called for a General Strike; a subject I raised in 2008 as well.
And again, people say "oh, no, I can't do that."
Ok.
But again: If not now, when?
Do you feel "better" that the DOW is up 300 points today?  You did in 2009 when Kanjorski made fraud on balance sheets a business model, right?  So let's tabulate the results of legislating fraud as a business model.
Did it get you a job?  Why no, it did not.
Did it make college more affordable by resolving the cost-push problem?  No, it made it worse.
Did it solve the medical cost problems that bankrupt millions?  No, it made it worse.
Did it solve the housing crisis?  No, it made it worse.
Ah, I get it.  It's not "bad enough" yet.
Well, here's the deal folks: This is a lawful and peaceful action.
Now the inconvenient question: What do you think is going to happen when, not if, the government funding model breaks down and the Federal Government is forced to curtail 60-75% of its spending overnight?  When the Social Security and Medicare stops?  When the food stamps…. stop?  When the military benefits…. stop?  Will the people's reaction to that be lawful and peaceful?
Better think that one over folks….. because virtually all of you aren't considering this at all, and those who naysay now are betting not only their future but that of their children that when it does get worse it will be "business as usual."
You may be right, but that's the wager you're taking, and I don't like the odds.
Before you say "oh that can't happen, especially not here" you might want to look at Greece, where it is, at Italy, where it will, and in Egypt, where it did, and everyone said it wouldn't happen in those three cases too.
And that's just in the last couple of years.
Something to think about.
Another "I see light" moment in print….
Like the Tea Party, OWS began as a loose collection of people who knew they were getting a raw economic deal — but were unsure as to precisely why. They both started with a surge of grassroots politics. Both tapped into the national zeitgeist, feeding on an unfocused economic angst. When the Tea Party first burst onto the national stage, I had high hopes they might address some of the persistent economic problems our two-party political system was ignoring. But the Tea Party tilted to the right, shifting from the economic to the partisan. Obamacare and taxes – neither of which were responsible for a laundry list of economic woes facing the nation – became their focus.

That move created a vacuum. Since then, we have been waiting for a group of angry Americans to fill the void. It did not look like OWS was going to be the ones to do so. Especially with the way the Media was either ignoring them, or portraying them as a group of slacker hippies, fringe dwellers and kooks.
Yep.  Barry continues..
Credit the Daily Show with changing all that. Jon Stewart's team surfaced a video of a senior NYPD officer pepper-spraying some young girls for no apparent reason. NYC may not be Libya, but that clip of abusive police behavior – and the young women collapsing in obvious agony – ramped up the mainstream coverage. What Rick Santelli's infamous rant on CNBC did for the Tea Party, the NYPD pepper spray video did for the Wall Street protesters.
I don't know if the Daily Show was the spark or not.  Certainly this much is without dispute: The people have had it with the two-faced "standard" for law enforcement.
There's nothing illegal about waving signs and protesting.  Oh sure, this is one of the mantras about the protests: They're "illegal".  Oh really?  I seem to remember a thing called The First Amendment, which the Tea Partiers love to wave when it suits them.
But the test for belief in the First Amendment (or any other fundamental liberty interest for that matter) is not whether it operates to serve you.  The fact of the matter is that nobody ever tries to censor unoffensive speech (to them) – it's always the offensive speech that people try to silence!
As such the point is simple: To believe in the First Amendment you must support the right of people to speak who piss you off!
There are those who argue that the OWS people "took over" the park they base at.  Wrong again.  That park is privately owned but the owner got that park property by offering consideration of permitting 24×7 use by the public. This was imposed upon them so they could have the right to own and develop other property.  So unlike a private residential or office building, there was a quid-pro-quo and they made their bargain at the time of acquisition.  Further, the recent claims of "sanitation" problems were false and the company backed down when it was pointed out that legal process would be initiated if they tried to evict the protesters.  That's called the rule of law.
Likewise, the sidewalks are public property.  You have a right to be there and to speak while standing upon them.  Again, the rule of law.
But when you start macing people for speech while at the same time the banksters just a block over have been literally ripping people off for a decade or more, you're going to piss off anyone who has an ounce of fairness in their body.  It is not "riot control" when the people demonstrating are not rioting!  It's pure jackbooted thuggery and in a less-polite society would be met with immediate (and justified) retributive violence.  Kudos to the protesters for withholding what that police officer deserved and by doing refusing to play their game of attempting to goad them into a violent confrontation so they could lie, point fingers and say "see, I told you they were dangerous!"
Barry goes on to recommend the following policy goals:
1. No more bailouts: Bring back real capitalism
2. End TBTF banks
3. Get Wall Street Money out of legislative process
I agree.  But as I pointed out this morning in my piece on student loans and other forms of abuse, the ending of bailouts and real capitalism means that the strictures that allow "some animals" to declare bankruptcy but not the common animal known as "the people" must end right now.
No, there should NOT be "loan forgiveness."  But access to the bankruptcy process and enforcement of that same punishment on the lender for making stupid loans must be both available and enforced.
THAT is the key item.  Enforcing that stricture above all others will immediately and automatically end TBTF.  Getting money out of legislation is tougher to do without destroying the people's ability to speak, and must be looked at carefully, not in a scattershot fashion.  For example, you could end all lobbying money tomorrow with a law, but doing so is dangeorus.
Let's say I run a business.  Joe and Jane are running for the House.  I believe Joe will cause me harm and Jane will help my company.  I call an all-employee meeting and say the following:
I know that you have a choice to make at the polls tomorrow, and being that we have a secret ballot in this country I can neither control nor would I try to control your vote.  But I will tell you what the consequences of you vote are likely to be.
If Joe is elected I expect the policies he promotes to cost this company $500,000 next year and every year beyond.  That cost will have to come from employee wages.  Since I cannot cut your wages by this amount, I will be forced to lay off 100 people should these legislative changes come to pass.
If Jane is elected, she has promised to do things that I believe will cause the company to earn an additional $500,000 every year.  If this comes to pass I would of course need to hire more people, but in addition I would expect to be able to offer everyone here a 10% raise.
Have a good day tomorrow and please remember to vote.
How do you stop that from happening?  You can't!
But if you "get all money out of politics" you just gave the businessowner (who has a nice captive audience) the ability to do this without the right of the people to form into a group and buy advertising to counteract this inevitable and expected effect.
Be careful what you wish for, in short.  I'm not saying that what we have now is good, but I am saying that many of the so-called "remedies" being bandied about will in fact do you more harm than they will help.
I was skeptical that the protests were serious.
I suspected they were yet another "demonstration" – the sort where people come, they wave signs, they complain, maybe even they riot a bit, and then they leave.
In 2008, in fact, on August 26th of that year, I said the following:
In short, once again, fraud.  Legal, but fraud nonetheless.  You, America, seem to think this is just great as your grocery and gas budgets get squeezed.

You must think its great for your budget and lifestyle to get reamed, since I've yet to see a groundswell of people in Washington DC protesting or our city streets swarming with people who refuse to leave and shut down commerce.
And I amplified the point with:
Let me know when y'all get mad enough to do something about all this nonsense….. (funny how during the Democratic Convention last night the buzz was all about the second round of sore loserman with Hillary delegates rather than the outright theft and fraud from the people that the party supposedly claims to be most-closely aligned with!)
I guess that time has arrived.
Even CNBC has been effectively forced to recognize that this is not just a bunch of Soros-funded hippies.  Oh sure, they're there; so is the SEIU, so are the other "usual suspects."  And why not – they're always "there" when there's a good flag to be waved and a movement to try to co-opt, exactly as was the Tea Party, exactly as was "9/12″, exactly as were the Tax Day protests (two of which I have spoken at locally.)
But then they went home.  The streets were empty, the signs and people gone.
This time it's different.
http://video.cnbc.com/gallery/?video=3000050634
This time support is coming from surprising places.  Like former corporate activist (and buyer of companies!) Asher Edelman.
Here's the problem for the "powers that be" who have been trying to ignore this movement: They erroneously believed, as did many others (myself included), that this would be like the Tea Party (which was de-fanged and turned into a fraudulent shell of what it began as) or the other "movements" such as the "protests" at G-20 meetings.  That is, people would show up, they'd wave signs, a few would commit random acts of violence and guarantee severe negative billing on the local TV and then they'd all go home and wash the tear gas out of their eyes.
But something different happened this time.
The people came.  They didn't throw molotov cocktails, sticks and bombs.  They did wave signs, but then they didn't go home.  They did what I said would have to be done – in 2008 – in order to make a difference: THEY STAYED.
There's been plenty of detractors spewing about the "Progressive Stack"; I have not witnessed it, and if it's true that actual discrimination is being practiced, then we have a problem, as the fact remains that representative government demands that justice be color and gender-blind.  If it's not, and the allegation is being made that it is not, then gentlemen, we have a problem – a serious problem.
But I won't throw bombs on this issue until I know.  And toward that end, this weekend I will be attending one of the local protests.  With a bullhorn.  With others.  With people in the political sphere.  I am going both to talk to those who want to listen (if there are such people) and to listen and observe myself, and will take pictures while there.
Yes, at the end of that day I will go home.  But some others may not.  In fact, many others may not.
Here's the thing: Even today, CNBC is still talking about "recapitalizing the banks."  What's "recapitalize" mean?  It means steal from you.  See, the reason you need to "recapitalize" these firms is that they pissed away their own capital by doing dangerous, risky, even fraudulent things.
The corporate media and politicians are still claiming that "we made a profit from TARP" and that "everything was repaid."
This is a bald lie.  AIG didn't repay their money.  Neither did GM.  Money was shuffled around in a complex shell game to appear that all was repaid but in fact what happened was that you, the taxpayer, were looted.
You were looted through higher prices at the gas pump, higher prices at the grocery store, lower wages and at the same time zero interest rates so those of you who were prudent got fucked THREE TIMES instead of twice!
Representative government?  Where?  By anywhere from 100:1 to 300:1 the people demanded that TARP NOT pass.  That the banks that did foolish and in some cases criminal things be forced to eat the consequences. 
Again, as I've said for four years: We need a banking system because we do indeed need a way to clear payments so you can pay a bill or buy gasoline and food – so commerce can flow.  We do not need these banks that committed these acts.
But rather than do the right thing, our politicians were bought and paid for on both sides of the aisle.  It's particularly telling – and galling – that when allegedly being "grilled" by Hank Paulson in 2008 the banksters left the meeting smiling and yucking it up.
First they fucked you, then the government paid them to fuck you again.
Now, finally, it appears that the people have awoken.  A day of ineffectual sign-waving isn't enough any more.  Oh sure, that's part of it, but the part the media is ignoring – for now – is what's happening after the "able to be ignored political rally" is over.
The people are organizing a Congress – a real one – in the public square.
They're passing around ideas.
They're debating.
They're arguing.
And then they're VOTING.
It's self-organized.  It's real.  And while the crooners in the mainstream media are trying to ignore what's actually happening, they're not stopping it – and in fact, they probably can't stop it at this point.
Washington  – and Wall Street – now have an issue.  One that may not be able to dispelled or dispersed any longer.  One that may have now taken root and grown beyond the ability of the various factions in our government to either ignore it or stomp it out.
The people have, for four years, demanded that the foundational principle of representative government be followed: One citizen, one vote.
They didn't get that.
There are many confused people at "Occupy Wall Street."  They know they were robbed, financially raped and serially abused by banksters and politicians, but they're not exactly sure how it happened.  I've written over 4,000 columns and a book – due out in a couple of weeks in hardback form – that details all of it, and Leverage details a path forward that I believe will address the problems on a permanent basis.
But that few of the OWS folks understand how it all happened doesn't mean they don't understand what happened.  After all, it's not difficult to figure out that your job got offshored to China and you're standing in the street after you are foreclosed upon.  You might not understand exactly why it is that your home went down in value by half or more, but you sure understand that you're broke.  You may not understand that you've been promised things like Medicare from politicians like Jeff Miller and Steve Southerland, along with Paul Ryan, Mitch McConnell and of course Harry Reid that there is no mathematical way for you to actually receive ten or twenty years hence, but you do understand that you're 50, unemployed, that nobody will hire you and while they won't say it (because it's illegal to "discriminate" on this basis) you have a stinking suspicion it's because the embedded cost of your medical insurance is $2,000 a month and the company you applied to can't afford it.  You may not understand exactly how you, the 20-something college graduate got ripped off to the tune of $100,000 by your "alma mater" for a worthless degree (proof of which is that you're unemployed) but you sure as hell do know that the debt collectors are harassing you on a daily basis!
And let's not kid ourselves – there were plenty of felonies committed here and both political parties are responsible for them, either as principals or accessories.  100,000 perjured affidavits in foreclosure cases?  That's all ok?  Appraisal fraud that was rampant for nearly a decade – blacklisting appraisers that were honest and refused to play along so the bubble could be further inflated?  That's ok too?  How about making loans that the lender knows can't be paid (a business decision) but then marketing them as good loans to others when selling them on (fraudulent misrepresentation) – is that ok?  How about intentionally arming Mexican drug gangs who then shoot both Mexican and American citizens with the apparent full knowledge of the US Attorney General? Is that ok?  How about letting a major bank have a pass on criminal prosecution for money laundering for those very same drug cartels?  For a more "home grown" example how about the Jefferson County Alabama residents that have seen their sewer bills go up by something like a factor of five over the last few years due to a corrupt project that was rife with graft and tricky financial deals – and while some of the politicians and others went to jail in Alabama, not one bankster who works for the major financial institutions that were involved in the scheme was even indicted, say much less imprisoned. Or, if you prefer, half a billion taxpayer dollars "invested" in a company that, it appears, the government knew was going to fail. There are dozens, even hundreds of other examples of rank corruption within our political system.
Since our bought and paid-for politicians won't lock up the fraudsters and do what has to be done to dismantle the looting of the American citizen they're being literally replaced wholesale.
Yes, right now this is "local government" with a small "l" and a small "g".  But make no mistake, this is representative government.  It is people hashing out what they want and how to obtain it from a process of debate and discussion.  Ideas are being circulated, argued, discussed and then voted upon.
That's government folks.  You're seeing it.
What comes next?
Well, that depends on whether the denizens in Washington DC pay attention and wake the hell up.  Whether they decide to STOP THE LOOTING AND START PROSECUTING.  Whether they stand and demand that the frauds and the schemes not only end but those responsible are held to account.  We tried it their way – "we must move on" – and the behavior didn't change.  The swilling banksters not only didn't go to jail, they didn't stop looting either.  They stand on their 30th floor balconies sipping champagne and jeer at the "hoi polloi" below who are being literally bled dry by their schemes and scams.
The fact of the matter is that the cabal of looters, including Bernanke who is stealing from Granny each and every day with his "zero interest  rates" in a puerile and outrageous attempt to prevent those who ripped her off with "home equity loans" and 30% interest on credit cards from having to face the music for their idiocy, still haven't repudiated their failed policies and faced the mathematics: What they're doing can't work; the victims of this vampiric attack have been sucked dry and have no more blood to "donate" by force!
There is only one question left to answer: How serious are these folks in the various cities?
If the people have truly awakened then the government had no option but to STOP THE LOOTING AND START PROSECUTING.  To deflate the odious and unpayable debt rather than try to build the pyramid higher.  To cease deficit spending.  To accept that the contraction that must come will come, but to refuse at the same time to protect those who did idiotic and even criminal things from the just deserts of their acts.
Yes, such a path forward will bring more economic pain in the short term.  But the bulk of that pain should fall on the over-levered individual (who will be forced into bankruptcy) and the fat-cat banksters who intentionally lent money they did not have and knew couldn't be paid as agreed, who will also go bankrupt and join the ranks of the destitute.
There are members of the "1%" who got there through honest industry.  But they're damn few in number.  Those who exploited offshore labor – kids and near-literal slaves, along with poisoning the air and water in China to make billions (e.g: all the "darling" companies people know and love) are not innocent capitalists.  They're rapacious bastards, just as guilty as are the predatory lenders bilking people on serial refinances and University Reagents who built ivory-tower bullshit predicated on outrageously-abusive "lending" peddling worthless "degrees."  Then there's the medical "industry" that rips you off for $20 for a dick pill in America while a Canadian – hardly a poor nation – can pop the same pill for $2.  It's all part of the same racket, and it's time to tear the away special privileges that have allowed these people to literally steal your future and that of the youth of this nation.
I suspect that this movement will not go away.  Indeed, should the power of the government be abused further to try to stamp it out with violence there is a very real risk of revolution.  This is the fear I've voiced before; history says that for every 1 George Washington you get 10 Hitlers or Pol Pots.  The odds suck should the people decide they're not going to stand for it, which is why in The Declaration the following appears:
Prudence, indeed, will dictate that Governments long established should not be changed for light and transient causes; and accordingly all experience hath shewn that mankind are more disposed to suffer, while evils are sufferable than to right themselves by abolishing the forms to which they are accustomed.
The Colonists more than 200 years ago knew the risks.  There were certainly many examples of attempts to form a more-perfect union that had failed in the past, resulting in totalitarian states.  Most of the Colonists came from one or another – they knew what bondage was!
No, I do not wish to see violence.  I do not wish to see Revolution.  I fear it, because I have read history, I have studied history, and I know the odds.  The odds suck ladies and gentlemen, but these odds are known to the Washington elite as well.
I therefore hope – indeed, pray – that instead we will see contemplation in our seats of political power.  That we will see the government do the right thing and respond to the will of the people, not the will of the looter.  The looters are not the people in the parks waving signs – they're the ones in the balconies.  They're infesting The Federal Reserve and indeed Congress as well.
There remains time for reform.  To level with the American people: You were made political promises that are mathematically impossible to keep.  The political machinery of this nation and indeed of other nations as well built edifices that ensconced and protected frauds, both legal and illegal.  These edifices must come down.  Those who did criminal things must be and will be punished, those who did stupid things must and will be exposed to the natural outcomes of foolish acts.
No, you cannot have the pension you were promised: Those who promised it to you lied.  8% compounded growth forever is impossible.
9% growth in medical costs cannot be sustained forever either.  Drug and device companies, along with the medical industry generally, lobbied furiously for special protections so they could literally loot the economy, more than doubling the share of economic activity they plundered from you.
The education industry is just as bad.  College costs have gone up some 500% over the last 30 years.  This too was driven by two fraudulent edifices: The claim that "everyone should go to college" along with "free" money lent to everyone to attend, even though those doing the lending knew damn well that a huge percentage could not pay and would not find employment.  We know this is true because these lenders lobbied for, and received, special protection to prevent students from going bankrupt and discharging their debt!
The housing industry lied as well.  10% growth projections in price trumpeted by many were a knowing lie.  That too is mathematically impossible on an indefinite forward basis; hell, even on a 30 year (duration of a mortgage) basis it's impossible.  The $150,000 house turns into a $2.4 million one if you believe those numbers.  Yet this is what you were "sold" and worse, the financiers enabled it by "selling" you money to chase that which they knew would blow up.  They just didn't know when it would.
We still hear people talking about "investing for the next 20 years" in companies that tout 5-year expected earnings growth of 20-25% annualized.  One such company, were this to prove up over 20 years, would have revenues of more than $2 trillion by that time.  Not billion, trillion   That clearly isn't going to happen, yet that same claim was made in the 1990s and virtually every one of those firms collapsed – they were ultimately a zero!
Removing the artificial supports that propped up these schemes, scams and frauds will cause the economy to go into freefall.  That's a fact.  But we can mitigate some of these harms, and we must.
We must stop believing in "globalization" where what it really means is offshoring labor to places with 1/30th of our labor cost as they employ children and near slaves, literally having to place nets around the buildings so the workers can't commit suicide.
We must stop allowing people to come into this county as "migrants" when in fact the reason businesses want them here is that they're undocumented, cheap to employ, cost-shift their education and health care to everyone else and are being literally abused as if slaves here in the United States.  No instead these people must leave – and those jobs must go to Americans.
We must recognize that the consequence of ramping inflationary impacts on assets -  including "home prices" – must be allowed to correct.  If you support widespread homeownership why is it that basically nobody actually owns a house?  You don't own something if the bank has the title nor do you own something that you must pay taxes on every week, month or year.  I own my computer; it's paid for and there is no continuing payment to government or a bank for it.  I do not own my house; while I have no mortgage to a bank I sure have one to my local county, don't I?  We must stop lying to the people about what is really going on, have the debate on what we want, and how we're going to pay for it.
In short the schemes, scams and frauds have to end.  I recognize that there is short-term pain involved in doing this but it doesn't matter – it has to happen and it will.  Our only option lies in choosing to do it on our terms rather than through societal and political collapse.  For those interested in justice not only will ending the scams mean prosecution for those who deserve it, it will mean bankruptcy for many of those "Fat cats" who really aren't rich – they're living large on the same leverage that the common people were during the housing bubble years, and when it collapses they will be rendered broke as well.
We can either face facts in this nation or the nascent beginning of a potential replacement of our current government will grow, as will the risks.  History says that the people are usually ignored by the looters right up until a substantial fraction have lost everything and therefore have nothing to lose.  When that group become of sufficient size and decide to organize, the game's over and the outcome is usually very undesirable.
Do not hope or pray for revolution my friends.  Down that road lies terrible risk and poor odds.  Instead, pray for wisdom and change by our elected and appointed officials, that they choose the path of sanity rather than compounding insanity.
The time to do the right thing is running out.
FedUpUSA NOTE:
Some of these photographs above were sent to me in order to 'show me the errors of my ways' for supporting OWS.  The partisanly-blinded  commentary that was below each picture, I did not include.  Photos can be made to depict what is in the eye of the beholder and are not always representative of the intent behind those photographed.  It is all in how you look at what they are saying.  Put into context with this piece of well-researched and factually based information, the photos are no more nefarious than any taken at any Tea Party (

before

it was overrun with partisanship and became a tool of the establishment GOP).  These were precisely the signs that FedUpUSA was holding, standing in front of the Bear Stearns building after it was handed to JPMorgan using taxpayer dollars to protect the PRIVATE corporations from their massive losses.
Same location; same message:  STOP THE LOOTING & START PROSECUTING!
The protest that started nearly a month ago in the Battery now has a name – Occupy Wall Street — and we're sorry we didn't think of it first, since the catchy title – "Occupy (fill-in-the-location)" — seems destined to go viral worldwide. We're not sure whether the demonstrators' demands will eventually skew right or left politically, or perhaps in neither direction, but Mr. Obama and Rep. Pelosi have not wasted any time getting the jump on the Tea Party and GOP frontrunner-by-default Mitt Romney by presenting the demonstrators with verbal fruit baskets and bouquets – everything but the key to the city, which as of this writing was still in the safekeeping of Mayor Bloomberg.  
To her credit, Ms. Pelosi zeroed in an actual reason for the demonstrations, even if the protestors themselves haven't quite figured it out. It's about jobs, she told ABC News in an interview — and that is undoubtedly on many of the protestors' minds. But it seems predictable that the movement will come to be "about" many more things as the months roll by. What is not so predictable is who will assume leadership, or perhaps try to co-opt the movement from outside, as it spreads to every city, town and village in the Western world. But if protests should turn violent – a possibility that we'd rate an even-odds bet at this point, it'll be interesting to see whether the Establishment that has rushed to embrace the demonstrators will start cracking heads.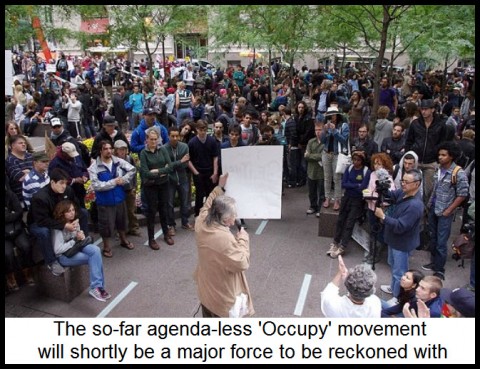 Whatever happens, the protestors have nearly a year to build up steam ahead of the national political conventions.  Charlotte, North Carolina, will play host to the Democrats in early September, and although the event, with 35,000 delegates reportedly planning to attend, is expected to generate $150 million in business for the city, Charlotte may come to regret having been selected over finalists Cleveland, Minneapolis and St. Louis. For, much as Arlo Guthrie, Country Joe McDonald, Santana and the Grateful Dead were big draws at Woodstock, Charlotte boasts a superstar protest-magnet of its own – Bank of America — that could conceivably attract more activists than the convention attracts delegates.  You can bet the whole world will be watching – and one can only hope that the demonstrators by then have Woodstock in mind as a behavioral template rather than Chicago, circa August 1968. Republicans are set to convene in Tampa, Florida a week earlier, but we suspect that the extra miles between Northeast population centers and southwest Florida, not to mention the sweltering mid-summer heat, will inhibit the crowds. It's possible, however, that if a huge throng shows up in Tampa nonetheless, that the city's unique'y pleasurable waterfront scene will help keep demonstrators from growing surly.
 Time for Honest Capitalism?
 But even if the mobs are peaceful, they're not going to be easily satisfied with hollow political promises to create more jobs.  The best way to do that is of course to provide tax incentives for small businesses to expand. However, it's hard to imagine that this will be on their agenda. Or will it?  The possibility exists, but only if those who assume leadership of the "Occupy" movement understand that, unlike the big banks, not all businesses are parasitic and in bed with the ringleaders of our incurably corrupt political system. Perhaps those rooting for a revival of honest capitalism should take as a hopeful sign the moment of silence observed for Steve Jobs last week by Wall Street protestors.
 Rick Akerman for ZeroHedge
***
(If you'd like to have Rick's Picks commentary delivered free each day to your e-mail box, click here.)