Archive for the 'quantitative easing' Category
The costs of maintaining a sclerotic, cartel-state Status Quo infected with incurable diminishing returns eventually exceed the carrying capacity of the real economy and the Status Quo collapses in a heap.
On the surface, the Status Quo appears stable, if not quite healthy. This stability is illusory, however, for the Status Quo has a fatal disease: diminishing return.
The basic idea of diminishing return is closely related to marginal utility and marginal return: the more capital, energy and labor committed to a project, the lower the return/yield/output.
Diminishing return works in two ways:
1. Output (yield) remains stable, but it requires an ever-increasing input of capital, energy and labor to maintain that output.
2. Input remains stable but output (yield) constantly declines.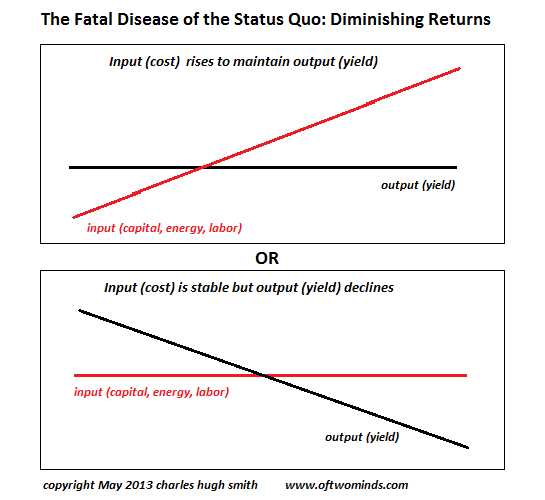 To survive, the Status Quo must maintain the same output: the stock market must be held aloft at current levels, entitlements must be paid, the National Security State must either expand or maintain its current global reach, and so on.
What's hidden from view is the rising input costs to maintain this illusion of stability. Consider the Federal Reserve's campaign to elevate the housing and stock markets. First the Fed need only threaten to buy mortgages and Treasury bonds to trigger a market rally. But soon this is not enough to keep the market aloft, so the Fed unleashes a campaign of quantitative easing (QE1) with an eventual end date.
This pushes the market higher, but once the artificial stimulus ends, the market feels gravity once again and rolls over. To maintain the necessary output–a rising stock market–the Fed must increase each dose of QE.
But the return on this ever-increasing input diminishes. Like an organism fed a stimulant, markets habituate to the artificial stimulus and quickly become dependent on ever-increasing doses to maintain the output (i.e. the "high").
In 2012, the Fed announced essentially unlimited QE to infinity. There can no longer be any hint of an end to the quantitative easing, or the output (the market) will fall off a cliff.
That's the problem with diminishing return: eventually the input is so costly the system implodes. The Fed has already injected the patient (the economy) with massive doses of financial crystal meth to maintain the stock market's "high." Unfortunately for the Fed, the market demands a bigger dose to keep the high going, but the larger dose will prove fatal.
Illustrating the other mechanism of diminishing return is the Higher Education Cartel, one of the monopolistic rentier arrangements that dominate our economy (banks, the mortgage industry, national security, healthcare/sickcare, etc.).
Even as the cost of attending college have skyrocketed by 600% (adjusted for inflation), the output–the value of that education–has declined. A recent major study, Academically Adrift: Limited Learning on College Campuses, concluded that "American higher education is characterized by limited or no learning for a large proportion of students."
'Academically Adrift': The News Gets Worse and Worse (The Chronicle of Higher Education)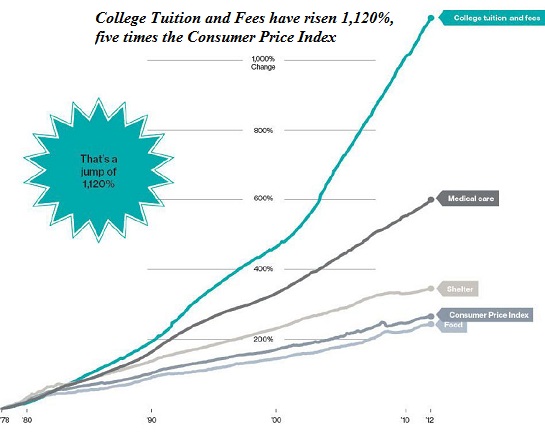 Meanwhile, student loans exceed $1 trillion, only 37% of freshmen at four-year colleges graduate in four years (58% finally graduate in six years), and 53% of recent college graduates under the age of 25 are unemployed or doing work they could have done without going to college–retail clerks, waiting tables, etc.
The Educrat Industry blames the economy for its own abysmal failure to actually provide a measurable yield on the immense sums spent on higher education, of course, but the reality is that higher education fails to prepare students for work in the real economy.
What higher education excels at is maintaining an ever-increasing input of cash while its output/yield declines. the same is true of all the other fiefdoms and rentier arrangements that dominate our economy.
The input needed to keep the Status Quo stable must be taken from other potentially more productive investments. Taxes notch higher as the state scoops ever greater sums into its maw to fund its failing fiefdoms and diminishing-return cartels, and it borrows trillions of dollars to fill the gap between tax revenues and ever-rising input costs.
All that borrowed money has a cost, too, of course–interest. The costs of maintaining a sclerotic, cartel-state Status Quo infected with incurable diminishing returns eventually exceed the carrying capacity of the real economy and the Status Quo collapses in a heap.
Charles Hugh Smith – Of Two Minds
That doesn't square with soaring U.S. stock prices and company profits that have emboldened investors. Bond buying that pushed the Fed's balance sheet to a record $3.21 trillion and other unprecedented actions by Chairman Ben S. Bernanke "saved the world," David Blanchflower, a former Bank of England policy maker, said in response to Stockman's assertions.

"The reason that stocks have erased all their losses is entirely because of QE," said Blanchflower, who teaches at Dartmouth College in Hanover, New Hampshire, and served on the BOE's Monetary Policy Committee from 2006 to 2009. "To argue that that's independent of the actions of the Fed shows no understanding of what the Fed is doing and what they did."
He did eh?
QE destroys purchasing power both on a forward and present-terms basis.
Shooting up heroin may mask the fact that you're not performing any real work and make you feel really good, but the fact of the matter is that statistical facts are what they are.
Where is the saving, of the world or anywhere else?
More to the point: How does, in the intermediate and longer term, business continue to make "record corporate profits" except by impoverishing everyone when there is no return on saving and no actual job growth?
And if you impoverish everyone by forcing them into penury and at the same time you try and fail to restart the borrowing leverage machine what happens to asset prices when the market figures this out?
Oh sure, it may look like it's working for a while, but you're simply digging a bigger hole!  Rather than recognize the failures that already happened forcing more and more previous economic surplus into the current economy to maintain the illusion makes the economic destruction you must face worse.
This isn't a zero-sum game, it's a negative-sum game.  Crooning because stock prices are up is idiotic; what matters to the intermediate and long-run economic prosperity of the nation and her people as a whole is the ability of people to produce economic surplus which they can then choose to spend on things like retirement and education or they can invest it in new ventures, powering forward jobs and the common economic condition.
QE does exactly the opposite – it powers economic profligacy by government through making government deficits appear "sustainable" when in fact they are not while destroying both direct purchasing power and return on saving, forcing saved funds into the economy to cover current costs.  It therefore enables and causes the shifting of personal economic surplus to economic deficit and dependency while at the same time destroying the tax base that makes paying those handouts possible.
This is the best-telegraphed train wreck in the last 100 years and we're headed right for the gorge with a missing bridge!
You can argue politics but you can't argue the facts when it comes to arithmetic.
Math doesn't care what political party or persuasion you might follow.
A small note on the frankly hilarious news that the Dow Jones Industrial Average smashed through to all-time-highs.
First of all, while stock prices are soaring, household income and household confidence are slumping to all-time lows. Employment remains depressed, energy remains expensive, housing remains depressed, wages and salaries as a percentage of GDP keep falling, and the economy remains in a deleveraging cycle. Essentially, these are not the conditions for strong organic business growth, for a sustainable boom. We're going through a structural economic adjustment, and suffering the consequences of a huge 40-year debt-fuelled boom. While the fundamentals remain weak, it can only be expected that equity markets should remain weak. But that is patently not what has happened.
In fact, it has been engineered that way. Bernanke has been explicitly targeting equities, hoping to trigger a beneficent spiral that he calls "the wealth effect" — stock prices go up, people feel richer and spend, and the economy recovers. But with fundamentals still depressed, this boom cannot be sustained.
There are several popular memes doing the rounds to suggest, of course, that this time is different and that the boom times are here to stay, including the utterly hilarious notion that the Dow Jones is now a "safe haven". They are all variations on one theme — that Bernanke is supporting the recovery, and will do whatever it takes to continue to support it. Markets seem to be taking this as a sign that the recovery is real and here to stay. But this is obviously false, and it is this delusion that — as Hyman Minsky clearly explained last century — is so dangerous.
There are many events and eventualities under which throwing more money at the market will make no difference. Central banks cannot reverse a war, or a negative trade shock, or a negative production shock, or a negative energy shock simply by throwing money at it. And there are severe limits to their power to counteract financial contractions outside their jurisdiction (although in all fairness the Federal Reserve has expanded these limits in extending liquidity lines to foreign banks). Sooner or later the engineered recovery will be broken by an event outside the control of central bankers and politicians. In creating a false stability, the Federal Reserve has actually destabilised the economy, by distorting investors' perceptions.
But, of course, some analysts think that this time really is different. Here's a chart from Goldmanshowing the S&P500 by sectoral composition:
The implication here is clear — with no obvious sectoral bulge like that of the late 1970s, the tech bubble, and the financial bubble — there is no bubble. But what if the bubble is spread evenly over multiple sectors? After all, the Federal Reserve has been reinflating Wall Street in general rather than any one sector in particular.
Wall Street leverage is, unsurprisingly, approaching 2007 levels:
Is this the final blowout top? I'm not sure. But I would be shocked to see this bubble live beyond 2013, or 2014 at the latest. I don't know which straw will break the illusion. Middle eastern war? Hostility between China and Japan? North Korea? Chinese real estate and subprime meltdown? Student debt? Eurozone? Natural disasters? Who knows…
The wider implications may not be as bad as 2008. The debt bubble has already burst, and the deleveraging cycle has already begun. Total debt is slowly shrinking. It is plausible that we will only see a steep correction in stocks, rather than some kind of wider economic calamity. On the other hand, it is also plausible that this bursting bubble may herald a deeper, darker new phase of the depression.
With every day that the DJIA climbs to new all-time highs, more suckers will be drawn into the market. But it won't last. Insiders have already gone aggressively bearish. This time isn't different.
John Aziz – Azizonomics
When even Home Depot's Ken Langone is questioning the reality of this rally (CEO of one of the best performing stocks since the Dow last traded here), you have to be a little concerned. However, it is Duquesne's Stanley Druckenmiller's point that with QE4EVA it is impossible to know when this will end but warns that "all the lobsters are in the pot" now as he notes that "if you print enough money, everything is subsidized – bonds, stocks, real estate." He dismisses the notion of any sell-off in bonds for the same reason as the Fed is buying $85 bn per month (75-80% all off Treasury issuance). The Fed has cancelled all market signals (whether these are to Congress or market participants) and just as we did in the 1970s, we will find out about all the mal-investments sooner or later. "This is a big, big gamble," he notes, "manipulating the most important price in all of free markets," that ends one of only two ways, a mal-investment bust (as we saw in 2007-8) or full debt monetization and "off we go into inflation."
"The Fed is printing a lot of money. They are forcing people into markets. You shouldn't be buying securities because you're forced to buy them by zero rates. you should buy them because you think they're great value. They're great value only relative to zero interest rates. they're not great value on an absolute basis."
"I don't know when it's going to end, but my guess is, it's going to end very badly; and it's going to end very badly because, again, when you get the biggest price in the world, interest rates, being manipulated you get a misallocation of resources and this is going to end in one of two ways – with a malinvestment bust which we got in '07-'08 (we didn't get inflation). We got a malinvestment bust because of the bubble that was created in housing. Or it could end with just monetizing the debt and off we go in inflation. So that's a very binary outcome. they're both bad."
"the thought that you can exit from wherever the balance sheet will be at that time, 4 trillion, wherever it is, in an orderly manner the chairman testified that will give the market plenty of warning, do you know what guys like me are going to do when they sell the first bond out of 4 trillion? and don't think that letting the bonds run off isn't selling. that debt has to be refinanced. if you do not — if you just let all the bonds run off that is still 4 trillion in selling. and it's not till they actually sell the first one, it's till you get the whiff — what do you think –what do you think the markets are going to do when they figure out the exit. look what happened in qe-1 and qe-2 ended which is why i don't think this sever going to end."
"We know is that it's not a real market driven number? and we know the longer you keep it there, the greater the misallocation, and the greater the pain."
There was a very important exchange on CNBS just a few minutes ago in which the following was said (start at about the 5.00 mark if you don't want to watch the whole thing):
"No central bank has ever exited."
Bernanke, of course, has always claimed 
The Fed has the tools to exit when the time comes.
The unspoken question is "
when will the time come?
"
The answer, it would appear, is "Never."
And this is something to consider carefully, because markets have a habit of dislocating every four to five years from the bottom of the previous cycle.  Oh sure, there are exceptions, but this is the pattern.
Once a central bank "decides" to take extraordinary measures it has given up control to the crack addicts in the capital markets, most-specifically the banks that own it.  By taking those measures it has placed its thumb on the scale of financial intermediation and decreed that it "shall be easier to borrow than it should be" in a market economy.
This in turn spurs asset prices to go higher because uneconomic decisions become (temporarily) economic ones.  That sounds like a great idea if you're one of the people who can profit from it, but the premise is a false one, because there is no such thing as a free lunch.
Economies, in short, behave markedly similar to thermodynamic systems when you examine them closely.  This is one of the problems with so-called "classical" economists, along with the "New Age" folks.  The classical folks are similar to those who proclaimed that the Earth was flat because they couldn't see a curvature with their naked eye.  When it was pointed out that the entire premise of a horizon required that the earth be round, never mind the fact that a flat earth would eventually drain the contents of the oceans and thus result in everyone dying due to a lack of liquid water the people pointing that out were burned at the stake as heretics.
The "New Age" folks are those who posit that they have found a source of perpetual motion — "over unity" energy, in short.  But when challenged they are unable to explain where the energy came from.  We know, for example, that you can exchange matter and energy under equation E = Mc2 but this requires that you be able to show the loss of "M".  That's an experimentally-verifiable thing, but those arguing they have found "free energy" seem to lose their minds when you insist that they run their experiment controlling for the mass of reactants and product, and show you where the loss of mass occurred.
So when a Central Bank starts playing with the "price of money" through "extraordinary measures" it boxes itself into an inextricable corner.  The laws of thermodynamics state that one cannot obtain a free lunch nor can you break even; everything you do has an inevitable loss associated with it.
Economic pundits always seem to argue that this premise doesn't apply to "their" chosen endeavor.  They do so with the same sort of zealotry that a Priest will argue that God is omnipotent and exempt from the same physical laws.  The problem is that both are bald assertions bereft of proof.
In the case of the spiritual world proof is not required; you either believe in it or you don't, and that's that.  Indeed, the very premise of religion rests on that which you cannot prove; by definition belief in a "higher power" must reach beyond human comprehension.
But no such claim is acceptable in the fields of physics, chemistry or economics.  Economists continue to try to claim that compound functions (that is, exponential relationships) will not inevitably run away from one another, yet arithmetic, which is grounded in relationships that are constant says this is impossible, just as thermodynamics says you cannot obtain over-unity energy from any process.
The cheerleaders are out screaming that one should "buy buy buy" – but they have something to sell you.  Their interest is obvious; they cannot turn theirpaper profit into realized gain unless someone believes that the price will be higher tomorrow so they can sell.
The obvious conflict of interest is also ignored — why would you sell if you think the price will be higher tomorrow?  Yet this is the premise all of these people wish you to believe — that they are willing to sell to you foregoing a certain gain, which they are giving to you instead of keeping it for themselves.
That's as logical as believing that the world is flat.
More Fed Follies…. Paper
"The combination of a massively expanded central bank balance sheet and an unsustainable public debt trajectory is a mix that has the potential to substantially reduce the flexibility of monetary policy," the economists write. "This mix could induce a bias toward slower exit or easier policy, and be seen as the first step toward fiscal dominance. It could thereby be the cause of longer-term inflation expectations and raise the risk of inflation overall."
There is no flexibility and it is the direct and proximate consequence of Congress and The Adminstration ignoring the fundamental realities of arithmetic — specifically, the properties of exponents — that have led to this.
This is clearly a "CYA" paper from Mishkin and others — they know what's coming and are very, very interested in making sure they don't hang (at least politically) for it.
As for the conclusion:
"The bottom line is that no matter how strong the commitment of a central bank to an inflation target, fiscal dominance can override it," the authors of today's paper warned. "Without long-run fiscal sustainability, no central bank will be able to keep inflation low and stable."

…

"While fiscal dominance is not an immediate risk, there are important elements in the current makeup of U.S. fiscal and monetary policy that suggest increasing attention will be paid to this risk in the years ahead," the authors said.

Oh really?
Ok, prove it.
Stop all asset purchases right now and leave the market alone.
Let's see where rates go and what that does to Treasury's financing costs.
My assertion that they're trapped can be falsified.  They won't do it, because they know I'm right and was in 2007 and 2008, that they were wrong five years ago, and that their influence is no longer a matter of monetary policy, it is a matter of fiscal necessity — and cannot be reversed without Congress first shutting off all deficit spending and being willing to pay the interest coupon on the existing debt that already exists.
This means a roughly 50% cut in government spending (ex-interest), a doubling of current collected taxes (not rates; due to lawful avoidance you'd have to raise rates much more than by a factor of two!) or some combination of the two.
The only way we can stop what is rapidly becoming an inevitable fiscal crack-up coupled with or worse, initiated by the inability of the bottom two quintiles' ability to buy basic necessities is to put a stop to this crap right now.
Every day that this continues is another day that the exponential arithmetic compounds and the pain that has to be accepted to get out of the box becomes worse.
We're not far from the point where this debate will become academic and no amount of "reform" or "change" will matter at all. 
At that point loss of control by both The Fed and Government become inevitable.