Archive for the 'Reality' Category
If feedback from the real world is suppressed, then decisions will necessarily be bad.
You've probably heard this stock market truism: what everyone knows has no value. This has several components:
1. If you're basing your trading decisions on the same contexts and conclusions as everyone else, it's difficult to develop much of an edge.
2. Unless it's completely manipulated, the market generally doesn't reward "what everyone knows," i.e. the consensus, for long.
3. "What everyone knows" often includes trends and targets. For example, everyone now knows gold is in a bear market and the next technical target is $1,250 – $1,300. As a result, everyone's on one side of the boat: those recommending buying gold at $1,480 are few and far between.
Legendary traders like Jesse Livermore viewed the market as a mechanism for taking as much money from the consensus as possible: taking as few traders as possible along on bullish runs higher and punishing as many traders as possible on bearish declines.
This raises two questions:
1. What does everyone not know that might have value?
2. Is there some contrarian value in what everyone knows?
We all know the Federal Reserve is manipulating the stock market. It does so in two ways:
1. Financial repression: lowering the yield on "safe" assets such as Treasury bonds to negative rates (adjusted for inflation, you're paying the government to park your capital in its bonds), which drives capital into so-called risk assets that offer a yield, for example dividend-paying stocks and rental housing.
2. POMO and bulk purchases of futures contracts on the S&P 500 before the market opens. Studies have found that the majority of gains in the stock market occur on POMO (one of the Fed's quantitative easing programs) days and on days when large lots of E-Mini futures contracts are purchased, pushing the markets higher at the open.
Everyone knows markets in the U.S. and Japan are levitating higher as money is created and pushed (via currency devaluation and financial repression) into stocks.
What nobody knows is the eventual consequence of all this manipulation. Right now the consensus is "don't fight the Fed," meaning stay invested in stocks because they're going higher.
In less-manipulated markets, we would expect the consensus to eventually be punished, simply because the market rarely rewards the majority for long. But in central-planning manipulated markets, the feedback that is the foundation of open markets has been suppressed.
Feedback is another way of saying information from the real world is allowed to enter a transparent exchange. We know the exchange is no longer transparent, what with dark pools and high-frequency trading machines. We also know signals from the real economy are not the dominant market-moving forces.
What we know, but cannot say out loud lest the charade lose power, is that the Fed is manipulating the stock market higher because it has lost the ability to manipulate the real economy. Our political and financial Elites would prefer to extend their neofeudal dominance by expanding the traditional foundations of debt-based "prosperity": increasing household income so households can spend more and service more debt.
With household incomes for the bottom 90% in structural decline, they've failed, for reasons they either can't understand or dare not discuss.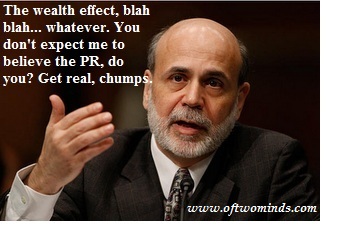 Their only control is the lever pushing stocks higher. Publicly, Fed chairman Bernanke has justified goosing the stock market and housing higher as the only available way to trigger the wealth effect, an inner state of consumerist bliss in which the owner of assets sees his assets gain in value. Feeling wealthier, he goes out and buys a bunch of junk he doesn't need with debt, boosting demand and bank profits.
As for the fact his real income is declining–sorry, Bucko, we can only boost your assets and herd you into risky bets and more debt. The 90% of you with no meaningful exposure to the stock market–well, don't you feel things are picking up when you see those "Dow hits new high" headlines? Of course you do; that's the propaganda value of goosing markets higher.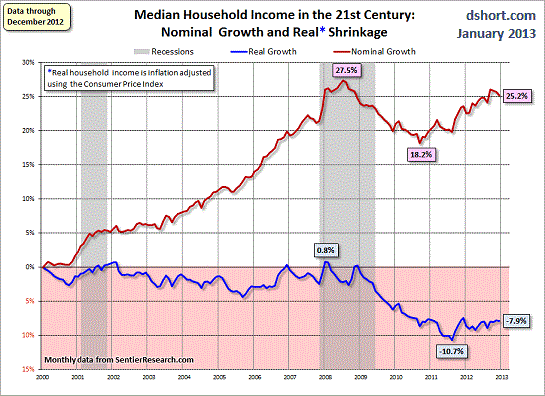 When the causal connection between risk and consequence has been severed, we call it moral hazard. When banks get to keep their gambling profits and taxpayers cover the banks' losses, this is moral hazard writ large.
In effect, the Fed is extending moral hazard to the entire stock and housing markets. What the Fed is implicitly promising is this: "Go ahead and sink your wealth and income into risky stocks and housing, because we have your back–we'll never let stocks or housing go down again."
Do we know if this campaign of extending moral hazard into every market is sustainable over the long term? No. It is an unprecedented experiment, just like the Krugman Cargo Cult Fantasy being played out by the authorities in Japan.
One thing to keep in mind is the size of the markets the Fed is manipulating. The Fed is injecting $85 billion a month into the stock market ($15 trillion) and the housing market ($17.6 trillion). It also manages the purchases of S&P 500 futures contracts via proxies, but these are in the billions of dollars, not hundreds of billions.
So the Fed is leveraging a relatively modest amount of money to manipulate and control very large markets. This is possible because the percentage of total assets that trade daily is small.
Should the herd that actually owns most of the stocks (mutual funds, pension funds, insurance companies, 401K management firms, etc.) get spooked and decide to book their profits, the Fed's $85 billion bazooka will be revealed as too small to stem the tide.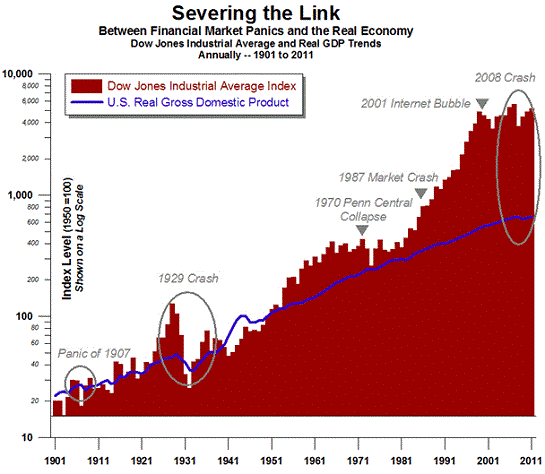 The keys to the Fed's success are trust and belief. These don't lend themselves to data and charting, though we can measure some aspects of trust/belief via sentiment indicators.
But the whole game really rests on participants' trust/belief that the Fed can continue pushing markets higher and that it will continue to do so.
The problem with cutting the links between risk and consequence and the real economy and the stock market is that a market deprived of feedback from reality is prone to disorderly disruption. Why is this so? Participants make decisions based on the information made available to them. If the information from the real world is suppressed or limited, then the decisions made by participants will necessarily be misinformed, i.e. wrong.
Moral hazard does not lead to positive outcomes. As I explained in my book Why Things Are Falling Apart and What We Can Do About It, this leads to making bigger and riskier bets at the casino, until a loss occurs that bankrupts the house.
What happens when a bet that can't lose does in fact lose? Trust is lost.
I see a lot of long-term charts where technical analysts extend past trends and cycles out 10 and 20 years. Many predict a new Bull Market in stocks starting in 2015 or maybe 2016 and running for 13 to 18 years.
It's easy to project the past onto the future, but what few observers seem to ask is: what happens to the belief system that supports the stock market when trust and credibility are undermined by central-planning manipulation that failed?
If feedback from the real world is suppressed, then decisions will necessarily be bad.
The only choice for participants who have lost faith in central planning's promise of permanently higher markets will be to abandon the manipulated markets entirely.
Charles Hugh Smith – Of Two Minds
How many people know that today is not the birthday of our nation in terms of the war of Independence, nor the day on which peace was achieved, free of British rule?
Rather, it was the day that a handful of brave men stood and affixed signatures to a document we call The Declaration of Independence.
I wish to quote it, in full, and annotate it in the context of the present day.
When in the Course of human events it becomes necessary for one people to dissolve the political bands which have connected them with another and to assume among the powers of the earth, the separate and equal station to which the Laws of Nature and of Nature's God entitle them, a decent respect to the opinions of mankind requires that they should declare the causes which impel them to the separation.
It is only fair to tell people why you are driven to tell the present government to "Go to Hell", and challenge them that should they refuse to let you be in peace, you will, if necessary, endeavor to send them to Hell before they do so to you.
We hold these truths to be self-evident, that all men are created equal, that they are endowed by their Creator with certain unalienable Rights, that among these are Life, Liberty and the pursuit of Happiness.
It was held that you are not entitled to happiness — only its pursuit.  That is, there is no guarantee of success in human endeavors.  Indeed, it is often the attempt that is as rewarding, or nearly so, as the achievement itself.
  — That to secure these rights, Governments are instituted among Men, deriving their just powers from the consent of the governed,
Government has no power that the people do not consent to.  Any such taking of power by government is illegitimate.
  — That whenever any Form of Government becomes destructive of these ends, it is the Right of the People to alter or to abolish it, and to institute new Government, laying its foundation on such principles and organizing its powers in such form, as to them shall seem most likely to effect their Safety and Happiness.
Should government take powers without consent of the governed the people have the right to rise and alter or abolish that government, through peaceful means if possible, but through force if necessary.
Prudence, indeed, will dictate that Governments long established should not be changed for light and transient causes; and accordingly all experience hath shewn that mankind are more disposed to suffer, while evils are sufferable than to right themselves by abolishing the forms to which they are accustomed.
Men and women are, for the most part, unwilling to commit to the most-serious of change and its potential consequence.  This is a good thing and aligns with the best outcomes for the people in the general sense.
But when a long train of abuses and usurpations, pursuing invariably the same Object evinces a design to reduce them under absolute Despotism, it is their right, it is their duty, to throw off such Government, and to provide new Guards for their future security.
It is not just the right of the people to rise and demand that government cease abusive practices, it is the duty of the people to do so.
 — Such has been the patient sufferance of these Colonies; and such is now the necessity which constrains them to alter their former Systems of Government. The history of the present King of Great Britain is a history of repeated injuries and usurpations, all having in direct object the establishment of an absolute Tyranny over these States. To prove this, let Facts be submitted to a candid world.

He has refused his Assent to Laws, the most wholesome and necessary for the public good.

He has forbidden his Governors to pass Laws of immediate and pressing importance, unless suspended in their operation till his Assent should be obtained; and when so suspended, he has utterly neglected to attend to them.
Gee, where have we seen this of late?  Barclays anyone?  Rigging LIBOR is just part of it.  Despite claims that "Nobody committed any crimes" (ala Gary Johnson and President Obama) the fact of the matter is that the government has jailed people for rigging the price of cardboard boxes!  Yet banksters have laundered money for drug cartels, ripped off each and every resident in an entire county (Jefferson County), committed hundreds of thousands of admitted counts of perjury with robosigned and otherwise defective affidavits and assignments knowingly presented to courts (which, incidentally, they're still doing in that they're presenting affidavits claiming that a particular entity owns a given mortgage while fully aware that they don't) and now, it turns out, they riggedthe largest interest-rate market base used in worldwide commerce, in concert and intentionally so as to skim off profits from their derivative contracts.
The common word for most of this, under any rational examination, is RACKETEERING.  RICO is a law that was put in place to bust gangsters who conspired among themselves and with others to rig various contracts and steal from people on a pretty-much continual basis.
But when banks do it nobody will jail them.
And incidentally, Barclays has suggested that The Fed knew the banks were rigging LIBOR and did nothing about it.  This means that under any reasonable interpretation of the law, if this is true then The Fed was complicit and therefore the institution and those within it should be held personally and corporately to criminal account.
Or how about GlaxoSmithKline, which was just fined $3 billion for a long-running scam in which it both promoted drugs off-label and failed to report safety data that put people at risk?
I note that $3 billion is less than 3% of GSK's market capitalization and under 7% of one year's revenue.  Despite pleading guilty to criminal charges not one individual has been charged or imprisoned and the firm can, and will, simply add the cost of the fines to the price of its products, forcing you, the patient, to pay for its criminal conduct.
He has refused to pass other Laws for the accommodation of large districts of people, unless those people would relinquish the right of Representation in the Legislature, a right inestimable to them and formidable to tyrants only.
You mean like Obamacare?
He has called together legislative bodies at places unusual, uncomfortable, and distant from the depository of their Public Records, for the sole purpose of fatiguing them into compliance with his measures.

He has dissolved Representative Houses repeatedly, for opposing with manly firmness his invasions on the rights of the people.
What need of a Representative House (or Senate, in this case) when you simply ignore the constitutional requirements thereof (specifically, to pass a budget)?
He has refused for a long time, after such dissolutions, to cause others to be elected, whereby the Legislative Powers, incapable of Annihilation, have returned to the People at large for their exercise; the State remaining in the mean time exposed to all the dangers of invasion from without, and convulsions within.
Ditto.  Oh, as for those invasions, what of the TSA's invasions of the people?
He has endeavoured to prevent the population of these States; for that purpose obstructing the Laws for Naturalization of Foreigners; refusing to pass others to encourage their migrations hither, and raising the conditions of new Appropriations of Lands.
Who needs to be naturalized?  In the US you need only steal your way into America and under Obama you can then steal from everyone else — forever!  Oh, and lest you think this is just a Democrat problem, you're wrong.  The Republicans won't put a stop to this crap either, and neither will Gary Johnson, allegedly-Libertarian, who thinks it's just fine that 20 million people began their life in the United States by committing a criminal act as their very first act upon entry to the country!
What a nice standard we set for expected behavior (and we then are surprised when thuggery becomes, for many, a way of life?)
He has obstructed the Administration of Justice by refusing his Assent to Laws for establishing Judiciary Powers.

He has made Judges dependent on his Will alone for the tenure of their offices, and the amount and payment of their salaries.
What the hell happened with Roberts?  I don't recall anyone (yet) suggesting articles of Impeachment for him, although he damn well ought to be for his torture of the Constitution in upholding PPACA.
He has erected a multitude of New Offices, and sent hither swarms of Officers to harass our people and eat out their substance.
You mean like the TSA?
He has kept among us, in times of peace, Standing Armies without the Consent of our legislatures.
You mean like the Drug Warriors who have raided state-licensed and approved marijuana dispensaries?
He has affected to render the Military independent of and superior to the Civil Power.
Not yet…..  I don't think, anyway.
He has combined with others to subject us to a jurisdiction foreign to our constitution, and unacknowledged by our laws; giving his Assent to their Acts of pretended Legislation:
"What is the UN" for $200 Alex.
For quartering large bodies of armed troops among us:

For protecting them, by a mock Trial from punishment for any Murders which they should commit on the Inhabitants of these States:

For cutting off our Trade with all parts of the world:

For imposing Taxes on us without our Consent:

For depriving us in many cases, of the benefit of Trial by Jury:

For transporting us beyond Seas to be tried for pretended offences:
Oh, gee, the list here is too long to compile in a reasonable form.  NDAA,  The Patriot Act, PPACA, TARP and on and on and on.
For abolishing the free System of English Laws in a neighbouring Province, establishing therein an Arbitrary government, and enlarging its Boundaries so as to render it at once an example and fit instrument for introducing the same absolute rule into these Colonies

For taking away our Charters, abolishing our most valuable Laws and altering fundamentally the Forms of our Governments:
What is forcing States to assent to everything from driver license requirements (e.g. REAL ID) to drinking ages (21) to the former "double nickel" speed limit?
For suspending our own Legislatures, and declaring themselves invested with power to legislate for us in all cases whatsoever.
See above, plus PPACA.
He has abdicated Government here, by declaring us out of his Protection and waging War against us.
You mean like raiding the wrong house, which can and occasionally has resulted in the cops shooting innocent people?
He has plundered our seas, ravaged our coasts, burnt our towns, and destroyed the lives of our people.

He is at this time transporting large Armies of foreign Mercenaries to compleat the works of death, desolation, and tyranny, already begun with circumstances of Cruelty & Perfidy scarcely paralleled in the most barbarous ages, and totally unworthy the Head of a civilized nation.

He has constrained our fellow Citizens taken Captive on the high Seas to bear Arms against their Country, to become the executioners of their friends and Brethren, or to fall themselves by their Hands.

He has excited domestic insurrections amongst us, and has endeavoured to bring on the inhabitants of our frontiers, the merciless Indian Savages whose known rule of warfare, is an undistinguished destruction of all ages, sexes and conditions.

In every stage of these Oppressions We have Petitioned for Redress in the most humble terms: Our repeated Petitions have been answered only by repeated injury. A Prince, whose character is thus marked by every act which may define a Tyrant, is unfit to be the ruler of a free people.
Yeah, the people said 300:1 NO to TARP.  John McCain and Obama, along with Congress, said this to the people:

Nor have We been wanting in attentions to our British brethren. We have warned them from time to time of attempts by their legislature to extend an unwarrantable jurisdiction over us. We have reminded them of the circumstances of our emigration and settlement here. We have appealed to their native justice and magnanimity, and we have conjured them by the ties of our common kindred to disavow these usurpations, which would inevitably interrupt our connections and correspondence. They too have been deaf to the voice of justice and of consanguinity. We must, therefore, acquiesce in the necessity, which denounces our Separation, and hold them, as we hold the rest of mankind, Enemies in War, in Peace Friends.
So let's see….
Theft and fraud en-masse, at a scale dwarfing all other crime by citizens, committed by banksters and other corporate interests, including drug companies.
Intentional and admitted criminal conduct by both in multiple cases, including criminal conduct that has caused death and severe injury.
Intentional concealment by government of unlawful activity ("Gunwalker") that also has led to death of innocent citizens and peace officers.
Sexual assaults on a daily basis of persons doing nothing more than attempting to travel, without articulable suspicion or probable cause (the TSA.)
and much more (like we need more?)
We, therefore, the Representatives of the united States of America, in General Congress, Assembled, appealing to the Supreme Judge of the world for the rectitude of our intentions, do, in the Name, and by Authority of the good People of these Colonies, solemnly publish and declare, That these united Colonies are, and of Right ought to be Free and Independent States, that they are Absolved from all Allegiance to the British Crown, and that all political connection between them and the State of Great Britain, is and ought to be totally dissolved; and that as Free and Independent States, they have full Power to levy War, conclude Peace, contract Alliances, establish Commerce, and to do all other Acts and Things which Independent States may of right do.  — And for the support of this Declaration, with a firm reliance on the protection of Divine Providence, we mutually pledge to each other our Lives, our Fortunes, and our sacred Honor.
Hmmmm…. not yet.
And, I hope, not necessary.
But on this 4th Day of July, 2012, let us all remember exactly how America was born.  Tax rates that were one tenthof today's, along with usurpations and abuses that were trivial compared to that suffered by the people of this nation today on a daily basis. 
Yet those usurpations of 1776, truly trivial in scope and oppression compared to that which we suffer today, led the people to rise and demand that government cease and desist, and when it refused, they took arms and expelled that government, replacing it with one of their own design.
In 1776 nobody was imprisoned for consuming (or growing) a plant.
In 1776 nobody had their breasts and genitals groped simply because they attempted to travel within the boundaries of what was to become The United States.
In 1776 nobody questioned your right to ride a horse or operate a carriage for your own personal conveyance upon the roads of the day.
In 1776 you decided when to pay a doctor, and you were never compelled to pay for someone else's attendance by a physician or stay in a hospital.
In 1776 government did not routinely protect the firms responsible for more than one quarter of all gross domestic product from ruin and personal imprisonment of their officers and employees when they committed gross offenses of theft, fraud and even caused death among the population.
In 1776 nobody needed a permit to fashion, sell, or possess a firearm.
In 1776 nobody needed permission to speak, or to assemble upon the public square.
In 1776 nobody was forced to pay someone else's debts to which they had not consented or were related to.
Finally, in 1776, free of all of these usurpations of today, the American middle class was alive and well, and our nation-to-be enjoyed a standard of living that, on a comparable basis, was arguably the best in the world.  Free enterprise provided true upward mobility for anyone of sufficient desire, wealth was for the most part yours to keep once lawfully acquired with tax rates a tiny fraction of what is assessed today, the right to protect oneself and one's family was unquestioned and the right to personal travel using the means common to the day on an unfettered basis formed a key part of the mobility and vitality of our nation-to-be's people and business ventures.
Lacking all of the technological marvels of the day and having none of the modern conveniences and knowledge of science, medicine and industry, we were far more free, far more prosperous on a comparable basis and actually had a reason to look forward to the next morning with more, rather than less, freedom in our future.
So as you gather around the BBQ, play on your boats and drink beer with your friends on this 4th of July, please take the time to contemplate what life was really like in 1776, what it is really like today, and why you, I, and everyone else continue to consent to the abuses and usurpations that are shoved down our throats by the thugs in both industry and government.
Perhaps that will add a bit of sobriety to your celebration.
Just when you think that things can't get more stupid in my old town of Chitcago, the political folks open their mouths and remove all doubt.
When asked about the "gap" between law enforcement and the black community, McCarthy reached back 400 years for an answer.

"It's a big issue. It's a long time coming. We've done a lot of things wrong in policing in this country. I'm willing to admit that," said McCarthy. "But this goes back 200-300 years to the time when Pilgrims came here and things developed from that, the African American experience in this country."

But the Pilgrims weren't the only people being blamed for the violence. The superintendent also laid blame at the feet of America's finest and inferred – without actually stating it – that white police officers are the problem.
America's "finest"?
Oh please.
But playing the race card is equally stupid.
But for decades, vast sums of money have been poured into poor communities on Chicago's South and West sides.

Where has the money gone?
It's been stolen.  See, economic empowerment, starting with the removal of incentives to be a thug (and yes, getting rid of the drug war would be a big help) isn't really on any of these people's agenda.  It's far more profitable to blame "whitey" and repress the people, then claim that you can "fix it" if just a bit more freedom (and a lot more money!) is sacrificed on your unholy altar.
Instead, how about this idea: The City of Chicago recognizes the 2nd Amendment.  In full.  Be a thug, you might get shot.  By a law-abiding citizen who answers your thuggery with a couple of 1,000 fps hunks of lead hurled at your center-of-mass.
Senseless violence?  Oh there's plenty of that.  And plenty of stupid too.  Like Heaven Sutton.  Where do I start with that?  A kid selling "candy" at 11:00 PM in the middle of an area known for gang activity?  Really, candy?  What sort of candy was she selling, may I ask, and to whom?
Who knows if the alleged gang-banger is really the person who shot the kid; it appears from what I can determine that this was a "two gangs in one place, someone starts blasting" incident.  Am I surprised?  Oh hell no, not when only criminals have guns — everyone else who is law-abiding has been disarmed by Constitution-ignoring — that is, a lawless – government!
Of course the gang-bangers don't care if it's "illegal" to carry (and use!) a gun — that's why we call them criminals.  The first rule of being a criminal is that you don't give a damn about the law.  The second one appears to be that you pick up a "hot" pistol and that you're prepared to use it.
When you really need someone to put a stop to the asshole waving a pistol around and shooting people with it right damn now the police will be there in 5 minutes — or 10, or 20.  Just dial 911 and the hearses will be be right over to carry off the dead.
Yeah.
It wouldn't take very long for this crap to stop were Chitcago to stop being stupid and make legal Constitutional Carry.  See, gang-bangers may be many things, but none of them are really all that interested in being DRT (Dead Right THERE), which is exactly what they would be were that change to be implemented.
The fact is that the law-abiding citizens radically outnumber the gang-bangers and while more dead bodies is not a good answer to any particular problem if there are going to be dead bodies due to the acts and decisions taken by gang-bangers I prefer ex-gang-bangers instead of ex-7 year old girls.
In the meantime, until and unless Rahm pulls his head out of his ass (which, incidentally, is unlikely to happen — ever) nor is it likely that the residents of Chitcago will demand that the Jackass-in-Chief abdicate and be replaced by someone who actually read the Bill of Rights my recommendation is that everyone avoid Chitcago.  Don't do business there and definitely don't visit and spend money.
You're an unarmed target and that's exactly how the thugs – and City Government – like it.
Discussion (registration required to post)
I am amused by the Shadow Weekly Leading Index Project which claims the probability of recession is 31%. I think it is much higher.
When the NBER, the official arbiter of recessions finally backdates the recession, May or June of 2012 appear to be likely months. Let's take a look at why.
US Manufacturing PMI
Markit reports PMI signals weakest manufacturing expansion in 11 months
Key points:
PMI lowest since July 2011, suggesting slower rate of manufacturing expansion
Rate of output growth broadly unchanged
New orders rise at weakest pace in four months
Input costs fall for first time in three years
Durable Goods Orders Plunge
Those numbers do not look good but they are hardly disastrous. Here are some numbers that are disastrous.
Philly Fed Survey
For the second consecutive the Philly Fed Survey has been solidly in the red.
click on chart for sharper image
Those numbers are nothing short of a disaster.
 The survey's broadest measure of manufacturing conditions, the diffusion index of current activity, fell from a reading of ‐5.8 in May to ‐16.6, its second consecutive negative reading. Nearly 40 percent of the firms reported declines in activity this month, exceeding the 22 percent that reported increases in activity.

Indexes for new orders and shipments also showed notable declines, falling 18 and 20 points, respectively. Indexes for current unfilled orders and delivery times both registered negative readings again this month, suggesting lower levels of unfilled orders and faster deliveries.

Firms' responses suggest steady employment this month but shorter hours. The percentage of firms reporting higher employment (14 percent) edged out the percentage reporting lower employment (12 percent). The current employment index increased 3 points this month. Firms indicated fewer hours worked this month: the average workweek index decreased 14 points and posted its third consecutive negative reading.
Misguided Optimism
click on chart for sharper image
Note the misguided optimism about six months from now. It's not going to happen.
Why?
Europe is a disaster.
US manufacturing is cooling rapidly
China is cooling rapidly: China Manufacturing PMI 7-Month Low, Sharpest Decline in New Export Orders Since March 2009
US Monetary policy is at best useless, but more likely net harmful, especially to those on fixed income.
First year presidential politics are frequently recessionary
US still needs fiscal tightening
Unemployment insurance has expired for millions: 200,000 Lose Unemployment Benefits This Week, Nearly Half From California
Self-Employment desperation: 100% of U.S. Jobs Added Since 2010 Have Been Self-Employment, Contractor, or Other Jobs Without Unemployment Insurance Benefits
Last two jobs reports have been dismal: Another Payroll Disaster: Jobs +69,000, Employment Rate +.1 to 8.2%, April Jobs Revised Lower to +77,000; Long-term Unemployment +310,000
The 4-week moving average of weekly unemployment claims is at the highest rate of the year, at 386,250.
New home sales cannot gain significant traction: New Home Sales Hype vs. Reality
Tax Armageddon
Deficit spending has carried this "recovery" further than I thought it would, but the party is now over.
It will be difficult if not impossible to overcome the above set of circumstances regardless of what anyone feels about economic back-tested recession probabilities.
Taxmageddon
Please consider Taxmageddon
 The Tax Foundation reports that because of higher federal income and corporate tax collections, Tax Freedom Day came four days later this year than last. And the bad news is that unless Washington takes action, it will take working Americans 11 more days to meet next year's tax burden.

That's all due to Taxmageddon — a slew of expiring tax cuts and new tax increases that will hit Americans on January 1, 2013, amounting to a $494 billion tax hike. Heritage's Curtis Dubay reports that American households can expect to face an average tax increase of $3,800 and that 70 percent of Taxmageddon's impact will fall directly on low-income and middle-income families, leaving them with $346 billion less to spend.
Taxes Will Go Through the Roof
PolicyMic reports When the Payroll Tax Holiday Ends in 2013, Taxes Will Go Through the Roof
 Without significant tax code changes, in 2013, America is scheduled to get hit with what would be the largest tax increase in our history.

Not only will the $1,000 per year tax holiday for a $50,000 income household disappear, come 2013 all Americans will see the tax on their first $8,700 of income jump from a 10% rate to 15% rate.

That hike will cost the majority of filers an additional $435.

For those eligible for child care tax credits that deduction will drop from $1,000 to $500. The marriage penalty will roar back into effect. The AMT, alternative minimum tax, will finally kick in.

Roll those changes up and a family filing as married with two children making $50,000, will see their taxes increase by basically $2,700.
Regardless of whether or not you feel taxes need to be raised, a big set of tax hikes is scheduled to happen.
To be sure, some of those hikes will be undone in compromises,  but many if not most will sneak through.
Who is to blame for Taxmageddon?
Republican are to blame. They accepted this silly deal instead of a far better one that Obama would actually have signed.
But No! Republicans insisted on no tax hikes at all in 2012, putting everything off until after the election, believing Romney would win in a cake-walk.
However, if President Obama wins, certainly not at all an unlikely possibility, he is going to drive a much harder bargain this go around.
Regardless of tax consequences, the US is headed for recession, if not already in one. 2013 rates to be a disaster regardless who wins.
Mike "Mish" Shedlock
Derealization leads to chronic stress, which then disrupts our ability to make rational decisions and follow plans.
We have all experienced the disorientation and "brain freeze" that stress triggers. It seems these symptoms of stress have become normalized in countries where the authorities keep promoting phony "economic recoveries." The disconnect between what the authorities are claiming and what people are actually experiencing is widening, and that leads to stress. No wonder more and more people are "losing it" in public as their neural circuitry melts down under the strain of synthesizing what they experience (austerity) and what they're told (official spin about the "recovery").
In Survival+ I call this process derealizationas lived experience is derealized by official spin and propaganda.
Recent research is illuminating how stress disrupts the default hierarchy of the brain. In the  absence of stress, the neocortex-rational-mind functions suppress the more primitive  subconscious signals of aggression, hunger, sex drive, etc. in order to concentrate our effort to complete some planned activity.
Everyday Stress Can Shut Down the Brain's Chief Command Center. Neural circuits responsible for conscious self-control are highly vulnerable to even mild stress. When they shut down,  primal impulses go unchecked and mental paralysis sets in.(Scientific American; subscription required, hopefully your local library has a copy)
This helps explain the natural "fight or flight" response we feel when suddenly confronted  with danger or potential danger, but more importantly it illuminates how we lose the  ability to analyze circumstances rationally when we are "stressed out."  Once our rational analytic abilities are shut down, we are prone to making a series of ill-informed and  rash decisions.
This has the potential to set up a destructive positive feedback loop: the more stressed  out we become, the lower the quality of our decision-making, which then generates poor  results that then stress us out even more, further degrading our already-impaired rational processes. This feedback loop quickly leads to "losing it completely."
Doesn't this describe our increasingly dysfunctional and disconnected-from-reality legislative process?
In pondering human development over the past  20,000 years of the transition from hunter-gatherer groups to modern life, it seems  self-evident that stress was likely to be resolved in relatively short order in the  hunter-gatherer lifestyle: everyone was known to  everyone else, conflicts had to be  resolved simply because the group survival depended on it, and most threats could be  fended off with vigilance, weapons or left behind by a few hours of fast walking.
Contrast the environment that selected for this stress/conscious self-control feedback with modern life: in the modern urban life and work environment, stress is more or  less constant and our ability to resolve stressful situations is limited.
This helps explain the increasing prevalence of people "losing it" in public when they encounter a rather typical frustration such as the inability to cash a check at a credit union. Just last week I saw a middle-aged man "lose it" at our local credit union,  swearing and raging against employees who were simply following CU guidelines on check  cashing. As the finances of many enterprises and households comes under further stress, then self-control degrades and people are more likely to "lose it."
Though this particular article focuses on short-term stress, there is growing body of  evidence that chronic stress has a number of subtle and destructive consequences. In  addition to the common-sense connection between chronic stress and hypertension, there  is evidence that obesity is also related to stress-caused conditions such as inadequate sleep and chronic inflammation. This makes sense as the stress hormones erode the immune  system's responsiveness.
Behaviorally, stress breaks down self-control, so it is no surprise that stress leads  to bingeing, addictive behavior, impluse buying, etc.–all "knock-on" effects with  negative consequences.
Chronic stress permanently degrades our ability to  rationally analyze and plan, and so we act irrationally or erratically, as we are no  longer able to stick to a conscious plan of coherent action.  With the rational mind  and self-control centers permanently suppressed, we are prone to "zombie" passivity,  "sleepwalking" though life. This may help explain Americans' remarkable passivity as  their civil liberties are taken away and their financial insecurity increases.
Many of the features of post-traumatic stress disorder (PTSD) are visible in "everyday  Americans," and an understanding of how stress erodes rational thought and self-control  helps explain why.
We have three ways to counter the destructive consequences of stress:
1) Develop positive physical and mental responses via discipline and practice (for example, yoga, martial  arts, etc.)
2) Turn off the mainstream media
3) Stay focused on our plans.  The simpler and more positive the plan, the more likely it is we can stay focused on it in stressful circumstances.
This entry is drawn from Musings Report 13. The Musings Reports are sent weekly to subscribers and major contributors.
Charles Hugh Smith – Of Two Minds
2012 is shaping up to be a very tough year for the global economy.  All over the world there are signs that economic activity is significantly slowing down.  Many of these signs are detailed later on in this article.  But most people don't understand what is happening because they don't put all of the pieces together.  If you just look at one or two pieces of data, it may not seem that impressive.  But when you examine all of the pieces of evidence that we are on the verge of a devastating global recession all at once, it paints a very frightening picture.  Asia is slowing down, Europe is slowing down and there are lots of trouble signs for the U.S. economy.  It has gotten to a point where the global debt crisis is almost ready to boil over, and nobody is quite sure what is going to happen next.  The last global recession was absolutely nightmarish, and we should all hope that we don't see another one like that any time soon.  Unfortunately, things do not look good at this point.
The following are 22 signs that we are on the verge of a devastating global recession….
#1 On Thursday it was announced that U.S. jobless claims had soared to a six-week high.
#2 Hostess Brands, the maker of Twinkies and Wonder Bread, has filed for bankruptcy protection.
#3 Sears recently announced that somewhere between 100 and 120 Sears and Kmart stores will be closing, and Sears stock has fallen nearly 60% in just the past year.
#4 Over the past 12 months, dozens of prominent retailers have closed stores all over America, and one consulting firm is projecting that there will be more than 5,000 more store closings in 2012.
#5 Richard Bove, an analyst at Rochdale Securities, is projecting that the global financial industry will lose approximately 150,000 jobs over the next 12 to 18 months.
#6 Investors are pulling money out of the stock market at a rapid pace right now.  In fact, as an article posted on CNBC recently noted, investors pulled more money out of mutual funds than they put into mutual funds for 9 weeks in a row.  Are there some people out there that are quietly repositioning their money for tough times ahead?….
Investors yanked money out of U.S. equity mutual funds for a ninth-consecutive week despite a bullish 2012 outlook from Wall Street and a December rally that's carried over into the New Year.
#7 There are signs that the Chinese economy is seriously slowing down.  The following comes from a recent article in the Guardian….
Growth had slowed to an annual rate of 1.5% in the second and third quarters of 2011, below the "stall speed" that historically led to recession.
#8 The Bank of Japan says that the economic recovery in that country "has paused".
#9 Manufacturing activity in the euro zone has fallen for five months in a row.
#10 Germany's economy actually contracted during the 4th quarter of 2011.  At this point many economists believe that Germany is already experiencing a recession.
#11 According to a recent article by Bloomberg, it is being projected that the French economy is heading into a recession….
The French economy will shrink this quarter and next, suggesting the nation is in a recession as investment and consumer spending stagnate, national statistics office Insee said.
#12 There are a multitude of statistics that indicate that the UK economy is definitely slowing down.
#13 The credit ratings of Italy, Spain, Portugal, France and Austria all just got downgraded.
#14 It is being reported that the Spanish economy contracted during the 4th quarter of 2011.
#15 Bad loans in Spain recently hit a 17-year high and the unemployment rate is at a 15-year high.
#16 According to a recent article in the Telegraph, the Italian government is forecasting that there will be a recession for the Italian economy in 2012….
The Italian government predicts GDP will contract 0.4pc next year, but many economists fear the figure is optimistic.
"We can say without mincing words that we have already slipped into recession," said Intesa Sanpaolo analyst Paolo Mameli. "We expect GDP to keep contracting for the next 3-4 quarters."
#17 Italy's youth unemployment rate has hit the highest level ever.
#18 The unemployment rate in Greece for those under the age of 24 is now at 39 percent.
#19 Greece is already experiencing a full-blown economic depression.  About a third of the country is now living in poverty and extreme medicine shortages are being reported.  Things have gotten so bad that entire families are being ripped apart.  According to the Daily Mail, hundreds of Greek children are being abandoned because the economy has gotten so bad that their parents simply cannot afford to take care of them anymore.  The note that one mother left with her child was absolutely heartbreaking….
One mother, it said, ran away after handing over her two-year-old daughter Natasha.

Four-year-old Anna was found by a teacher clutching a note that read: 'I will not be coming to pick up Anna today because I cannot afford to look after her. Please take good care of her. Sorry.'
#20 In Greece, large numbers of people are simply giving up on life.  Sadly, the number of suicides in Greece has increased by 40 percent in just the past year.
#21 In many European countries, the money supply continues to contract rapidly.  The following comes from a recent article in the Telegraph….
Simon Ward from Henderson Global Investors said "narrow" M1 money – which includes cash and overnight deposits, and signals short-term spending plans – shows an alarming split between North and South.

While real M1 deposits are still holding up in the German bloc, the rate of fall over the last six months (annualised) has been 20.7pc in Greece, 16.3pc in Portugal, 11.8pc in Ireland, and 8.1pc in Spain, and 6.7pc in Italy. The pace of decline in Italy has been accelerating, partly due to capital flight. "This rate of contraction is greater than in early 2008 and implies an even deeper recession, both for Italy and the whole periphery," said Mr Ward.
#22 The major industrialized nations of the world must roll over trillions upon trillions of dollars in debt during 2012.  At a time when credit is becoming much tighter, this is going to be quite a challenge.  The following list compiled by Bloomberg shows the amount of debt that some large nations must roll over in 2012….
Japan: 3,000 billion U.S.: 2,783 billion Italy: 428 billion France: 367 billion Germany: 285 billion Canada: 221 billion Brazil: 169 billion U.K.: 165 billion China: 121 billion India: 57 billion Russia: 13 billion
Keep in mind that those numbers do not include any new borrowing.  Those are just old debts that must be refinanced.
As I mentioned at the top of this article, things do not look good.
The last thing that we need is another devastating global recession.
As I wrote about yesterday, the U.S. economy is in the midst of a nightmarish long-term decline.  The last major global recession helped to significantly accelerate that decline.
So what will happen if this next global recession is worse than the last one?
Sadly, the people that will get hurt the most by another recession will not be the wealthy.
The people that will get hurt the most will be the poor and the middle class.
So what should all of us be doing about this?
We should use the time during this "calm before the storm" to prepare for the hard times that are coming.
As always, let us hope for the best and let us prepare for the worst.
But things certainly do not look promising for the global economy in 2012.