Archive for the 'Republicans' Category
Well now what do we have here?  A Conservative Economist Explains Why Ryan's Budget Plan Is All Wrong For The GOP
Conservatives believe seniors could shop for health insurance, as they do for groceries, to drive down prices. The states, freed from excessive federal oversight, could similarly drive down costs.

That's absolute fantasy.

Seniors would confront large insurance companies armed with too little information, and limited choices or monopolies when they purchase drugs and hospital care. That's not a fair fight–like individuals with bows and arrows vs. B-52s.

Already, large employers operate in a similar market space—free to negotiate with health insurance companies—and even they have not been able to harness rising health insurance premiums.
The reason this problem exists is that government has intentionally provided health insurance companies and health providers monopoly protections that allow them to literally screw anyone they wish, while barring the market from correcting these practices, by conferring legal protection against both market forces and long-standing anti-monopoly laws such as the Sherman, Clayton and Robinson-Patman acts.
There is no other way that an antivenom that costs $100 per dose to manufacture in Mexico is sold for well north of $30,000 a dose in a hospital in the United States.  But that is, in fact, what has been documented to have happened.
I have repeatedly, through the last several years, outlined exactly this problem and proposed solutions.  Both featured prominently as the key element inLeverage, which you can order off the sidebar at the right and which was published in 2011.  Recently, in response to a Wall Street Journal OpEd which claimed that they didn't see a path forward or identification of the real issues, I provided a condensed set of both problems and recommendations.
Now Fox News is publishing articles like the above; the Kool-Aid has worn off even among the right-wing faithful.
To the GOP: Stop protecting these jackals in the US Medical system.  If you don't act now you are and will be held responsible — individually, jointly and severably – for the upcoming and inevitable destruction of the United States Federal Budget and our economy.
To much fanfare, Paul Ryan's budget proposal is highlighted in the Wall Street Journal this morning.   Much cheering is being done by the 'conservatives' (Yay! Spending cuts!) while there is much hand-wringing being done by the other side (Oh-noes! Cuts are too big!).    Is EITHER reaction merited?  Well, I decided to pose the question to a 5th grader after cutting through much of the political-speak in the WSJ article.  Let's boil it down to very simple, 5th grade math.  This requires an understanding of simple addition, subtraction and the concept of greater than and less than.  ( +, -, <, >)  Most children have a relatively firm grasp on this by the 4th or 5th grade.
Paul Ryan's budget states that he would reduce spending from the current 5% annual increase to a mere 3.4% increase.  He claims that this reduction in the rate of spending will result in a balanced budget by 2023.  Well, for this math to work, it would mean that GDP (that which we produce or make) must exceed the rate of spending.  In other words, GDP growth must be substantially greater than the 3.4% rate of spending.   Therefore, annualized GDP growth must be a minimum of 5% over the next 10 consecutive years in order for Paul Ryan's proposal to actually 'balance the budget' by 2023.  Keep in mind, this 5% growth must occur in each and every successive year up until 2023 for Representative Ryan's bill to actually balance the budget.  That means, not just two or three years, but TEN years of consecutive 5% growth.
Let's see if this is a realistic expectation.  We will look to the government's own historical records of United States GDP.
The last time we had even one isolated occurrence of 5% growth was in 1968.  It was a one-time thing and has not been repeated since.   As a matter of fact, since 1973 we've hardly managed to hold above 3% growth.   In addition, for the past 8 years, GDP growth has been SUBSTANTIALLY UNDER 3%!  Regular readers of this site will also know that economic indicators have not and do not foretell any increase in GDP growth in either the near or medium-term future.  So, the likelihood of growth remaining at 2% or LESS for the foreseeable future is actually quite high.
So, I posed the following question to a 5th grader:  If the annual spending increase is 3.4% and the annual growth is 2%, can you get out of debt?  Is 3.4 < or > 2?  In other words if you earn $10 per week in allowance, but spend $24 a week, will you get out of debt or get further in debt?  Is 24 < or > than 10?
5th grader's answer:  I'll be bankrupt.  Oh, and even if we could get 5% growth and this budget 'worked'…..I'LL BE TWENTY IN 2023!!!  This whole thing is dumb.
I would agree.  How long will we allow politicians to lie to us, hoping we can't do simple math?
The simple reality is that neither side of the aisle has any association with the facts, and they know this.  They are liars and frauds and I am hard-pressed to find just one who has spoken in a truthful manner about the budget, the problems facing our nation from a fiscal perspective, and what has to be done.
I am going to present facts, as I usually do, and utterly destroy Marco "I'm a fraud" Rubio, who presented the week's "Republican Address", otherwise known as a GOP Lie Machine.
"Americans are struggling to find or keep middle class jobs for two reasons: because our economy is not creating enough of these jobs and because too many of our people don't have the education or skills required for the jobs that are being created," says Rubio. "A limited government can and must help solve these challenges.
Wrong.  Americans are struggling to find or keep middle-class jobs because the definition of "middle class" keeps moving upward in both required skill set and monetary reward.  Since the distribution of human intelligence is more-or-less fixed, this inevitably means that more people get left behind as they are simply unable to perform at the higher demanded level of output.
This would not be a problem but for the second factor, which is that the amount of money required to be considered "middle class" keeps going up.  You touch on that later on, and I'll get to it, but I want to note that none of the existing political parties, including the Third Parties, are talking about this or making it a campaign issue.
"We must get the national debt under control. Tax increases will not solve our $16 trillion debt. Only economic growth and a reform of entitlement programs will help control the debt.
Economic "growth" has not happened since the 1980s.  You are a liar Marco, and since I assume you are intelligent this is not a mistake, it is a lie.
Since all money is debt-backed in our economic system it is trivially easy to determine the expansion of GDP over time removing out the expansion of debt.  This one must do in order to obtain an accurate accounting of actual output.
So let's do that.
This is the graph of all forms of debt in the United States from 1980 to today.  It is, of course, denominated in dollars.  In 1980 GDP stood at $2.724 trillion.  Today, it stands at $15.775 trillion, 579% of its 1980 value.
However,  all forms of debt in the Z1 stood at $4.398 trillion in 1980, at the same time GDP stood at $2.724 trillion.  That is, monetarily one unit of GDP was represented by 1.61 units of currency and credit. 
In currency-invariant terms, therefore, our GDP was 0.619.  We'll make this convenient and multiply these invariant terms by 1,000; ergo, our currency-invariant GDP was 619.
So what is it now?
Today, we have a GDP of $15.775 (from the latest preliminary estimate) but debt of $55.358 trillion.  That is, monetarily one unit of GDP is now represented by 3.55 units of currency and credit.
In currency-invariant terms, therefore, our GDP is 0.281.  For convenience we again multiply by 1,000; ergo, our currency-invariant GDP is at present 281.
619 is about 220% of 281, or, if you prefer, GDP in invariant terms is 45.4% of what it was in 1980!
Growth?  Where?
There hasn't been any; what there has been instead is a scam promulgated by both political parties and you, Macro "I am a fraud" Rubio are one of the chief promoters.  John Boehner is another, as are Mitch McConnell and Paul Ryan.
You can't evade the arithmetic sonny.  It just is.
"We must reform our complicated, uncertain, job-killing tax code, by getting rid of unjustified loopholes. But our goal should be to generate new revenue by creating new taxpayers, not new taxes.
The first thing to do is to put an absolute and immediate stop to the creation of unbacked credit and thus prevent, on an immediate and permanent basis, the fraudulent misrepresentation of alleged "GDP growth" that has not actually happened by politicians — including yourself.
One of the first things you learn in algebra class is that in order to solve an equation you must isolate the variable you are attempting to solve for on one side of the equality.  If you do not then you are not producing a solution to an equation, you are (at best) expressing a ratio.
The middle class is being destroyed because government is both directly stealing from the people via deficit spending and allowing banksters to steal from the people via the unbacked emission of credit, destroying the purchasing power of their earnings and the economic output of the nation as a whole.
We can only address actual problems when we talk about them in honest terms.
"We must follow a balanced approach to regulations. Regulations are needed, but they cost money to follow. The more expensive a regulation is, the less money a business has leftover to give raises or hire new people.
Some "regulation" is necessary.  But you aren't proposing that.  For example:
It should be a felony to represent GDP as a value when it is in fact a ratio.  In order to represent GDP as a value one must remove the expansion of currency and credit (of all sorts) from the left side of the equation.  This is simply done as I demonstrated above, and if it is done it shows that GDP has contracted dramatically since 1980.
It should be a life felony for a politician, banker, or anyone other person to attempt to profit by knowingly and intentionally lying about third-grade arithmetic, or for that matter, to do so about middle-school algebra.  The laws of mathematics are not suggestions, they are facts.  We imprisoned Madoff (and are trying Stanford) for ponzi arithmetic games with their investors.  You, Mr. Rubio, and the rest of Congress along with both ex-President Bush and current-President Obama, should be there with them for the same outrageous frauds perpetrated upon the public via that very same ponzi economic lie.
It should be a life felony for a bank or other institution to issue unbacked credit, as such is a naked short upon the currency of the United States, and the right to issue unbacked currency is reserved to the Congress, not private banks.  This extends from The Fed on downward; these people should all be in prison right here and now.
Those would make a good start for "regulations we should have."  We can talk about the other ones that are necessary once we've implemented these three.
"We must not let American innovation in our energy industry go to waste. We have the potential for all kinds of new middle class jobs–from the fields and platforms where we drill, to the manufacturing plants that will return to the U.S. with the lower cost of energy. But we need government to encourage these job opportunities, not continue to block them.
Oh really?  So let me see if I get this right — extracting a resource faster is going to make more of it magically appear?  Yes, I understand that we have a lot of oil and natural gas in the ground.  I further understand that fracking and similar games make formerly-uneconomic parts of our resource extractable at economically-attractive prices.  But this does not change the total amount of resource that exists, it merely changes the rate at which it can be extracted and consumed.  By definition increasing the extraction rate also increases the depletion rate — but that's not being discussed, is it?
"A return to sound monetary policy would also help by making the future value of a dollar more predictable.
See above you scam-meister.
"And we must get the cost of health insurance under control. You should be able to get a health care plan that fits your needs and your budget, from any company in America that's willing to sell it to you, and with the same tax benefit if you buy it yourself or have an employer buy it for you."
Ah, I see.  The answer is simply to allow people to buy insurance with pre-tax dollars?
Oh nonsense.
Let's break it down.
Yes, defense spending has risen dramatically (by nearly a double in terms of GDP!) since 2000.  But it fell by half as a percentage of GDP from the 1980s to 2000, so in terms of GDP it is not even back to where it was during Reagan's term in office.  Yes, it's too high, and yes, we need to cut out our meddling in other nations affairs (anyone who thinks otherwise need only look at the results in Egypt, where arming radical Muslims has had an utterly-predictable result)but the budget problem does not lie there.
Nor does it lie in Social Security.  Indeed, absent the Payroll Tax Cut, which was nothing more or less than an intentional destruction of Social Security's funding base (and one for which every member of Congress and the Administration should face trial and imprisonment in about ten years when an immediateand permanent 30% reduction in benefits is forced by the law — oh, they didn't bother telling you that, right?) there was nothing serious going wrong there.  In point of fact as a percentage of GDP that's mostly-flat.  The biggest problem Social Security has in the above chart (see that big spike right around 2008?) is the outrageous growth in "disability" claims most of which are by people who can work but choose instead to suck on the SSDI entitlement, and our government encourages and permits this fraud to take place.
Welfare, on the other hand, is a serious and emergent problem.  It has increased about 50% in terms of GDP in recent years, much of it in food stamps and unemployment handouts.  Welfare programs must be cut by 50% to come back into historical norms.
But the real 900lb Gorilla is one specific line above – Health Care.
And that is not about entitlements, really, at all.  It is about government-granted monopolies that allow the health system to screw you each and every day.  A minority of that winds up coming back into the federal budget in the form of entitlement spending, but what is done to the private sector is even worse.
This is an actual fiscal emergency as it represents a nearly 300% increase in constant-output terms over the last 30 years.  (In nominal terms it's a 1,554% increase in spending!)  And while this coming year is "projected" to be flat, that same projection was made in countless previous years, including when Medicare Part "D" was passed, and yet Medicare Part "D" produced only a small one-year reprieve in the acceleration in the year it went into effect.
Remember that much of modern medicine is technology driven, and that technology becomes cheaper every year.  Yet health costs in constant-GDP terms has tripled in government spending over that same period.
This is directly due to the monopoly-style protections that government has granted the health industry, and if this is not addressed now nothing else will matter in terms of the budget at all. 
Yet neither political party is saying one word about the data that is right under their, and your, nose.
It's a time-worn question — everyone laments the poor quality of choices we have in our national elections.  Politicians are routinely caught lying through their teeth while campaigning, such as Gary Johnson who claims to be a model of fiscal restraint while Governor (when heactually increased state debt by $3.88 billion or 74.7% and increased spending 50% during his time in office), Mitt Romney who claims to be for the Second Amendment (when he actually permanently banned guns that "looked scary" while Governor of Massachusetts) and President Obama (who said he would halve the deficit within four years and instead roughly doubled it.)
And these lies are just representative samples; the list for all of these clowns is as long as your arm.  In fact, it would be better called a "rap sheet", because it is.
This is not a new phenomenon, but one must ask – why does it keep happening, or more succinctly, "why don't we see a better class of politician"?
I'd like to put forward a hypothesis on this point — that this dysfunction occurs because of people just like you and I and our actions.  Specifically, it is our willingness to sell not only our votes but more importantly our money and our time to candidates that get caught lying to us that leads to this outcome.
Let's just take one example.  Gary Johnson's claim of fiscal responsibility was known to be a joke long before he was the Libertarian Party nominee.  While he was contending for that nomination it came out that his campaign was ridiculously in debt compared to his cash on hand (disclosed in mandatory public filings) from his failed Republican Presidential run.  A man who cannot manage to run his own campaign on a cash-flow positive basis is certainly a poor choice to run on a platform of fiscal responsibility! 
Governor Johnson could have used his (considerable) personal wealth to extinguish that debt before coming into the Libertarian Party, or he could have attempted to solicit the funds to retire it.  In short, he could have done the responsible thing and been personally responsible for his actions, which is what a leader is expected to do.  He did not.  Instead he came into the party and started soliciting for money from Libertarians.  As of his February 2012 filing he was $140,792.60 in debt and had $10,501.53 in cash, for a total leverage ratio of about 13.4:1
What's worse is that this record of personal fiscal responsibility within his campaign has gotten worse, not better.  Gary Johnson's latest FEC report shows that he is $296,201 in debt (as of July 31st) and has just $14,264.95 on hand in cash, for a total leverage of some 20.7:1.
That is a 55% increase in debt-to-cash since February — an utterly monstrous deterioration in fiscal position.
This is a man who claims he will veto any legislation that spends more than we take in via taxes and who will submit a federal budget with a 43% reduction in spending on the first day.  This very same man, however, has demonstrated that he is incapable of running his own campaign in a cash-flow positive fashion and in point of fact is levered at nearly 21:1 in debt-to-cash at the present time.
Then there is the minor little matter of debt and spending in New Mexico while he was Governor.  We've all been led to believe that he actually cut spending and reduced debt and this qualification is one he would carry into federal office.  That's something that's so easy to check that during the selection process I didn't vet it myself, as I would have never believed any candidate would be so audacious as to lie about something that can be verified in this fashion.  But he did; State (not including municipal and local) spending went up 50% during his eight years in office and total state (again, not municipal and local) debt rose by $2,000 per person during the same time period.
One's fiscal responsibility starts with one's personal and professional fiscal conduct, both in the past and present tense.
So what has been the reaction to my exposing this?  Anger from other Libertarians that "I'm not on board" with "our" candidate.
But I don't endorse, support, give money to or campaign for people who lie to me before they get into office.  You shouldn't either, because the only way these people get onto the ballot and into office is because people just like you and I will campaign for, give money to, support and vote for those who are dishonest.
Let's look at Mittens for a comparison.  He claims to be for The Second Amendment.  But in point of fact he signed a permanent assault-weapons ban in Massachusetts, and worse, he issued a strong signing statement in support of it!  He claims that he was in a "liberal state" but as Governor he could have forced the legislature to override his veto.  He did not.  In short, he has lied to the American people, and as such if you donate money to his campaign, work for his campaign, promote him as a politician or vote for him then you are voting to place into office a man who has proved he will lie to you before he is elected, just as has Governor Johnson.
Obama is even worse.  The most-blatant of his false claims is that related to the deficit.  He claimed he would cut it by 50% in his first term.  Instead it more than doubled.  Case closed.
The usual defense for one of these buffoons is that "we must choose between these choices."
But how is it, other than by our supporting known and documented liars in the first instance, that we wound up with these choices?  Exactly who do we have to blame when we have a primary and/or other selection process for our candidates where these facts are on the table and many people, myself included, pound the table with them prior to the selection and yet we vote for documented and factually-dishonest people right up front?
Well?
You, of course, are free to vote for, support, work for and donate to anyone you'd like in a political contest.  But I argue that even for alleged officers and principals of various political party elements, whether at the state, local or federal level, providing support to documented liars in this form and fashion is exactly as intelligent as is placing a loaded shotgun into your own mouth and then using your big toe to depress the trigger.
Those who whore themselves out so cheaply should be removed from office by the people of the parties involved.  They should face incessant recall petitions and no-confidence votes from the bodies that authorize their assembly, whether that be from the rank-and-file political party members, executive committees or otherwise.
More importantly for you and I, however, is the fact that rewarding intentionally-dishonest political candidates with money, support, campaign help and votesleads to exactly the result we have seen over the last several decades – a loss of economic and personal freedom across the board.
This result is entirely our own fault, and ends only when our complicity does.
I will not be complicit in the furtherance of destruction of our nation's freedom.
I'm shocked, I tell you, shocked to discover that they're jiggering the RNC.
Well, no, actually I'm not shocked.  But you should be.
Listening to the announcement of delegates for the candidates, from the podium they are omitting any votes for other than Mitt Romney.
But not all the votes are for Mitt Romney.  Ron Paul and Rick Santorum have some votes.
They're being intentionally ignored.  Not counted and then announced that he didn't win, ignored as if they never happened.
Think about that folks.  Votes cast, votes counted……..
…. and…. they're gone.
If this isn't the declaration of an imperial movement I don't know what is.  You hold elections, you count ballots, you announce winners.  Yes, I know Mitt Romney is going to win the count, but the fact is that the other votes were cast and do count.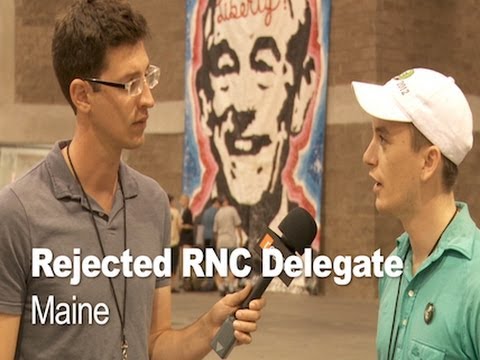 Will Republican die-hards care?  Maybe not.  And I'm not one…. but were I, Mitt wouldn't be getting my vote for President in November.
If you're going to vote for evil, which I find synonymous with "doesn't count the actual votes", then I'll just skip to voting for actual evil.
X Beelzebub
On the morning of June 6, 2012, a small group of Michigan Republicans met in a closed-door meeting in Novi, to decide which write-in candidate to foist upon the public in the August 7th primary election. While designed to clean up the mess left behind when Representative McCotter failed to turn in the requisite signatures to appear on August 7th's primary ballot, this meeting did something very different: it illustrated, in no uncertain terms, that elitism is alive and well in the 11th District in Michigan.
Why, with a perfectly qualified candidate already on the ballot…a candidate that has run before and has been thoroughly vetted…a candidate that supports conservative, Republican values and positions…would the "higher ups" in the Republican Party of Michigan try to run a write-in candidate and attempt to garner public support for them so late in the race?
The answer is both simple and disgusting…a tight core of Republican insiders in Michigan believe they will not be able to control Mr. Bentivolio should he be elected to Congress, and fear how he will vote. These overlord-wannabees, condescending to us from on high, do not seem to realize that the entire purpose of our representative republic is to prevent small groups of oligarchs from gaining such power. We voters should remember this, and explain it to them in the next election.
Nominating petition signatures are gathered for a specific reason: for candidates to gain ballot access. This process forces the candidate and/or his/her staff to go out and actually meet with people, explain their position(s) on the issue(s) and garner their support in a one-on-one setting. When a candidate gathers and submits enough qualified signatures, it demonstrates that the public is interested enough in their candidacy that they would at least like to see them on the ballot…that the candidate has enough "will of the people" behind them to possibly even be elected. Without the signatures, candidates cannot demonstrate any quantity of public support.
Mr. McCotter failed to submit the required signatures on time, and has since dropped out of the race entirely. McCotter's efforts in this election cycle were in fact so bad, that felonies may have been committed in the process.
Mr. Bentivolio and his team of volunteers, did all of the necessary work to acquire and submit the requisite 1,000 valid signatures on time, and is now the only Republican candidate that will appear on the ballot.
Having gathered exactly no signatures on any petition in this election cycle, Nancy Cassis can claim to have the "public support" of precisely one group: the Republican insiders that are attempting nearly dictatorial control of the election.
For a small, inner circle of Republicans to foist upon the public yet another candidate (which, prior to now, had been uninterested in running for office) is both outrageous and repulsive. It offends the sensibilities of American voters to be dictated to, and voters in the 11th District in Michigan would do well to remember this experience on August 7th.
Kerry Bentivolio is a Michigan native and life-long Oakland County resident. He is a 27 year US Army Veteran and has served our country in three wars. With both a B.A. and Masters in Education, he was a Design Engineer for 20 years, and currently serves as a Teacher with 15 years of experience, having taught in private schools, public schools, and adult education. His background encompasses a diverse integration of military service, business, engineering, political activism, education, and consistent volunteer efforts that distinguish him as a balanced leader that implements his expansive knowledge and experience effectively and successfully. His vast education and experience are complimented by his honesty, integrity and his support for our Constitution and transparency in government.
Mr. Bentivolio has the united and enthusiastic support of the conservative grass roots in Michigan including The Republican Liberty Caucus, TEA Party groups, 912 Liberty groups, and social, defense, life and economic conservative groups. Kerry is the consummate citizen patriot seeking to represent his fellow citizens, and is the best chance for the GOP to hold this seat in the next Congress.
GOP leadership in Michigan had better think twice before strong-arming the citizenry into voting for their "hand-chosen pet" Representative…especially those that are elected into their positions. The ramifications are coming…
 "The issue today is the same as it has been throughout all history, whether man shall be allowed to govern himself or be ruled by a small elite." Thomas Jefferson