Archive for the 'Revenue' Category
It's much worse than I thought folks.
Remember that $850 billion number for FY 2011 on medical care that I've been tossing around?
I was sent a link to the actual FY 2012 "as spent" figures.
The numbers are worse than they appear.  Materially worse.
Here's the reality:  Medicare and Medicaid services, including the "slide it to the states" for Medicaid, spent $1.053 trillion in FY2012.
We took in just $201 billion in Medicare taxes.
That is, the government is spending five times what it is taking in on health care.
Where is the discrepancy?  In the Medicaid department; the "as spent" figures, unless you look real closely, hide the giveaway to the states.  But that of course is BS as there is no magical money fairy.
For Social Security (including disability) the government took in $572 billion in FY2012.  But the government spent $773 billion on both retirement and disability, or 35% more than it taxed.
That's not the only shocker.  We gave $77 billion to people in the form of Earned Income and Child credits in excess of tax liability – that's the amount that we literally handed out in welfare for simply being alive.
And we did not spend $180 billion on interest either – we spent $359 billion.
We can survive the Social Security problem.
We cannot possibly survive spending five times what we take in via Medicare taxes and lying about interest cost will blow up in our face as well.
This must stop now.

Here's the bottom line folks:
These are the major spending items in the US Budget, from 1980 to today.  I am ignoring all the ones that don't matter, and I'm also intentionally leaving in one foil often used by both sides of the debate for scale purposes (Education.)
Of particular interest (and alarm) is Welfare, which doubled from 2007 to 2010.  But — it appears to have come down some in the least two years and change.  Therefore, while this is a problem, it is not the emergent one.
Those are the three categories on the top — Pensions (Social Security, mostly), Health Care and Defense.
One of them is discontinuous — Defense.  It is possible that the rough tripling from roughly 1998 to today has stopped.  If so then its impact on what is to come is not material.
Before you protest, please read the rest of this.
That leaves two categories — "Pensions" and "Health Care".
Note the right scale graph, the purple dashed line.  This is the reason that the so-called pundits, from Bernanke on down, all argue that we must deal with this sometime in the reasonable future, but right now we're not about to hit the wall.  That is, GDP is rising in rough conformance with those three major contributors to the government's spending profile.  And it is GDP (in one form or another) upon which all taxes are levied.  Therefore, by first appearance, they argue, we are not about to have an imminent crack-up.
They're wrong.
Note the category called "interest" and that it has been rising much slower that has the debt over the last few years.  It tracked the debt growth until approximately 1996.
This is when active manipulation took hold by both The Fed and Government.
It is when, approximately, we transferred from growth in the economy to debt-financing for consumption.
Now I want to project out a few other assumptions just a couple of years.
First, I will project forward both Pensions and Health Care to 2015, along with the Debt.
I'm assuming defense remains constant.  This is probably unrealistic given the screaming coming from the DOD right now, but let's assume it in order to give the budget folks the benefit of the doubt.
Note that our public debt has exceeded $20 trillion.  Note also that we have added $355 billion in annual expense to the budget and exactly none of it is discretionary.  The so-called "sequester", at $80 billion a year, is (by the second year) less than one quarter of this amount, and that assumes that every penny of it sticks.
Now I want to make one final assumption — The Fed loses control of interest rates because it is forced to abandon its programs due to either runaway "inflation" or the ongoing destruction of purchasing power in the American people's lives.
That ongoing destruction is happening now and it is responsible for the zero GDP print last quarter.  This is an emergent problem, not one for the future two, three or five years down the road, because without growing GDP that purple line does not go upward and the alleged ability to cope with the growing expenditures instantly evaporates.
That's the bad news.
The worse news is what happens if The Fed is forced to back off.
Let's assume that the One Year T-Bill rate goes back to the midpoint of its historical range (not including the 1980s discontinuity), or about 3.5%.  What happens?
The expense profile of the government does not rise by $355 billion in mandatory spending, it rises by nearly $900 billion annually in just two years time!
This increase is approximately one third of all tax revenues and into a flat GDP there is no chance of collecting the taxes necessary to fund it.
That in turn will provoke a discontinuous interest rate move.
Pensions we can fix; OASDI can be repaired.  We did the first piece of it with the expiration of the payroll tax cut that was (foolishly) passed.  The rest is handled by indexing (now!) the retirement age to longevity.
The medical spending problem cannot be fixed within the government alone.  It has to be addressed in the medical system as a whole.  In short, the medical system must contract in terms of dollars spent by about 80% and then rise at no faster than GDP in the future.
This has to happen now.  It can happen now, but doing so is a political nightmare.
We cannot do this in the future.  We cannot do this over a period of 10, 20 or 30 years.  We must do it right now, this year, today, in the present tense.
There is no other option and I don't give a damn how much the medical providers, hospitals and lobbyists scream.
"Scotty, I need warp power in 2 minutes or we're all dead." 
Really.
Yes, I'm fully-aware that the government and Fed will try to "kick the can" in some way, even if they see this as the imminent outcome of their acts.  But any further "can-kicking" just makes the problem worse by compounding the debt and expense profile even more.
Some of the back-of-the envelope numbers I had been working with gave us until about 2020 or thereabouts before the discontinuous spike occurred.  Those models were ones that I tweaked back in 2007 and were the reason for my alarm at the time — we had less than a decade left before the impact started.
But now we have both Europe (which is falling back into recession), Britain (which is an utter basket case) and Japan, which has effectively declared that it will debase its currency and destroy the purchasing power of its citizens into a depleted savings base.  In addition we have what is now a known set of outcomes from Obamacare, which I predicted would be an utter disaster and for many people would double their health care expenses (mostly insurance) and which is now known to be correct.
This changes have forced updates to those graphs and expectations and unfortunately they have pulled forward the "aw crap" date to as few as two years from now.
Note that these are quite-conservative estimates.  If defense spending rises from here then it's even worse.  If welfare spending rises (E.g. more food stamps anyone?) then it's even worse.  If we subsidize more student loans, it's even worse.  This estimate and work assumes that no other part of the federal budget increases by one single net penny — a ridiculously conservative set of assumptions.
If the corrective actions aren't taken in the immediate present tense then what you're looking at is the outcome that will happen, and when that outcome occurs immediate collapse of the government's funding model is assured. 
This is not speculative — it is arithmetic.
The only option The Fed would have would into such an event would be to try to "QE" the difference via what at that point amount to completely-phony auctions and "open market operations" on top of what it's doing now — that is, roughly double the destruction of purchasing power that is taking place today via their "QE-to-infinity."
But that simply transfers the deficit to the population directly via that destruction of purchasing power and it falls almost-entirely on the bottom two quintiles of the income spectrum.
That's a recipe for a nearly-guaranteed civil war as you will generate over 100 million Americans with nothing to lose.
Raw chart data from usgovernmentspending.com, traceable to US Budget data (official)
In the duh department we have this:
The actual liabilities of the federal government—including Social Security, Medicare, and federal employees' future retirement benefits—already exceed $86.8 trillion, or 550% of GDP. For the year ending Dec. 31, 2011, the annual accrued expense of Medicare and Social Security was $7 trillion. Nothing like that figure is used in calculating the deficit. In reality, the reported budget deficit is less than one-fifth of the more accurate figure.
Did you get that?
The entire economy is $15 trillion.
The accrued expense of Medicare and Social Security alone — and most of it is Medicare — is half the economy each and every year.  Put that in your head and consider that this would mean that just to keep even we would have to more than triple the existing amount of tax collected, raising total taxation to more than 60% of the economy!
If you have read Leverage you know that one of the pieces that I pound on hard is the medical cost explosion.  I've also written about it extensively here in these pages.  This is why — it is simply impossible for the promises made through Medicare to be kept.  That is not conjecture, it is not able to be fixed with taxation, it is not a matter of opinion.
It is mathematical fact.
You're not going to get Medicare, unless (1) you're getting it now and (2) you're reasonably close to death.  For everyone else what you have been promised and what you're going to get are very different, and there is exactly nothing you can do about it.
There is also no "gradual" way to deal with it.
If you want a look at the fiscal future of the U.S., look west to Japan, a nation that sits precariously on a fiscal cliff a thousand feet high. 
If you want to know how the Keynesian Cargo Cult's grand experiment in borrowing money to fund bloated fiefdoms, rapacious cartels and bridges to nowhere ends, just look west (from California) to Japan. The Japanese State, partly because they seem to believe in the Cargo Cult, and partly to avoid exposing the insolvency of their crony-capitalist financial sector, has been borrowing and spending money on a vast scale for two decades.
The Keynesian Cargo Cult's primary article of faith is that borrowing and blowing huge sums of money on anything and everything will magically restore "aggregate demand," i.e. the animal spirits that drive people to borrow and blow money on consumption. This is of course pure insanity, as people cannot borrow if their balance sheet has been destroyed, their real incomes are declining and they have lost trust in institutions that fear transparency and the truth like the Devil fears garlic.
Recall that the Federal Reserve's Survey of Consumer Finances for 2007-2010 found that the median net worth of households fell a staggering 39%, from $126,400 to $77,300, and average household income fell 11% from $88,300 to $78,500.
But rather than face the fraud and corruption at the heart of American (and Japanese) finance and governance, the Keynesians just want to leave the predatory, parasitic crony-capitalist Status Quo intact and create an illusory world of bogus "demand" and grotesque malinvestment funded by ever-increasing debt. In effect, the entire Keynesian Project seeks to reinflate asset and government revenue bubbles–the very causes of the global financial meltdown.
Let's see how the Keynesian protection of a corrupt, parastic Status Quo and pursuit of monumental malinvestment has worked for Japan. Here is the Ministry of Finance's Highlights of the Budget for FY2012 (via Andrew P.). Consider the ramifications of these numbers:
REVENUES: 90,334 (billion yen)
Tax revenues: 42,346
Other revenues: 3,744
Government Bond Issues (borrowing): 44,244
EXPENDITURES: 90,334
National Debt Service (interest): 21,944
Social Security: 26,390
Other: 42,000
So interest on the debt and Social Security are 114% of tax revenues. Put another way, tax revenues don't even cover interest on the runaway debt and Social Security costs.
An amazing 49% of the governments budget is borrowed money. Even with near-zero yields on Japanese government bonds (less than 1%), 52% of tax revenues are spent on national debt interest.
Recall that the interest rate Japan's government is paying on its stupendous debt is about 1%. Were that to double to a mere 2%, all of the new debt would go just to pay the interest on existing debt.
This is truly the Red Queen's Race. (Losing the Red Queen's Race – February 17, 2010) And it's been going on a long, long time. Japan's budget/borrowing imbalance was already severe a decade ago when I wrote this: Japan's Runaway Debt Train (2001).
Since 2005, annual borrowing has increased 10,000 billion yen (BY) while expenditures rose by 8,000 BY. Tax revenues have been stagnant at 44,000 BY while the interest expense has risen 19% and Social Security costs have increased by 29%.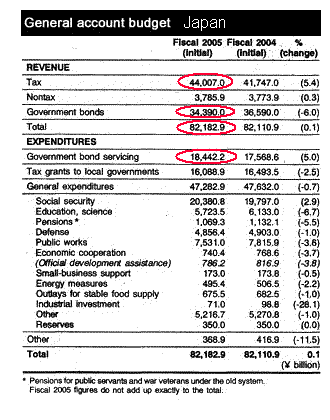 You see what's happening: tax revenues are unchanged from seven years ago while interest and Social Security costs increase dramatically as the debt inexorably expands and more retirees qualify for Social Security.
Now take a look at the 2012 United States federal budget. Net interest on the $16 trillion national debt is "only" $242 billion, while Social Security costs totaled $778 billion. So far, debt and Social Security ($1 trillion) are "only" 40% of total tax revenues, but like Japan, rapidly rising debt will increase interest while a rapidly increasing population of retirees qualifying for Social Security will drive those costs dramatically higher in the years ahead.
Given $2.47 trillion in total tax revenues, $3.8 trillion in expenditures and a deficit of $1.3 trillion, 34% of the Federal budget is borrowed money. We are borrowing 52% of total tax revenues.
Does anyone seriously think this is the "road to recovery"? If you want a look at the fiscal future of the U.S., look west to Japan, a nation that sits precariously on a fiscal cliff a thousand feet high.
Charles Hugh Smith – Of Two Minds
Replacing old impaired debt with new impaired debt does not generate growth. Borrowing more money will not reverse financial death spirals.
Sorry, Bucko–Europe is still in a financial death spiral. Friday's "fix" changed nothing except the names of entities holding impaired debt. We can lay out the death spiral dynamics thusly:
1. Growth was dependent on borrowing money and blowing it on consumption and malinvestment. Replacing old impaired debt with new impaired debt does not generate growth.
2. Borrowing more money to pay the interest on past borrowing will not generate growth. Money must be borrowed to pay the interest and additional money borrowed to fund current consumption. As interest increases, this creates a geometric increase in debt and interest costs.
3. Borrowing more money to fund current consumption is a death spiral, as the interest payments eat up future revenues, starving productive investment and future consumption.
4. Borrowed money must be backed by either collateral or future income streams. The collateral remaining in malinvestments (villas in Spain, etc.) is either impaired, near-zero or simply non-existent. There is no legitimate collateral on which to base more borrowing.
5. Future income streams are already committed to paying interest on past debt and mandated consumption (entitlements, government payrolls, etc.), so there is no legitimate collateral on which to base more borrowing.
6. Interest rates will rise as investors question whether their capital will be returned in full or if it will be returned in depreciated currency.
7. Export-based economies will contract as China's expansion slows to a crawl. Future projections of national income are overly optimistic.
8. As income is bled off to pay rising interest, there is less money available for consumption or investment. Without investment, income declines. As taxes rise, there is less private-sector income available for either investment or consumption. This is the "austerity death spiral," and borrowing more for State malinvestment will not halt it.
The more money that is borrowed to maintain Status Quo consumption, the higher the future interest payments. This is a financial death spiral.
9. There is no collateral for more borrowing, but "growth" depends on more borrowing.
10. Transferring bad debt to central banks does not mean interest will not accrue: interest on the debt still must be paid out of future income, impairing that income.
11. Lowering interest rates does not create collateral where none exists.
12. Lowering interest rates only stretches out the death spiral, it does not halt or reverse it.
13. Centralizing banking and oversight does not create collateral where none exists.
14. Europe will remain in a financial death spiral until the bad debt is renounced/written off and assets are liquidated on the open market.
15. Anything other than this is theater. Pushing the endgame out a few months is not a solution, nor will it magically create collateral or generate sustainable "growth."
16. The Martian Central Bank could sell bonds to replace bad debt in Europe, but as long as the MCB collects interest on the debt, then nothing has changed.
The Martians would be extremely bent when they discovered there is no real collateral for their 10 trillion-quatloo loan portfolio in Europe.
Charles Hugh Smith – Of Two Minds
Damnit, how long do we have put up with this crap?  Will we have an honest conversation on the facts of the matter related to what's going on in the banking system — and has been since 2007 and indeed for the last 30 years – before or after we are blown to bits?
A Spanish plan to recapitalise Bankia, the troubled lender, by indirectly tapping the European Central Bank for cash, was bluntly rejected as unacceptable by the ECB, European officials said.

News of the rejection came as Spain faces elevated borrowing costs in the bond markets, tries to persuade investors it can contain problems in a banking sector weighed down by €180bn of bad property loans and, on Tuesday, saw its central bank governor stand down early.
Ok, so where are you going to get the capital, Spain?
You can't just go out and sell bonds equal to 30% of your GDP and give it to Bankia!
Senior government officials in Madrid argue that bailouts in Portugal, Greece and Ireland have been catastrophic and Spain will not compromise on its refusal to accept a similar form of intervention.
That's because there has been no recognition of the truth.
Not in Greece, not in Portugal, not in Ireland and not in the United States.
Here's truth: Government cannot spend more than it taxes.
Period!
There is no "if", there is no "and", and there is no "but."  All the games played over the last 30 years, which were all frauds and which Bernanke, Paulson, Geithner, Obama, Merkel, Sarcozy and the rest have all been part of are in fact scams.
I will explain why.
Let's stop, for a minute, using the term "Dollars" or "Euros", particularly as it relates to GDP — that is, output of goods and services.  This is an arm-waving tactic intended to deceive you, the common man.
Instead we're going to call them "units."
Remember, GDP = C (consumption) + I (investment) + G (government spending) + (x – i) (exports less imports, or net exports)
Remember too that each unit of GDP must be bought with one unit of money or credit, and that each unit of money or credit "turns over" some number of times during a period.  Since GDP is measured over a year (a convenient period) we'll measure the "turnover" during that period too.  In economics this is called "Velocity."
What happens if there is more and more credit emitted into the system — faster than output goes up?
That's simple: The value of each unit of money or credit must go down!
We'll make it simple by making the numbers smaller but leaving the relationships alone, so you can understand this in a context that relates to your personal life.
In 2000 there were 10,130 units of output in the economy.
There were 27,138 units of money and credit in the economy.
Each unit of output was therefore able to be bought by about 2.68 units of money or credit.
As of the 4th quarter of 2010, there were 14,755 units of output in the economy.
But there were 53,353 units of money or credit.  This means you needed 3.62 units of money or credit to buy one unit of output, a direct decrease in your purchasing power of about 35%!
But wait, you protest, wages went up during that time.  That's true.  In fact it would appear that you pretty-much kept pace, if you look at FRED and view the hourly earnings numbers.  But that's misleading due to the labor participation rate — it has been falling, which means a lower percentage of working-age people are actually working, and this makes the number look reasonable.
Let's look instead at median household income, since that reflects everyone.
Median household income in current units (dollars) went from 41,990 in 2000  to 49,445 in 2010, a 17.8% increase.  Where did the other half, roughly, of the purchasing power loss that occurred go?
You lost it due to credit expansion.  It was stolen from you and the banks are the ones who stole it, with the explicit support and permission of your government.  In fact your government has and continues to explicitly hide the truth of what happened and how, even though their own statistics, if you know where to look, make clear exactly what happened!
Your purchasing power as a median household went down in real terms by about 17%, even though you had more "dollars."
That's not a small decrease; it's darn close to a fifth of your purchasing power!  It is in fact exactly identical to a rough doubling of the federal tax rate on most middle-income Americans — and you suffered it from 2000 – 2010.
Tax cuts under Bush and/or Obama? 
Like hell – your effective tax rate doubled and the money didn't even go to the government it was siphoned off by the banks!
This happened because your government allowed the private banks to create unbacked credit and debase the currency, skimming off the profits for themselves.  Oh sure, some of the people got some of the money.  That's is without dispute (e.g. if you had stocks, for example, you got some of it.)  But most people did not.
Now let's talk about what government has done since and why this cannot work — not here and not in Europe.
Our Federal Government has added roughly $5 trillion in new credit into the system over the last three years and change.  That's approximately $1.5 trillion per year, or about 10% of the nation's economic output. But FRED says that the total average weekly earnings of all private employers have only risen 7% for the entire three year period, not per year, and this is only if you have a job!  If you don't?  Then it's worse because when one factors in the decline in the labor participation rate the average household probably saw no increase at all!
But 10% credit inflation compounded over three years is a 33% increase.  You saw — if you had a job the entire time – 7% of it.  Where did the rest go?  It too was legally stolen by the banks through the acts of government while claiming to be handing you "free cheese."
Why are you struggling?  Because you're being lied to.  You've been serially lied to for the last 30 years.  These policies don't work because it is mathematically impossible for them to do so.  At best you can borrow and speculate with the borrowed money, and either have your speculation pay off (as it did for some property speculators who bailed out at the right time) or lose (and go bankrupt entirely.)  But that's not "saving" or "investment", it's gambling and if you refuse then your purchasing power gets relentlessly stolen by the banks and your government is the one making it possible.
It is not about left, right, Democrat, Republican or anything else.
It is about mathematical fact — the debasement of your purchasing power is intentional and that purchasing power is being stolen to satisfy a bunch of banksters who "need" your production to avoid having to immediately recognize that they made a bunch of bad loans.
Without those funds they would all be out of business!
Worse, every single politician who refuses to speak to this issue is stealing from you right now and every candidate who refuses or fails to speak to this issue is proposing to steal from you if you elect him or her. 
All of them — Republican, Democrat, Left, Right, Libertarian, Socialist, whatever.
Is this just?  Exactly how is it just?  You didn't force these banks to make a bunch of bad loans!  You did nothing of the kind.  If you participated and took a bad loan or your company did it went out of business or you went bankrupt — or you have bill collectors hounding you at every turn.
At the same time your government is robbing you so the people who made that decision to lend foolishly can remain in business and steal some more!
This same thing is going on in Spain, Portugal, Greece, Ireland and the United States.
Why do you think JP Morgan was selling off "good" assets to cover their "loss" on their trading desk from the "whale" that was "inconsequential" (or so we were told)?  Don't they have $2 billion in operating profits they could cover that loss with?  Why do they need to sell prime assets?  Is it because they have no actual money?
Wake up folks.
There is only one way to resolve this problem.  Government cannot spend more than it takes in through taxation.
Period.
Unbacked credit cannot be allowed to expand without bound.  Credit and money, on balance, cannot expand more than GDP does.  That's economic balance.  When there's a recession credit and money must contract to match the decline in GDP!
That's exactly backward from what you're told but it's true and it's been proved.  In 1920/21 that's exactly what The Fed and The Federal Government did.  We had a nasty deflationary recession.  The Fed removedliquidity, forcing interest rates up, and the Federal Government balanced the budget, ceasing deficit spending.
The economy cleared and recovered in 18 months!
Now?  We've been at this for nearly four years and there has been no recovery.  Europe is on the edge of detonation and so are we.  We have not forced the bad loans into the open and defaulted them; instead we have people living in zombie homes with a zombie mortgage they haven't paid on in three years and the bank won't foreclose because it then must recognize the loss, and if it does it goes bankrupt.  We're told the economy and employment are "recovering" but the labor participation rate has not moved off the floor and the number of people on food stamps is at a record high.
It's all a lie.
This game cannot continue.  We are seeing wild gyrations in the world currency and asset markets as one day everything is "ok" as the Ponzi gets another day and the next literal Armageddon threatens.
Is this how you want to live?  Juggling jars of nitroglycerin hoping you never drop one?  All this so a bunch of fat-cat banksters don't have to face the music for their acts, and our politicians can continue to lie to you and let them steal your wealth and earnings year by year, driving you into abject poverty?
ARE YOU NUTS?
Well, I hope not, but if you are, rest assured — arithmetic doesn't care if you want to continue with this charade or not.  For each day you refuse to rise from your chair, turn off American Idol and demand that the scams and schemes stop, that the budget be balanced now and that the banksters eat their own cooking the worse the contraction in the economy and the inevitable damage to your personal standard of livingwill be.
It is your choice Americans, Greeks, Spaniards, Portuguese, Italians, English and Irish.
There is no way to avoid what you've done.  What we've all done.
And what we must stop doing!
We can only stop it from getting worse, accept that which we must face, and force those responsible to pay for their acts.