Archive for the 'Securities and Exchange Commission' Category
One of the things we learned in almost 30 years in the brokerage business is that self-regulation does not work. The players are simply too abusive, greedy and prove to take the regulations to the very edge. We saw that at MF global. All markets are rigged today. Twenty-five years ago perhaps 80% were rigged. The SEC and CFTC are well aware of this and in many cases aid and abet in the crimes. The crimes are too many to mention, but among the leading problems are complicity in front running and naked shorting. There is no such thing as an efficient market hypothesis. Just another phase to led you off into the forest.
A small group of big hitters control Wall Street, the Federal Reserve, our government and our economy. Just ask members of the Council on Foreign Relations, the Trilateral Commission or the Bilderberg Group. They know what is going on because they help make policy, and arrange to get it executed. Wall Street is one long litany of fraud, where the guilty seldom go to jail and the tables are squared via fines, usually paid by the firms and not the individuals. While the SEC and CFTC investigations go nowhere, or don't happen at all, they relish charging small and medium sized brokerage houses to justify their existence. That is when they are not pursuing some newsletter writer, all of whom cannot afford top legal help, or any legal help at all. The whole game is crooked and has been for many years. It is government and its agencies and Wall Street and baking that controls your entire lives. Their power is immense and that is how they get away with what they get away with.
The same is true with Congress 90% of which are bought and paid for via campaign contributions and other artifices such as insider trading. That is why we have free trade and globalization, offshoring and outsourcing. Congress and those running for the office and president don't even talk about it, yet, in 12 years it has cost 12 million jobs and 450,000 businesses. Obviously that is not a serious matter for Congress. Or should we say those who pay Congress, transnational conglomerates, want free trade just as it is. Our nation could not compete with slave labor countries in 1795 and they cannot compete now. There has to be a leveling force, a balance that stops the pillaging of America, which destroys economic independence and eventually sovereignty. We are a step away from post industrial dependency and bankrupt as well. Congressional complicity stands out like a beacon, when these asset strippers do not have to pay taxes on foreign earnings. Who has ever heard of something so unreasonable? Instead of lowering corporate taxes as other nations had done we eliminated taxation, so transnational corporations could compete. This is what we call modern colonialism.
After the debacles of the 1790s and British colonialism, the US switched to a tariff system, which worked quite well until about 25 years ago. Then came WTO, NAFTA and CAFTA, the result of which you are witnessing today. The system of tariffs allowed government to fund itself via exercise taxes funded by foreign corporations, which kept Americans from having to pay income taxes for about 100 years. Tariffs are part of what made America great and we cannot be great again without tariffs, it is as simple as that. You cannot have prosperity giving away 12 million jobs in 12 years. As we have seen you cannot have persistent and growing trade deficits year after year and not go broke. Here we are 217 years later doing the same stupid thing over again. The main reason for this is that the public is not paying attention and Congress does whatever their paymasters tell them to do.
The debt position of the US deteriorates each day and with it not only the dollar, the world's reserve currency, deteriorates versus other currencies and gold and silver. Having the dollar as the world's reserve currency gives many benefits to Americans and if that advantage is lost so is what is left of American prosperity. Are we to follow in the footsteps of Greece? It is wrong to say that tariffs cause depressions. They were increased six times over the past 200 years and no depression followed. If we do not get tariffs America cannot survive as a world leader.
If a written document exists outlining the deliberate default of Greece and has been in the possession of two Wall Street banks for a month then the fall of Greece has been in the works for some time. The date of March 23rd was supposedly the date for default. The rating agencies are supposed to be the trigger for the default. The 23rd is a Friday and on Saturday Greek bank accounts are to be frozen. If that is true all Greeks should have their euros and any other currencies and valuables out of all Greek banks.
Several months ago we stated that we did not know what was really going on behind the scenes in Germany. Our question was did they really want to save Greece and perhaps the euro, or were they interested as the majority of Germans are, in dumping the euro and the EU? Over the past week commentaries were all over the place, many of them off the wall. We have seen delays for 2-1/2 years, but nothing like we have seen over the past month. It is like most non-Greeks had monkey wrenches to throw into the gears of progress. The US says they do not want to get any deeper into Europe's problems, as the IMF offers a pittance. The Germans and Schäuble these past 2 weeks had nothing but negative comments and commands trying to keep moving the goal posts, so to cast confusion among Greek negotiators. We are told on Saturday that on Thursday a deal was cut. Mrs. Merkel wants to replace the Greek government with a EU commissioner. In German it is called Gauleiter. We guess they want to have Greece as a subsidiary of Germany.
Bob Chapman – The International Forecaster
Once again, the Securities and Exchange Commission has embarrassed itself. Last week it let off the hook two hotshot former Wall Street hedge-fund managers who lost a bundle for the investors trusting them to manage their money responsibly.

Instead of going to court on Feb. 13 and laying bare the sordid facts for a jury, at the last minute the SEC settled a civil suit against Ralph Cioffi and Matthew Tannin of the now defunct Bear Stearns Cos (2942331Q). These were the hedge-fund managers who five years ago loaded up their two funds with billions of dollars of lousy mortgage-backed securities and collateralized-debt obligations, leveraged them to the hilt and, when the market for the securities soured in July 2007, liquidated the funds.
If you remember these are the two clown-car boys that set off the blowup in August of 2007, which was then followed by a discount-rate cut on Options Expiration that was obviously, from trading patterns, noticed to big Wall Street firms the day before and which wiped the floor with a whole host of people's accounts.  It also set in motion the consequences that led to the destruction of Bear Stearns.
The SEC "settled" the civil charges against these two esteemed gentlemen for just over $1 million.  I will note that during the two year period of time during which the alleged fraud was committed, according to court documentation, an alleged fraud committed by actively lying to the investors in their hedge funds, they took out $26.4 million in pay and bonuses.
Theirs was not a small lie either — documents show that they stated in print on an investor's 2007 account statements that the total exposure to subprime mortgages was 6% of the fund.  In reality the exposure was 60%, ten times greater than stated.
The fund, if you remember, collapsed.
As part of the "settlement" neither of these "esteemed gentlemen" is required to admit to any wrongdoing, despite there being apparent iron-clad evidence of these false statements.  The "settlement" amounts to a fine of under 4% of their pay during the time in question, meaning that it amounts to exactly nothing in terms of deterring future behavior and simply reduces enforcement actions to a cost of doing business.
If we treated bank robbery the same way, requiring only that you give back 4% of whatever you steal if you get caught (and 0% if not of course) there would be a literal line down the block of ski-masked gun-toting men at every bank in town.
Oh yeah, these two can't work in the securities industry for a couple of years.  I'm sure the $22 and $4 million will be more than enough to tide them over.
The Judge wasn't impressed at all; he called the settlement "chump change" (and it is) and asked "am I just a rubber stamp here?"
The SEC's counsel, incidentally, claims that neither of these guys got rich.
I'm sure the rest of the 99% would argue with that; indeed, I think essentially all of us out here would consider $4 million quite rich, say much less more than $22 million.
The only way you can claim "Nobody committed any crimes" is if you are intentionally not looking.  If you're a politician, and this is your position when it comes to the most-outrageous set of frauds ever perpetrated in the history of the nation, exactly what else are you willing to intentionally overlook and why should we trust you with any delegated power greater than "Dog Catcher"?
The always behind-the-curve Fed seeks to fine mortgage servicersfor unsafe practices and robo-signing with an amount dependent on allegedly independent review by consultants.
Federal Reserve Governor Sarah Bloom Raskin on Saturday said the Fed must impose monetary penalties on banks who entered into an April agreement with regulators over how to fix problems in their mortgage servicing businesses.

"The Federal Reserve and other federal regulators must impose penalties for deficiencies that resulted in unsafe and unsound practices or violations of federal law," Raskin said in remarks prepared for delivery to the Association of American Law Schools. "The Federal Reserve believes monetary sanctions in these cases are appropriate and plans to announce monetary penalties."

In April, 14 mortgage servicers, including Bank of America and JPMorgan Chase entered into a settlement with the Fed, the Office of the Comptroller of the Currency and the now defunct Office of Thrift Supervision on steps that have to be taken to correct and improve their servicing practices, such as providing borrowers with a single point of contact for questions.

As part of the agreement, these mortgage servicers have hired consultants to review foreclosures that took place in 2009 and 2010 to see if any were improper.
Regulators have said these reviews will help determine the size of any penalties the servicers will have to pay.
Expect Trivial Penalties, Spread a Mile Wide
Don't expect this announcement to amount to much of anything. Penalties, if any will be trivial and the fines are nearly guaranteed to not benefit those harmed in any substantial way. Instead, expect fines to be spread out to include those not harmed at all.
Another Whitewashing Move by the SEC
Similarly, don't expect much of anything from this feeble announcement: SEC to demand admission of wrongdoing in some cases
Securities regulators will no longer let companies settle civil cases without admitting or denying the charges if they have already admitted wrongdoing in parallel criminal cases.

The policy change, announced by Securities and Exchange Commission Enforcement Director Robert Khuzami on Friday, applies only to instances where a defendant has already admitted to violating criminal laws.

It comes just over a month after a federal judge in New York rejected a proposed $285 million settlement between the SEC and Citigroup, in part because the bank had not admitted to wrongdoing. However, in that case, no parallel criminal charges have been filed.

It seemed "unnecessary" for the SEC to include its traditional "neither admit nor deny" approach if a defendant had already been criminally convicted of the same conduct, Khuzami said.

In one of the most egregious examples, Bernard Madoff pleaded guilty for his role in a multi-billion dollar Ponzi scheme in 2009, but neither admitted nor denied the allegations in a settlement with the SEC.

In rejecting the Citigroup accord, U.S. District Judge Jed Rakoff said the SEC's failure to require Citigroup to admit or deny its charges left him with no way to know whether the settlement was fair. Rakoff also called the $285 million payout "pocket change" for the third-largest U.S. bank.

The Citigroup settlement was intended to resolve charges that the firm sold risky mortgage-linked securities in 2007 without telling investors that it was betting against the debt.

"My take on things is it is all about managing the press," said James Cox, a professor at Duke Law School. The agency "looked pretty silly before Judge Rakoff the other day," he said.
This policy "non-change" borders on the absurd. The ruling only applies to only to instances where a defendant has already admitted to violating criminal laws. Notice that the ruling does not even apply to the Citigroup case in which a Judge Blasted  the the SEC.
"Doesn't the S.E.C. have an interest in what the truth is?" Judge Rakoff asked, in reference to the commission's longstanding practice of not forcing a defendant to admit any wrongdoing when settling a case.

Judge Rakoff called the contempt power — a judge's ability to punish a party for disobeying a court order — "the backbone of the judiciary." He questioned whether the S.E.C. was really serious about ever seeking an injunction against repeat offenders.

"It's just for show," Judge Rakoff said.

"We're not saying that we will never use injunctive relief," said the S.E.C. lawyer.

"Hope springs eternal," the judge replied.

The S.E.C.'s current enforcement action against Citigroup is at least the fifth time that the commission has reached a settlement with the bank related to civil fraud accusations.
SEC Fine vs. Citigroup Gain
Please consider SEC Tired of Fighting Big Banks-Calls Federal Judge Rakoff Refusal to Approve Citigroup Settlement-Shortsighted.
Estimates are that Citigroup made a $3.8 billion profit from the bogus investment portfolio.  The investors lost over $700 million.  The $285 million offer to settle is a joke.  The Judge made clear he would not allow corporations to continue to buy their way out of fraud from "a cost of doing business" fund.  The Judge demands the truth to be revealed and the public protected.

Public service is a public trust.  Federal employees have a duty to protect the public interest.  Apparently, the SEC forgot their duties and the fact that the Court is the final arbiter.  The legal team at the SEC that crafted the Citigroup deal need to remember they are federal service not bank employees.  It's refreshing to see Judge Rakoff remind government workers who employs them.  show.php?db=special&id=138

Rakoff's words to the SEC and big banks has been globally hailed as public policy genius.  Thank you Judge Rakoff.The trial is scheduled for July 16, 2012.
While essentially ignoring billions of dollars in repeated fraud allegations against Citigroup, the SEC brought full weight down on Martha Stewart over (drum roll please) … $45,673.
Martha Stewart went to prison and was fined $30,000. Since then, no one has gone to prison or even been criminally indicted in $trillions of dollars of fraud in the global financial crisis. And unless someone does admit criminal action, the SEC reserves the right to do more whitewashing without seeking admission of guilt.
Mike  "Mish"  Shedlock – Global Economic Analysis
NEW YORK — A federal judge Wednesday challenged the SEC's plan to settle a fraud case against Citigroup for $285 million, saying that the deal would recoup only a fraction of investors' losses and would leave the firm free to proclaim its innocence in private lawsuits over the remaining damages.

The judge used the Citigroup case to mock the SEC's traditional way of doing business — allowing defendants to settle without admitting or denying wrongdoing.

The unproven allegations, U.S. District Court Judge Jed S. Rakoff said, "are no better than rumor or gossip."

"Does not the SEC of all agencies have an interest in establishing what the truth is?" Rakoff asked.
Well yes, it should.  But it doesn't.  And here's the real problem: This isn't the first offense.
In fact Citi has already promised not to do it again many years ago.  And yet they did it again.  This is not unique; let's remember NY Fed board member Kindler
New York-based Pfizer agreed to pay $430 million in criminal fines and civil penalties, and the company's lawyers assured Loucks and three other prosecutors that Pfizer and its units would stop promoting drugs for unauthorized purposes.

What Loucks, who's now acting U.S. attorney in Boston, didn't know until years later was that Pfizer managers were breaking that pledge not to practice so-called off-label marketing even before the ink was dry on their plea.

On the morning of Sept. 2, 2009, another Pfizer unit, Pharmacia & Upjohn, agreed to plead guilty to the same crime. This time, Pfizer executives had been instructing more than 100 salespeople to promote Bextra, a drug approved only for the relief of arthritis and menstrual discomfort, for treatment of acute pains of all kinds.
Yeah.  This disgusting practice is spread all over our financial system along with virtually all other areas of "rich and powerful" firms and individuals.
Claims that this is an "isolated incident" are blatant lies; among financial firms alone out of 19 firms you can count 51 offenses: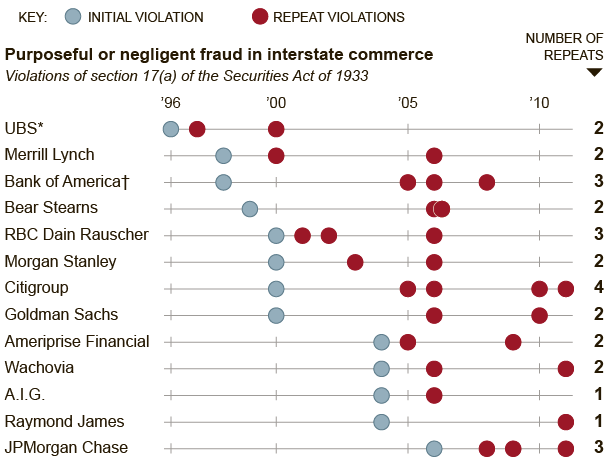 Source: http://publicintelligence.net/banks-dont-make-promises/
The problem with such "fines" is that the record demonstrates that they provide no deterrent at all.  As I have repeatedly pointed out if the penalty for robbing a bank was that you had to give back 1/3rd of the loot — and that's all — the bank would be robbed literally every hour on the hour.
The political folks who utterly refuse to address this issue – including the so-called "Tea Party" (Joe Walsh anyone?  Or how about Steve Southerland?) are simply pointing out that you are considered peasants and under the boot of an imperious King who grants those in his favor the right to screw you with impunity.
If you continue to support and vote for these jackals on either side of the aisle — if you continue to provide consent of the governed to the government under those terms — then you're consenting to being screwed.
It's that simple folks
You want to know why "OWS" is right?  It's found right here in this sort of so-called "justice" that the SEC is trying to mete out.  And don't start this crap about it only being "Democrats" that do this sort of thing: The Republican Party controls The House which means it also controls appropriation of funds and could literally close any department or agency that refused to bring actual prosecutions and demand actual jail sentences.
The so-called "Rule of Law" party likes to run pretty commercials, and in fact Herman Cain's campaign just called me seeking money a few minutes ago.
I told them that I'd give them a donation when hell freezes over, as not only does Judge Rakoff discern that this sort of "settlement" is a sham but so do I, and I'm not funding any more of that crap. 
The "nice girl" on the other end of the phone hung up on me.  Well f$#c you very little Herman, along with the rest of the Republican field.
The Tea Party had every opportunity to stand on exactly this principle and demand handcuffs and real solutions, and in fact Santelli's Scream was founded on this very principle, as has been my advocacy since I started this publication.  But that foundation — The Rule of Law and equality under the law — was almost-immediately co-opted by pretty-face Palin and others who immediately turned the focus to things that had nothing to do with how our economy got to be where it is.
If the "Tea Party" wishes to avoid being buried by history then it needs to get in front of this issue now and join with the only group of people who are currently out in the street protesting this exact crime.  They need to refuse to go home until the jackals that caused this economic mess are in the dock for their offenses.  This singular focus and the dismantling of the fraudulent edifices that permeate our financial system can be accomplished; what's more important is that doing so now is infinitely preferable to continuing the Ponzi and winding up with even more damage to be absorbed.  There's an opportunity here but the time remaining to take advantage of it is fleeting and soon will be gone if not seized.
That existing group, incidentally, is called Occupy Wall Street.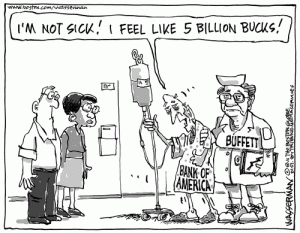 Last Friday, the Federal Housing Finance Agency filed lawsuits against 17 of the largest banks and financial institutions in the world.  FHFA is seeking a total of $196 billion in restitution from these institutions for not disclosing risky mortgages sold to Fannie Mae and Freddie Mac that went sour. The government news release said, "The complaints filed today reflect FHFA's conclusion that some portion of the losses that Fannie Mae and Freddie Mac incurred on private-label mortgage-backed securities (PLS) are attributable to misrepresentations and other improper actions by the firms and individuals named in these filings."  (Click here to read the complete press release naming all banks being sued.)
"Misrepresentations and other improper actions,"—that's it?  This is all just sloppy work where the banks didn't pay attention to the facts?  What an outrage!  There are still no criminal prosecutions, let alone any investigations of the major banks that caused a global meltdown.  By the time this is over, millions of homes will be foreclosed upon.  The bankers that caused the mess have been rewarded year after year with huge bonuses since 2008!  The FBI and the SEC can't find a single criminal act by a single one of these 17 institutions?  The incompetent (and I think criminal) scoundrels responsible are still in charge!
Goldman Sachs was one of the 17 banks sued by the government.  That complaint said, "Goldman Sachs Mortgage Company, GS Mortgage Securities Corp. and Goldman, Sachs & Co.'s misconduct was intentional and wanton. The immediate victims of Goldman Sachs Mortgage Company, GS Mortgage Securities Corp. and Goldman, Sachs & Co.'s fraud was Fannie Mae and Freddie Mac, two Government-sponsored entities whose primary mission is assuring affordable housing to millions of Americans."
If there are allegations of "fraud," why have there been no criminal prosecutions of Goldman Sachs or any of the other institutions?  As early as 2004, the FBI was warning of widespread mortgage fraud.  CNN reported, "Rampant fraud in the mortgage industry has increased so sharply that the FBI warned Friday of an "epidemic" of financial crimes which, if not curtailed, could become "the next S&L crisis."  Assistant FBI Director Chris Swecker said the booming mortgage market, fueled by low interest rates and soaring home values, has attracted unscrupulous professionals and criminal groups whose fraudulent activities could cause multibillion-dollar losses to financial institutions.  'It has the potential to be an epidemic," said Swecker, who heads the Criminal Division at FBI headquarters in Washington. "We think we can prevent a problem that could have as much impact as the S&L crisis,' he said."  (Click here for the complete 2004 story from CNN.)  The financial crisis cause by mortgage fraud was not even close to the size of the S&L crisis—it was at least 40 times bigger!!  Why didn't the FBI stop it, and why are they not prosecuting the crime now?
And what about the "robo signing" stories that came to light in the last few years?  There were countless reports documenting the creation of millions of mortgage documents by foreclosure mills across the country.  They were effectively forging documents, such as Promissory Notes, so banks could illegally foreclose on homes.  The banks reportedly "lost" the proof they owned the property and had the right to take back millions of homes.  If that was the case, how did the banks create mortgage securities without the required paperwork?  Documents such as Promissory Notes are required to be filed with the mortgage-backed securities.  No Promissory Note—no security.  Why is the Securities and Exchange Commission not prosecuting securities fraud?  If there were no documents in a large part of the securities, how did the ratings companies give triple-A grades to what are now called "toxic assets?"  Why aren't the ratings companies being pursued criminally?
The fact is, not a single high profile New York banker has been prosecuted criminally.  But, hope springs eternal; Goldman CEO Lloyd Blankfein recently hired a high profile defense attorney.  I am not holding my breath on any sort of criminal charges to be filed against Mr. Blankfein.
In closing, I just want to add what I think is one of the most preposterous things about the $196 billion lawsuit.  Bank of America is being sued for $6 billion by the government.  At the first of the year, Treasury Secretary Tim Geithner forgave B of A $127 billion in possible buy backs of sour mortgage debt sold to Freddie Mac.  I wrote about this extensively in a post titled "B of A Settlement, Another Taxpayer Rip-off."  Just a few weeks ago, Fannie Mae agreed to buy $73 billion in troubled mortgage debt from B of A.  These two deals amount to $200 billion in back door bailouts for just one of the 17 banks being sued.  We gave B of A more than $200 billion from Fannie and Freddie alone, and the government is suing to recover $6 billion?  I have to wonder, is our government stupid, corrupt or both?
The government has not investigated or prosecuted crime that is obvious to anyone with a 10th grade education.  Federal officials are giving the bankers that caused the entire financial calamity huge bailouts while pretending to punish them with a slap on the wrist.  I think if there were widespread and genuine criminal prosecution, the entire system would collapse.  That is probably why unmistakable crimes are being ignored by most federal and state authorities.  Until fraud is removed from the system and criminal acts are punished, the country will not recover.   Vibrant economies cannot thrive in an environment of lawlessness and mistrust.
By Greg Hunter's USAWatchdog.com
Washington, D.C., March 2, 2011 – The Securities and Exchange Commission today charged a former vice president at Colonial Bank who was the head of its mortgage warehouse lending division with conducting a $1.5 billion securities fraud scheme.

The SEC alleges that Catherine L. Kissick enabled the sale of fictitious and impaired mortgage loans and securities from the mortgage warehouse lending division's largest customer – Taylor, Bean & Whitaker Mortgage Corp. (TBW) – to Colonial Bank, and she caused these securities to be falsely reported to the investing public as high-quality, liquid assets.
Got the essence of this?  The loans were either bad or non-existent but they were booked as good, performing, and real.
That's nice.
But in an interesting and "oh my gosh, there's two" sort of change, we have this:
In a related action today, Kissick pleaded guilty to criminal charges filed by the Department of Justice in the Eastern District of Virginia.
That would be the second time some criminal fun comes.  There's no update yet on the sentence, of course, but at least the plea appears to have happened.  The maximum sentence for the crimes she pled to is reported to be 30 years in the Federal Lesbotell and a $250,000 fine.
Of course the SEC settled for the usual:
The SEC's complaint charges Kissick with violations of the antifraud, reporting, books and records and internal controls provisions of the federal securities laws. Without admitting or denying the SEC's allegations, Kissick consented to the entry of a judgment permanently enjoining her from violation of Section 17(a) of the Securities Act of 1933, Sections 10(b) and 13(b)(5) of the Securities Exchange Act of 1934 (Exchange Act) and Rules 10b-5, 13b2-1 and 13b2-2 thereunder, and from aiding and abetting violations of Sections 10(b), 13(a), 13(b)(2)(A) and 13(b)(2)(B) of the Exchange Act and Rules 10b-5, 12b-20, 13a-1, 13a-11 and 13a-13 thereunder. Kissick also consented to an order barring her from acting as an officer or director of any public company that has securities registered with the SEC pursuant to Section 12 of the Exchange Act. Kissick also consented to an order prohibiting her from serving in a senior management or control position at any mortgage-related company or other financial institution or from holding any position involving financial reporting or disclosure at a public company. The proposed preliminary settlement, under which the SEC's requests for financial penalties against Kissick would remain pending, is subject to court approval.
DON'T DO THAT AGAIN!  I SAY, DON'T DO THAT AGAIN!  I WILL SLAP YOUR HANDS!  YOU DO NOT HAVE TO ADMIT GUILT EVEN IF YOU JUST DID IN CRIMINAL COURT, JUST DON'T DO THAT AGAIN!
Such wonderful enforcement by the SEC – that would be "Suckers Executing Crimes", right?
After all, we know they use their office computers for porn viewing – so there's the "Suckers" part.