Archive for the 'Sovereign Risk' Category
So Spain got cut to BBB- today by S&P, with a negative outlook.
The two-notch slash job took the nation's debt rating to the edge of "junk" status.  In truth the entire EU zone except, perhaps, Germany should be rated "F" — for "f___ed" — but we'll leave that aside for now.
The problem there is the same as the problem here — there is no political will to do what has to be done,which is to cut off the deficit spending.
Right here, right now, all at once.
Yes, I know that's difficult politically.  That doesn't change the necessity of doing it.
There is one simple fact about holes, fiscal or otherwise — you must stop digging when you're in one.
There is a second reality about geometric series, of which any compounded growth rate is – there is never a better time than now to stop adding to them; indeed, the amount of pain you must accept goes up inexorably each and every day until you cease and desist.
There is no way around this.  It is a function of arithmetic, not politics.  It is true there in Spain, and it is true here in the United States.
Today's cut was just another notch in the pressure vessel that is already well beyond the point at which it should have burst.  We cannot continue to play this game — not there and not here.
Yet there is no evidence — anywhere — that politicians will take the necessary steps and stop deficit spending.
And stop it they must.
I do not know exactly how far we are from the markets giving up on the clown-car brigade and beginning the writedown of these debts and forward profit expectations on their own.  Taken as a vote of "no confidence" as opposed to one of recognition of reality, there is no floor until confidence is regained, and the more desperate measures that central banks and governments take in response, the worse the confidence deficit will become.
Geithner is playing his wormy self over in Tokyo at the present, but he, like the rest of these clowns, are well beyond their "use by" date and are simply stinking up the kitchen.
We need an honest cook that will stop trying to serve us broiled rat while telling us it's venison.
Barack Obama has destroyed the future of America in order to improve his chances of winning the next election.  Under Obama, 5.3 trillion dollars has been ruthlessly stolen from our children and our grandchildren.  That money has been used to pump up the debt-fueled false prosperity that we have been experiencing.  When the U.S. government borrows money that it does not have from someone else (such as China) and spends that money into the economy it is going to make our economic numbers look better.  Even if the government spends that money on incredibly stupid things, it still gets into the hands of average Americans who in turn spend that money on food, gas, clothes, etc.  If we were to go back and take that extra 5.3 trillion dollars out of the U.S. economy, I guarantee you that we would be in a rip-roaring depression right now.  We would look a lot like Greece at this point.  For several years Greece has been raising taxes and cutting government spending in an attempt to balance the budget and these austerity measures have resulted in an unemployment rate of over 23 percent and an economy that has contracted by close to 25 percent.  Most Americans don't want to go through pain like that so they are okay with continuing to financially rape our children and our grandchildren.  Just imagine how you would feel if your parents died tomorrow and you found out that they had left you with a million dollar debt that you were legally obligated to pay off.  How would you feel, knowing that you had just been sold into debt slavery for the rest of your life?  Well, that is how our children and our grandchildren are going to feel.  We are destroying the greatest economic machine the world has ever seen, we are accumulating the biggest mountain of debt in the history of the planet, and the coming economic collapse that we have caused is going to wipe out the promising future that our children and our grandchildren were supposed to have.  If they get the chance, future generations of Americans will curse us bitterly and will spit on our graves.  What we are doing to our children and our grandchildren is the kind of stuff that horror movies are made of.  You should be ashamed of yourself America.
The federal budget deficit for 2012 will be larger than the entire U.S. national debt was 30 years ago.  In 1982 Ronald Reagan was in the White House and the U.S. national debt was considered to be a tremendous national crisis.  But somehow we have allowed our national debt to grow from about a trillion dollars back then to approximately $16,000,000,000,000 today.
By the end of Obama's first term, the U.S. national debt will have grown more than it did from the time that George Washington became president to the time that George W. Bush became president.
That is hard to believe.
Obama is going to outdo all the presidents from George Washington through Bill Clinton in just one term.
Amazing.
At this point, the U.S. national debt is more than 22 times larger than it was when Jimmy Carter became president.
This has allowed us to enjoy a standard of living far beyond what we deserved to.  We have stolen from the future to make the present more pleasant.
But hardly anybody wants the party to end.  Especially not our Congress critters – they are living like kings and queens at our expense.  Our "representatives" in Washington D.C. love to give speeches about being "financially responsible", but most of them never take any serious action about the debt because the way things are working now has been incredibly good to them.
And the truth is that both political parties have been responsible.  In 2010, Republicans took control of the House of Representatives with a clear mandate to get government spending under control.  Not a single penny of government money can be spent without their permission.  But since they took control, the U.S. national debt has increased by another 1.8 trillion dollars.
At this point, this current Congress (controlled by both Republicans and Democrats) has added more to the national debt than the first 97 Congresses combined.
We expect this kind of nonsense from the Democrats, but the Republicans are supposed to know better.
Of course our entire financial system is designed to permanently entrap our federal government in an endless spiral of debt, but neither political party ever talks about that.
Sadly, the U.S. national debt is now more than 5000 times larger than it was when the Federal Reserve was first created.
But we never hear about the link between the Federal Reserve and our national debt from either political party or on the mainstream news.
So most Americans do not even realize that our system is designed to create government debt.
It is absolutely disgusting.
We say that we care about our kids, and yet we are passing down a $16,000,000,000,000 debt to them.
Talk about child abuse.
Most people have a really hard time grasping how much money 16 trillion dollars actually is.
If right this moment you went out and started spending one dollar every single second, it would take you more than 31,000 years to spend one trillion dollars.
And it would take you more than half a million years to spend 16 trillion dollars.
This is a debt that is impossible to pay back.  Just look at how it has exploded over the past 40 years….
In a previous article I discussed the distressing rate at which our debt is growing….
It took more than 200 years for the U.S. national debt to reach 1 trillion dollars.  In 1986, the U.S. national debt reached 2 trillion dollars.  In 1992, the U.S. national debt reached 4 trillion dollars.  In 2005, the U.S. national debt doubled again and reached 8 trillion dollars.  Now the U.S. national debt is about to cross the 16 trillion dollar mark.  How long can this kind of exponential growth go on?
If we can't even slow down the growth of our debt, how do we ever expect to repay a single penny?
The sad truth is that we aren't ever going to start paying down our debt.  We have gotten to the point where if we take our foot off the debt accelerator we plunge directly into a depression and the entire system collapses.  It is like a really sick version of the movie "Speed".
Where is Keanu Reeves when you need him?
Since Barack Obama entered the White House, he has approved a whole host of measures that have been good for the economy in the short-term.  TARP, the stimulus packages, the auto industry bailout and the payroll tax cut are just a few examples.
Barack Obama has wanted to do everything he possibly can to stimulate the economy in the short-term so that he can win again in 2012.
But what about the future?
Barack Obama could not care less about the future.  He is just like so many of our other politicians.  He is blinded by selfish ambition.
Since Barack Obama became president, the U.S. national debt has increased by an average of more than $64,000 per taxpayer.
Are you willing to write a check for your share?
No?
Oh, let's just pass this horrific debt on to our children, right?
The path that we are on as a nation cannot go on too much longer.  The truth is that we are headed for financial oblivion.
A recently revised IMF policy paper entitled "An Analysis of U.S. Fiscal and Generational Imbalances: Who Will Pay and How?" projects that U.S. government debt will rise to about 400 percent of GDP by the year 2050.
Of course we will never get to the point.  Our financial system will collapse long before then.
Sadly, the United States already has more government debt per capita than Greece, Portugal, Italy, Ireland or Spain does.
So why are we not like Greece or Spain yet?
Well, it is because we are still able to borrow huge piles of money very, very cheaply.
But at some point that will come to an end, and when it does the consequences are going to be nightmarish.
Historically, the interest rate on 10 year U.S. Treasuries has averaged 6.68 percent.  If the average rate of interest on U.S. debt rose to that level today, we would be payingmore than a trillion dollars a year just in interest on the national debt.
And when you consider our future unfunded liabilities things get even more frightening.
According to Boston University economist Laurence Kotlikoff, the "fiscal gap" is "the present value difference between projected future spending and revenue".  His calculations have led him to the conclusion that the United States is facing a fiscal gap of 222 trillion dollars.
And this gap is rising at a breathtaking pace.
The following is an excerpt from a recent article co-authored by Kotlikoff….
In 2007, the first year the CBO produced the Alternative Fiscal Scenario, the gap, by our reckoning, stood at $175 trillion. By 2009, when the CBO began reporting the AFS annually, the gap was $184 trillion. In 2010, it was $202 trillion, followed by $211 trillion in 2011 and $222 trillion in 2012.
But if we interrupt this debt cycle we immediately go into a depression.
We are a debt addict that will die without more debt.
Meanwhile, our national ability to produce wealth is going down the toilet.
All over the country businesses are shutting down, factories are being closed and millions of jobs are being sent overseas.
As I wrote about the other day, American families are steadily getting poorer.  The middle class is shrinking and the tax base is shriveling up.
Many Americans end up flat broke at the end of their lives these days.  In fact, one study found that nearly half of all retirees end up with $10,000 or less when they die.
So where is all of the money for servicing this gigantic national debt going to come from?
Even if Bill Gates gave every single penny of his fortune to the U.S. government, it would only cover the U.S. budget deficit for 15 days.
So what is the solution?
If we keep spending money like this we are doomed, but if we stop spending money like this we are doomed.
And debt is not just a problem that the federal government is facing.
Posted below is a chart that shows the growth of all forms of debt in the United States over the past several decades.  40 years ago, there was less than 2 trillion dollars of total debt owed in the United States.  Now there is nearly 55 trillion dollars of debt owed.  This generation has destroyed the future and has set the stage for an unprecedented economic collapse.  Shame on you America….
That which cannot go on forever will eventually stop.  The young woman who looks 50 but is 20 as a consequence of sucking on a crack pipe for 2 years and laying down for anyone with a rock or two to offer eventually runs out of Johns as her looks and abilities fade; she is then consigned to trying to scrape up enough to stay stoned.
That young-but-old-looking lady is Spain, Greece and Italy, among others.  It is also the "free shit army" in the United States; those who believe the pablum served up by people like Jeff Miller (R-FL-1) who continually proclaim that nobody will have their Medicare changed if they're 55 or older, when in point of fact at a 9.x% expansion in cost annually we double spending every seven years and change; ergo, that's four doublings between 55 – 85, or a 55-year old's approximate life expectancy (30 years).
Starting from today ($820 billion) this results in:
$1,640 billion in seven years
$3,280 billion in fourteen
$6,560 billion in twenty-one
$13,120 billion in twenty-eight
That's $13 trillion dollars.
The entire Federal Budget today is $3.8 trillion and what's worse, we're only taxing about $2.6 trillion — so that, in fact, is all we have to spend.
Paul Ryan (and President Obama, in the main) are both proposing to spend more than four times the entire Federal Budget and approximately the entire current GDP on Federal Medical Care 30 years from now.
That's not going to happen.
But it is what you're being sold.
Oh yes, both Obama and Romney are claiming they will "bend the cost curve" but they're lying.  They can't both maintain the programs at the current benefit levels given the demographics that are and will be driving this problem for the next 30 years – that is, it's impossible for them to both keep their promise and not have the above escalation of costs occur.
This is also what Spain, Italy and the rest of the PIIGS propose, and what they expect Germany to fund.
Germany's Bundesbank stepped up its criticism of the European Central Bank's plan to embark on potentially "unlimited" government bond purchases, widening a rift over how to tackle the sovereign debt crisis.

"The Bundesbank holds to the opinion that government bond purchases by the Eurosystem are to be seen critically and entail significant stability risks," the Frankfurt-based central bank said in its monthly report today. The new program "could be unlimited" and decisions about potentially far greater sharing of solvency risks should be taken by governments or parliaments, not by central banks, it said.
But Germany doesn't have the money.  Neither do we.  And neither of us can acquire it; that sort of money simply doesn't exist.
That this path is unsustainable has been known for decades.  When the path first became apparent in the 1980s and federal medical spending was $53 billion we heard a few people tell us we were headed for the cliff.   Yet for decades our politicians have continued to lie and dole out money to people that they don't have and can't manage to acquire via taxation.
Last year the federal government spent $820 billion on health care alone.
This manipulation is all a game and Central Banks along with politicians are all whoring around with each other trying to evade the mathematical truth of what they've been pulling over your eyes for the last three decades.
This is pointless; the so-called "solution" isn't and can't be an actual answer, as there is no answer that maintains that which is impossible to maintain.
Until we have the political debate that must be held we will remain subject to sudden dislocations in the markets and the level of outright thievery will continue to escalate as ever-more desperate politicians and so-called "banksters" will claw at the carpet like our proverbial crack whore, seeking that one tiny elusive piece of crack to provide them just one more, even if abortive and tiny, hit of their drug of choice.
Isn't it amusing how this is entirely ignored within the markets?
The U.S. fiscal gap, calculated (by us) using the Congressional Budget Office's realistic long-term budget forecast — the Alternative Fiscal Scenario — is now $222 trillion. Last year, it was $211 trillion. The $11 trillion difference — this year's true federal deficit — is 10 times larger than the official deficit and roughly as large as the entire stock of official debt in public hands.
We of course are not really talking about this.  Oh we do talk about the $1 trillion+, more or less, that we add to the "official debt", but nowhere is mentioned the growth in the actual liabilities — if, that is, you accept that things like Medicare are actual obligations.
Hint: They're not.
When fully retired, 78 million baby boomers will collect, on average, more than 85 percent of per-capita gross domestic product ($40,000 in today's dollars) in Social Security, Medicare and Medicaid benefits. Each passing year brings these outlays one year closer, which raises their present value.
No they won't.  Not because they won't try to, but because the working people of the nation won't pay it.  If pressed that hard they will do what all people do when pressed hard enough — they will revolt, violently if necessary.  The reason why is obvious and inescapable; nobody submits to being a slave voluntarily and communism doesn't work as the quality and quantity of work drops as you try to put your boot on the people's neck.
Ask young people about this – will you give up everything you earn and have so your Dear Old Dad can live in the way to which he is "entitled", including all the medical care he wants despite being 300lbs and eating like a pig for the last 30 years?
Answer: No.
Compassion?  Sure, especially for their own parents.  But forcible extraction of literally every bit of value in the labor that working people have so that the "old farts" can sit in their ass and collect that to which they're "entitled"?
Not a prayer in Hell.
That's a problem.
The answer for the U.S. isn't pretty. Closing the gap using taxes requires an immediate and permanent 64 percent increase in all federal taxes. Alternatively, the U.S. needs to cut, immediately and permanently, all federal purchases and transfer payments, including Social Security and Medicare benefits, by 40 percent. Or it can mix these terrible fiscal medicines with honey, namely radical fiscal reforms that make the economy much fairer and far stronger. What the government can't do is pay its bills by spending more and taxing less. America's children, whose futures are being rapidly destroyed, are smart enough to tell us this.
Actually, if we don't cut this crap out they're going to tell us with guns, pitchforks and torches — or simply by refusing to work at all.
This is the problem with confiscatory tax rates — they drive behavior.  People say that "very few" people ever paid the 90% tax rates of years past.  That's true.  Nobody made that much, on purpose.
You could set the tax rate over $250,000 at 100% if you wanted to.  There are two problems with such a move — first, doing so wouldn't close the deficit (there aren't enough people who make over $250,000 and enough income to steal doing this to reach budget balance) but more importantly if you did this the next year nobody would make more than $249,999 since they would get to keep none of it!
What would that do to our economy? Good question; a lot of people would spend a lot of time at the beach instead of innovating and creating, I suspect.  And while this might be good for the makers of rum and various other libations, I doubt very much the net economic effect would be positive.
As I noted yesterday  (and, I might note, forms one of the key items in Leverage, available to the right) there are interconnected items in our national debate that nobody wants to talk about as interconnected items.  Yet we have to, because they form the basis of the fiscal challenges we face.
Policy decisions were intentionally taken that, on any objective basis, amount to massive frauds against the public.  A tiny minority of people — banksters — have benefited tremendously from these frauds.  The expansion of the credit bubble over the last 30 years has made a tiny percentage of the population fabulously "wealthy" but the wealth they obtained was false prosperity in the first instance.  It appeared to be "freely earned and/or given" but it was not; it was stolen as the premise under which it was tendered wasknowingly false and the beneficiaries are the ones who constructed the knowingly-false edifice under which they obtained it.
When you get down to brass tacks it all comes down to the reality of two exponential functions.  They always run away from one another.  It cannot be otherwise; this is a basic principle of arithmetic, and no amount of arm-waving can or ever will change it.
That's the bottom line right there.  Any two growth functions, where one has a larger growth figure than the other, will run away from one another.  Growth in debt, irrespective of the name you give it (e.g. "entitlements", whatever) may never exceed the growth in the economy.
If it does the above happens.  It will not happen some of the time, it will not happen only if you get unlucky, it will not happen only on Tuesdays, it will happen each and every time, without fail, and it will screw you each and every time without fail.  It must therefore never be allowed to happen.
This is what all fiscal policy debates are ultimately about.  It has never and will never be about anything else.  It can't be about anything else, because this is the reality of that fiscal debate, whether people wish to deal with and admit it or not.
We're still arguing over stupid things, more than 30 years after the alleged debate began.
Until we address and conform our debate to the above simple mathematical relationship no progress will be made, and the longer we wait to do so the higher the odds that an all-on fiscal and economic collapse becomes inevitable.
While all eyes are on the absurdist tragicomedy playing out in Europe, Japan is quietly circling a financial black hole as its export economy is destroyed by its strong currency and the global recession.
There is a terrible irony in export-dependent nations being viewed as "safe havens." Their safe haven status pushes their currencies higher, which then crushes their export sector, which then weakens their entire economy and stability, undermining the very factors that created their safe haven status.
As long as Germany stays within the Eurozone, Japan is the primary example of this dynamic. Should Germany leave the euro and return to its own currency, it too will begin orbiting the financial black hole of declining exports driven by a strengthening currency in a global recession.
Economies that are less reliant on exports are much less exposed to the consequences of a strengthening currency.
We can lay out the dynamic of Japan's currency and export-dependent economy thusly:
1. Export-dependent economies such as Japan, China and Germany rely on strong exports to sustain their employment and growth.
2. This means they must maintain positive current accounts (trade surpluses).
3. As their currencies strengthen, their exports become less competitive globally.
4. Export-dependent economies must pursue strategies to keep their currencies aligned with their buyers, the importing nations.
5. Germany has done so via the eurozone, which aligned its largest import market, Europe, with its own currency.
6. China has done so by pegging the renminbi (yuan) to the U.S. dollar and restricting foreign exchange (i.e. not allowing a free-floating renminbi).
7. Japan has neither of these advantages, and must intervene in the FX markets by buying and selling yen and dollars.
8. Despite its well-known debt problems (see chart below), Japan retains a massive and diverse industrial base, a current-account surplus (or modest deficit with its nuclear power plants largely offline) and large overseas assets.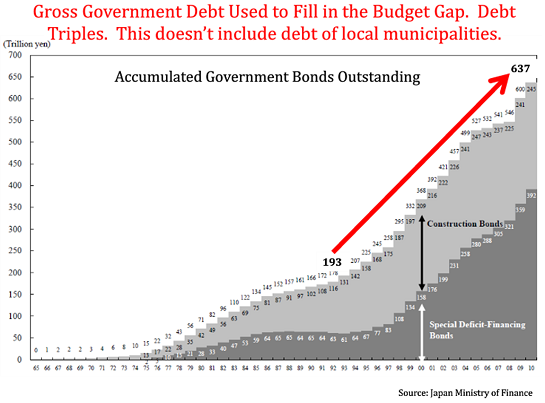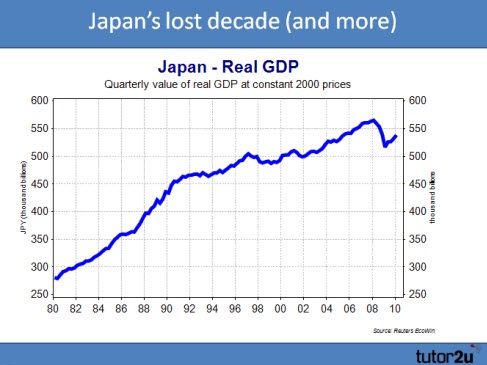 9. These assets, plus its homogeneous culture, makes Japan an island of stability in an increasingly unstable global economy.
10. For these reasons, the yen is considered a "safe haven" currency and yen-denominated bonds as "safe haven" liquid investments.
11. As demand for yen rises, the currency strengthens, weakening the competitiveness of Japanese exports.
12. The "safe haven" status of the yen ends up hurting the Japanese economy's primary engine, exports.
13. The stronger yen ends up weakening the very attributes that make the yen and Japanese bonds "safe havens."
14. As the global economy slides into recession, exports decline sharply under the double-whammy of falling demand and a rising currency.
15. Ironic, to say the least.
Charles Hugh Smith – Of Two Minds
This is the 5th installment in the "Monetary Reform Basics" mini-series.
What is the National Debt? How does it happen? Who do we owe the money to?
If you find Bill Still's work valuable, please help him stay online and keep educating all of us.