Archive for the 'Stimulus' Category
An American economist travelled to China to observe a canal project. The Chinese delegation showed him the plans and the model of everything that would be built along this new masterpiece. When they travelled out to the worksite, the economist was aghast at what he saw. The men were all using hand tools such as shovels, pick axes, and wheelbarrows.
The American economist asked the leader of the Chinese delegation, "Why on Earth are your people using hand tools? Why are there no bulldozers or other modern equipment?"
The leader of the delegation stood up straight and replied, "If we used that type of equipment, all of these men would lose their jobs in a couple of months."
The economist rubbed his chin in thought and then smiled, "Oh, it's a jobs program. Why don't you take away their shovels and give them spoons?"
Anarchists don't break windows… Keynesians break windows.
There are so many reasons to criticize stimulus and public works projects but let's just focus on a couple of the main ones.
The money that is used for these projects comes from taxation which is also known as theft. The people that are looted for the purpose of funding these projects incur an "opportunity cost." The money that was taken is money that the tax victim will NOT be able to use to build his business or take care of his family. The other way of looking at this is to say, "We see this project being worked on but what we don't see is what would have been done without the government taking the money from people and businesses." The business owner has more incentive to economize his scarce resources than the government because he is not guaranteed to get an inflow of cash through compulsion.
But surely, the government must build roads in order for businesses to exist. How would business get their goods to market without government roads? How would the customers get to the markets? Surely only the coercive power of the State can provide these valuable roads!
Building roads does not create commerce any more than throwing a hook and worm in a puddle creates fish. Commerce comes from the capital investment and actions of a market actor that provides a good or service that the public is willing to exchange their money for. It is not necessary for the government to build these roads as there is a long history of private roads. Carl Fisher built a private road that went from San Francisco to New York City and another from Canada to Miami without a single tax dollar or toll booth. This happened before the State monopoly of roads. In more recent times, business owners on the island of Kauai did their own road repairs because they could not afford to wait for the government to do it. here
The real fallacy of infrastructure projects is that it for the purpose of repairing roads and bridges that are in disrepair. It is not. It is only for the purpose of putting people to work, spending gobs of money, and putting up re-election signs that say, "The government built that." If the real purpose was to repair these bad roads, there would be no projects for new roads, bridges,  bicycle paths, or animal crossings until the existing infrastructure was taken care of.
For the most part, these projects are nothing more than dig-a-ditch-fill-a-ditch programs. If you would not pay people out of your own pocket to dig holes and fill them back in, you should not support when the government does. Perhaps the question should change from, "Who will build the roads?" to "Does it really matter who builds the roads."
Lou – Freedom Feens
I'm tired of this crap, frankly, but people keep spamming me with it, so here we go.
And that's a tale that needs telling. For the past two years, the Greek story has, as one recent paper on economic policy put it, been "interpreted as a parable of the risks of fiscal profligacy." Not a day goes by without some politician or pundit intoning, with the air of a man conveying great wisdom, that we must slash government spending right away or find ourselves turning into Greece, Greece I tell you.

….

Germany and the European Central Bank could take action to make that extreme step less necessary, both by demanding less austerity and doing more to boost the European economy as a whole. But the main point is that America does have an alternative: we have our own currency, and we can borrow long-term at historically low interest rates, so we don't need to enter a downward spiral of austerity and economic contraction.

So it is time to stop invoking Greece as a cautionary tale about the dangers of deficits; from an American point of view, Greece should instead be seen as a cautionary tale about the dangers of trying to reduce deficits too quickly, while the economy is still deeply depressed. (And yes, despite some better news lately, our economy is still deeply depressed.)
Bull.
And this isn't a difference of opinion.  We're all entitled to our opinions.
We're not entitled to make up our own set of facts.
Here are the facts relating to "more borrowing" to "stimulate the economy" and thus "grow GDP."
FACT: Over the last 30 years Krugman's prescription has never worked.
NOT ONCE.
The facts are that on a historical basis borrowing always produces less GDP growth than debt growth.  That is, it is a net negative as you must both pay back the debt some day and pay the interest, which means that in order for it to "work" GDP must expand by more than the debt does, so the interest can be covered along with the principal.
But NEVER did GDP exceed new debt, even for one quarter, at any time during the 1980-2007 time period and the only time you saw that happen during the collapse of 07-08 was when debt defaults pushed outstanding down faster than GDP declined — a temporary condition as you can see we have resumed our sin.
Read this again:
Not once has "stimulus" actually produced an increase in GDP that exceeds the new debt taken on to prove it.
NOT ONCE.
This is not my opinion or someone else's opinion.  It is mathematical fact as documented by both the Federal Reserve and the government's GDP numbers.
Krugman has the same access to these numbers as everyone else.  He can thus trivially verify that this is true, if he bothers to look.  My sources are listed in the chart.
This cannot, therefore, be an innocent error.
Krugman's policy prescription is wrong.  It is wrong on the facts, it is wrong on the mathematics and it is empirically, with more than 30 years of history, wrong in terms of realized results.
I must respond to the letter as published in the WSJ today:
Dear Chairman Bernanke,

It is our understanding that the Board Members of the Federal Reserve will meet later this week to consider additional monetary stimulus proposals. We write to express our reservations about any such measures. Respectfully, we submit that the board should resist further extraordinary intervention in the U.S. economy, particularly without a clear articulation of the goals of such a policy, direction for success, ample data proving a case for economic action and quantifiable benefits to the American people.
Oh there's been plenty of evidence.  Most-specifically, Bernanke's actions allowed you, Congress, to deficit spend to the level of 12% of GDP over the last three years.  QE 1 and 2 made that possible without a reaction in the bond market, and therefore enabled your profligacy.
It is not clear that the recent round of quantitative easing undertaken by the Federal Reserve has facilitated economic growth or reduced the unemployment rate. To the contrary, there has been significant concern expressed by Federal Reserve Board Members, academics, business leaders, Members of Congress and the public. Although the goal of quantitative easing was, in part, to stabilize the price level against deflationary fears, the Federal Reserve's actions have likely led to more fluctuations and uncertainty in our already weak economy.
It did not "facilitate" economic growth nor did it reduce unemployment.  As I noted, it did one and only one thing – it allowed Congress to spend at an unsustainable level by making federal credit cheaper than it should have been, exactly as the 2003 "easing" produced the housing bubble.
The goal was not to stabilize price levels against "deflationary fears." One cannot have "deflation" when one has had massive inflation in asset prices over the last 30 years, which we have.  We have had it due to too much "easy money", exactly as a drunk has little reason to stop drinking so long as there's a full case of whiskey at his feet.  The result was this:
Reverting that to the mean will bring massive asset price decreases, but this is not deflation.  It is the removal of an asset price bubble that pervades the entire economy, and the recognition of bad loans made to people who cannot pay them back.  The common word for the sort of economic system that punishes people organically for being stupid, incidentally, is capitalism.
This bubble does not have primary "blame" on either Republican or Democrat – one cannot point fingers except, of course, at yourself.  Both parties and the American people share the blame for these policies equally.  The American people deserve blame for being gullible and allowing themselves to go through government "schools" that do not teach the fundamentals of exponents in their math class (despite claiming they do) and both major political parties deserve equal blame for intentionally lying to the people about the ability to provide services that the people are not and will not finance with current tax receipts.
We have serious concerns that further intervention by the Federal Reserve could exacerbate current problems or further harm the U.S. economy. Such steps may erode the already weakened U.S. dollar or promote more borrowing by overleveraged consumers. To date, we have seen no evidence that further monetary stimulus will create jobs or provide a sustainable path towards economic recovery.
The goal was never to do any such thing.  It was intended to allow you to deficit spend at an unsustainable rate.  That is, it was intended to give you, 535 drug addicts, more heroin. 
You should all be in Federal prison or even better, we should re-enact the original Coinage Act that mandated the death penalty for conspiracies to debase the currency — which you have all been complicit in over the last three years.
Ultimately, the American economy is driven by the confidence of consumers and investors and the innovations of its workers. The American people have reason to be skeptical of the Federal Reserve vastly increasing its role in the economy if measurable outcomes cannot be demonstrated.
The only measurable outcome was the enabling of further descent into economic Hell committed by The House under both Democrats and Republicans.
I will remind you that all revenue (and thus spending) bills must originate in The House.  Without the consent of the House no federal spending takes place.
We respectfully request that a copy of this letter be shared with each Member of the Board.

Sincerely,

Sen. Mitch McConnell, Rep. John Boehner, Sen. Jon Kyl, Rep. Eric Cantor
Here is the reality this nation must face:
We must have an open and public conversation in this nation on exactly what services we all wish our government to provide.  For each of those services we must fund them with current taxes – not borrowing.  For any such service that the American people collectively refuse to fund with current taxes, the government must withdraw the desired service.
Since both political parties assert that we must also honor our actual debts we must first dedicate the interest and a modest amount of principal paydown from the Federal Budget that "comes first."  I suggest all interest plus $200 billion in principal per year.  Given current tax receipts this leaves us with approximately $1.7 trillion to spend on all functions of Government, or about half of what the Federal government does now.
This is a difficult set of choices, but it must be undertaken and it must happen now.  Not in three years, not in five, not in ten.  Right here, right now, today.  You blew it with the "debt ceiling" debate and your proposals thus far, given these facts, are a joke, but this is no laughing matter.
Quit fucking around, gentlemen, lest we wind up like Greece.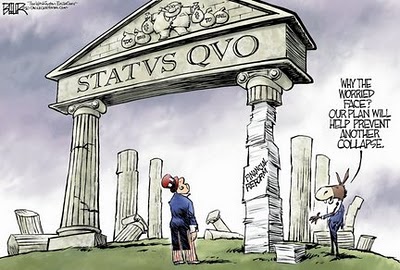 "The present government has done absolutely nothing during the last 12 months to speed up privatizations, reduce the public sector or open up closed professions," (elided), a leading economic analyst, told me recently in an interview. "In these 12 months it has not fired even one civil servant. The only thing it is doing is trying to tax the private sector out of existence. Why should we believe that they will do something different now?"
Oh wait….. we're not talking about America in this regard, are we….
Oh yes we are.  The same disease infests us as infests Greece.  While Obama prattles on about hiring more cops, hiring more teachers, protecting the civil servants of all stripes — and not only during their tenure, but also in retirement — he at the same time proposes taxing the private sector out of existence.
Isn't it funny how The Wall Street Journal is all to happy to print that OpEd regarding Greece, but not a word on the same subject in America?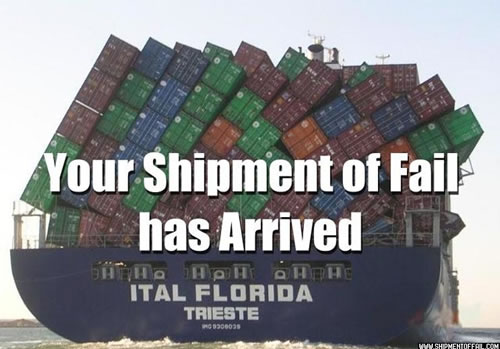 Heritage Employment Report: June Job Market Jolts Economy
by Rea Hederman, Jr. and James Sherk
The June jobs report released by the Bureau of Labor Statistics revealed that while total employment had declined by 125,000 jobs, the unemployment rate dipped slightly to 9.5 percent from 9.7 percent. Private employment increased 83,000 jobs but was swamped by the ending of many temporary government jobs associated with the decennial census.
This is a weak labor market report, with the health of the labor market not improving even as the slow recovery continues. Job growth and wages in the private sector are still anemic, especially compared to government workers who have not experienced nearly the same amount of job losses. The American experiment in Keynesianism has not fared well.
The June Report
While total employment fell by 125,000 jobs, the reason is not quite as alarming as the number. Government jobs fell by 208,000, almost all of them associated with the census. Private hiring increased in many industries, including manufacturing (9,000) and the service sector (91,000). The construction industry again shed jobs (–22,000) as both the private and commercial real estate market continue to struggle.
While the unemployment rate dropped from 9.7 to 9.5 percent, this is due to a large drop (–652,000) in the labor force, which decreased from 65 to 64.7 percent. A large drop in working teenagers accounted for almost 40 percent of the decline in labor force. Women over 20 accounted for another 41 percent, while adult men were less than one-fifth of the labor force decline.
The number of teens in the civilian labor force has reached its lowest level since the 1960s. The large decline in potential adult working women dropped the female labor force to its lowest level this year, erasing the labor force growth for the rest of 2010.
A larger concern is that the number of hours and wages did not increase in the last month. In fact, the average hourly earnings for all private workers actually declined by two cents. This indicates that the labor market is not recovering as fast as it was earlier in the spring. Businesses are not hiring or expanding their work hours as much. Even temporary help hiring (20,500) has slowed significantly, growing at the lowest rate since last September.
More Government Does Not Reduce Unemployment
Congress and the Administration have attempted to boost employment through government spending. Figure 1 shows the Administration's unemployment if Congress did and did not pass the stimulus, as well as the actual unemployment rate since then. By the President's own measure, the stimulus has failed.
This is unsurprising. Government spending does little to boost private sector hiring, for two reasons. First, government spending does not encourage new private investment. For example, government highway construction, while funding construction jobs, does not address the underlying factors that discourage entrepreneurs from staring new firms.
Second, the resources the government spends do not materialize out of thin air—they are taken from the private sector. Each dollar the government borrows is one dollar less that entrepreneurs can borrow to fund new operations or that private consumers can spend. Research shows that government spending crowds out private investment. Each $1 increase in government spending reduces private sector investment by between $0.46 and $0.97 after two years and $0.74 and $0.95 over five years.[1]
Government spending substitutes for private sector investment; it does not supplement it. This is why countries in which the government spends heavily to create jobs—such as France and Germany—do not enjoy higher employment rates. In fact, countries with greater government spending and larger public sector payrolls have higher unemployment.[2]
Government Spending Does Benefit Government Workers
Greater government spending does benefit one group of workers: government employees. The stimulus increased federal spending and directed billions to state governments. As a result, government employment has stayed steady even as private sector employment has plunged.
Since the start of the recession in December 2007, private sector employment has fallen by 7.9 million jobs (6.8 percent), federal government employment has increased by 240,000 jobs (12.2 percent), and state and local employment has dropped by just 60,000 jobs (0.3 percent).
As a result, government workers enjoy the lowest unemployment rates of workers in any industry. Figure 2 shows unemployment rates by industry in June 2010. Across all industries, private sector workers endure an average unemployment rate of 9.7 percent. Unemployment for government employees is less than half that rate at 4.4 percent.
Government employees have enjoyed a privileged position in this recession, largely insulated from the effects of the downturn.
No Bailout for Government Workers
As the recession continues to affect tax revenues, many states are now proposing budget cutbacks. These cutbacks would mean layoffs of some state and local government employees, primarily teachers. To prevent this, the House of Representatives has added a $10 billion bailout for state and local government education budgets.
Such a bailout would prevent state and local governments from having to prioritize spending and layoff redundant employees. It would help insulate government employees from the uncertainty of the recession and add billions to the national debt. It would not, however, boost the economy. If government spending and job security for government employees helped the economy, then Greece would be booming right now.
The state government bailout is a special interest handout that boosts the job security of a politically favored group—government employees—at a cost to America's future fiscal health and taxpayers' wallets.
Businesses Hunkering Down
The June jobs report illustrates that the recovery in the labor market has slowed. The labor market remains weak and job growth is elusive. Businesses are saving their cash as they worry about looming tax increases, government regulations, and below-average economic growth. Congress should resist efforts to pass another weak stimulus bill that would transfer resources from the private to the public sector. Instead, Congress should look to encourage private business development and formation through tax cuts and fewer regulations.
Rea S. Hederman, Jr., is Assistant Director of and a Research Fellow in, and James Sherk is Senior Policy Analyst in Labor Economics in the Center for Data Analysis at The Heritage Foundation.
There's dumb and then there's knowingly-misleading.  This last piece is the latter:
The Obama administration is in a difficult spot. It's now obvious that the stimulus was much too small; yet there's virtually no chance of getting additional measures out of Congress. The administration has chosen to deal with this by trying to have it both ways — condemning Republicans, rightly, for obstructionism, while at the same time claiming, falsely, that we're still on the right track.
The Obama administration is in a tough spot of its own making.
The "stimulus" was never going to work: it couldn't, mathematically.
Why not?  Because of this ugly little reality:
I don't know how much larger one could have made the so-called "stimulus."  But just as in 2003 it failed to produce lasting prosperity or turn around the economy because the Ponzi Economic "pull forward" on demand (via increased credit) had hit the wall.
That's the ultimate failure of all of these so-called "economists."  They simply disregard debt – on purpose.
This is idiotic, and worse, it's intentionally misleading.  Anyone with half a brain knows that debt has to be repaid, and that if you have an economic system with $100 in currency and yet permit someone to loan what part of it they have at interest it is inevitable that the interest will ultimately consume all of the $100! 
The answer to that is usually "emit more currency!"  Yet this leads to a second conundrum – one can only emit more credit or currency (both spend the same) at a rate that matches growth in output, lest you get inflation.  Inflation means that you really didn't accomplish anything, as while there are more units of currency (and/or credit) available in the economy each one purchases fewer goods or services.
The only way to prevent this from happening is to accept periodic recessions in which both borrowers and lenders who take and make the weakest loans fail and go bankrupt.
That causes the credit and debt (remember, credit and debt are the counter-balancing entries on both sides of the balance sheet) to be removed – and balance restored.
Recessions are particularly hard on creditors that loaned capital unsecured, as they take actual uncompensated losses.  Those who loaned capital in a secured fashion get the collateral, which may adjust in price downward to it's actual value, but it doesn't go to zero.  The unsecured lender, on the other hand, is faced with a complete loss.
The feedback mechanism (losses suck!) cause lenders to increase the price of capital – that is, the interest they demand.  This in turn causes people to be more adverse to taking out credit for anything other than productive purposes – that is, to speculate or consume.
Through this natural set of feedback mechanisms (known as economic pain by those who experience it) the market works to restore balance – and protect the monetary system as a whole.
Government interference with this process always introduces undesirable distortions.  By picking winners and losers government causes misallocation of capital – that is, it subsidizes losing behavior.  By preventing fools from suffering their economic fate, government suppresses rates of interest charged for capital, which inevitably leads to negative real rates and thus speculative asset bubbles (after all, if you're going to get paid to borrow, you will borrow as much as you possibly can!)
But far worse is the refusal to recognize that absolutely nothing the government does produces anything.  That is, government can redistribute a unit of currency (or credit) from Joe to Jane, but government in doing so does not and will not cause more units of currency in terms of output to be produced on a sustainable basis. 
Each dollar Jane gets from government (and spends, saves or invests) Joe no longer has, as it was taxed away from him, or it was borrowed in furtherance of a Ponzi Scheme as the below charts will show.  In neither case did government increase the wealth of the nation – it shifted it from one hand to another.
That is, at best government can send a false demand signal into the market.  If this becomes engrained in the economy it then creates a structural deficit which is nearly-impossible to remove, because if the government stops doing so then the recession or depression it was trying to "cover up" immediately re-asserts itself. 
This is what happened in 2003.  Now we're doing it again, writ large at 300% of the former size.  We've gone from embedding a recession into structural deficits to embedding a depression into them. 
That path inexorably will lead to a bond market revolt.  Perhaps not today, or tomorrow, but with absolute certainty it will occur.  Organic GDP is contracting, not expanding, and eventually those who loan capital to the US Government (that's us in the end – by buying goods and services which then are recycled into Treasuries!) will deduce that we're getting a poor return on our investment.
The expansion of a credit bubble depends on ever-increasing borrowing across the entire economy, with ever-larger parts of it going to speculation and consumption.  This creates an effective naked short on the currency.  The first bits of this feel like "prosperity for free" (rather than for hard work.)
All Ponzi Schemes have at their core the fundamental mathematical precept of exponents.  That is, the growth of the scheme requires ever-greater numbers of "things" (people, credit dollars, etc) to participate, because the exponential function of growth lags the exponential function of cost. 
While the gap is both small and appears "painless" at first, it is that very seductive beginning that makes such schemes so dangerous, as the below chart shows:
Compare against:
The problem with trying to continue the series is that, as you can see in the actual chart, the level of debt has topped out – despite the government's hellbent-attempt to goad continued expansion by running huge deficits.  Now let's extend that theoretical debt chart another 20 years.
Oh, incidentally, the actual debt-to-gdp spread is about 3% and has been since the 1950s without much variation, so put the expected "real" results smack-dab between those two curves.  Worse, GDP expansion has contracted from nearly 7% annualized to just over 5% since 2000 onward as the ever-greater amount of debt service has weighed on the economy.
While one never knows in advance exactly how far such an exponential spread will go before it collapses, this is exactly what all Ponzi Schemes look like when graphed mathematically, and is why they always collapse.
When the scheme is early in its run everyone thinks that it will be no big deal, because at the time it isn't.  But when it gets later on everyone is terrified at the prospect of accepting the losses that must be taken, because they've gotten so large.
The error in this thinking is that those losses will continue to grow exponentially so long as the spread is maintained, and while narrowing the spread will help, it won't stop the accumulation of damage.  Only accepting the hit stops the accumulation.
In this case we're now to the point where restoring fiscal balance across the credit system requires a roughly 60% contraction in both outstanding credit and the size of the Federal Government (in terms of dollars.)  That in turn will contract GDP by 40%.
I understand this sort of prescription is considered politically unacceptable.
But math doesn't care about politics.  It simply accumulates more damage, day by day, until we accept the math – and the truth.  The gap has reached a size that is mathematically impossible to grow out of through expansion of GDP.
Once we accept the math – and the damage - we must demand that credit and monetary aggregates be strictly tied to GDP in the future to prevent this from happening again.  The Federal Reserve Act contains the necessary stricture, but no punishment for violations – and violate they have over the last sixty years.  We must add the missing "or else" and expose all credit, monetary and price aggregates in the economy so as to monitor The Fed's performance – and if necessary, jail them if they continue to offend.
We either accept the math and the damage that must be taken through our economy or we will suffer a political and economic collapse.
Those are the only options folks – we argue only "when", not "what."
It's the math.