Archive for the 'Stock Market' Category
Most people fail to understand basic mathematical concepts such as exponents and ratios as they apply to everyday life.  We usually "get it" when it comes to the mathematical facts that are taught in school (if we passed through basic Algebra) but nobody in our government schools ever teaches how these functions apply to the real world.
The reason they don't, I assert, is that the educational establishment from the government itself on down knows full well how these functions relate to everyday life, and they also know that if you understood these facts there would be a revolution the next morning as you would understand exactly how you have been systematically and intentionally robbed by the mavens of finance with not only the consent but the active participation of your government.
With that in mind I wish to present two pieces of data today.  The first is "average hourly earnings", which is  from the St Louis Fed, and the second is the total systemic debt, public and private, taken from the Fed Z1.
Why the second as a point of comparison?  Because as I have repeatedly pointed out "credit" (that is, debt on the other side of the balance sheet) spends exactly the same as does currency (emitted money.)  Therefore, when one compares earnings power in real terms one must look at the denominator that is in actual use, which is that currency + credit.
Over the last 30 years, from 1980 to today, the average production and non-supervisory employee earnings have gone from $6.61 to $20.09 (not seasonally adjusted.)  We will use the September 2012 cut-off for this because that's where our Z1 data ends (for another few weeks), which is $19.83.
This is an almost-perfect triple, which sounds great at first — you're making three times as much, per hour, today as you were in 1980.
But how far does that money go?
In January of 1980 (in other words, the end of Q4 1979) the total systemic debt was $4.274 trillion.  Were that to have tripled, that is, your purchasing power was to remain exactly constant then systemic debt would be about $12.82 trillion.
It is in fact $55.358 trillion, or 12.95 times greater.
Now to be fair we adjust for the population change.  It has gone from ~227 million to about 314 million; roughly a 38% increase.  In other words on a per-person basis the increase in debt has been a bit over 9x.
You got 3 of the multiples in increased dollars in your paycheck.  You went backwards at three times the rate of "nominal" acceleration unless you were somehow able to glom some of the debt cycle "profits", all of which were factually illusory.
This is what "drove" you into the stock market.  It is what "drove" you into "investing" rather than saving. But since you can only pick up small crumbs even if you do so, and even if you're right more often than wrong, the fact remains that you are still behind.
Who stole your purchasing power via this mechanism?
That's simple — the 0.01%.  The Wall Street Banks.  The politicians.  Their friends.
Everyone but you.
But — but — but you say, how about since 2006?
Ok.  2006, incidentally, is when the BLS started tracking all employees, not just non-supervisory ones. At the end of the first quarter of 2006 the average hourly earnings were $20.38.  Again, as of 10/1/2012 (last update for the Z1) they were $23.55, or an increase of 15.6%.
At the end of the first quarter of 2006 systemic debt was $43.16 trillion.  As of the end of the third quarter of last year it was $55.36 trillion, as noted before,an increase of 28.3% while population only increased about 5% during the same period.
In other words you are still going backward and in fact your hourly earnings are decreasing in purchasing power terms and have been since 2006, just as they have been since 1980.  In fact GDP has "increased" by 20.1% over the same period (2006-Q1 to 2012-Q3) yet debt has gone up by 28.3% (22.2% population-adjusted), which means that GDP has actually declined in real terms on a per-capita basis over that period, not advanced.
The so-called "increase" in your wages are an intentional chimera which is thrown to you to make you "feel good" about your earnings "going up."  But in point of fact they're not going up at all, they are going down because the divisor, the total number of dollars in the system that are available to buy the goods and services are rising much faster than your earnings are.
The fraud you're being sold is exactly identical to going into a bakery and ordering a sheet cake.  The baker asks you how many pieces you would like the cake cut into; your options are 2, 4, 8, 16 or 32.  He then tells you that if you're really hungry you should choose 32, because that way you can eat more pieces.
You'd either laugh at the baker or string him up by his necktie were he to pull that crap, yet this is exactly what Ben Bernanke along with all the politicians have been selling you for the last 30 years.
Incidentally the S&P 500 stood at about 107 at the start of 1980.  If it increased at the same rate as systemic credit it would stand at 1385, which is not all that far from where it actually is.  "Greatest Bull Market in History" or outright fraud due to credit manipulation by a 0.01% of the population who have systematically and intentionally lied to you while skimming off 90+% of the so-called "gains" of said "bull market", leaving you with scraps — if you're fortunate enough to be able to participate at all.
There is no answer to these problems found in "redistribution" or "entitlements."  There is only one answer available, and that is to stop inflating the monetary system through fraudulently unbacked emission of credit and remove same from the system, forcing those who unjustly stole your effort to eat the losses that will ensue and go bankrupt, deflating the price level and restoring balance to the economy so that your purchasing power is also restored.
Would doing that result in a large amount of short-term economic pain?  You bet it would.  But that pain would fall disproportionately on those who stole from you in the first place, exactly as it should.
There is no other means by which you can restore your purchasing power; all other schemes to "increase credit", "increase lending", "lend support through QE" or "tax and redistribute" will simply steal more through the exact mechanism that has been used to rip you off thus far.
I can understand how someone might not "get it" when it comes to how they've been robbed if it has not been clear to them, and they simply didn't know where to look to find the truth.  But after seeing this (and verifying it for yourself, which is not very hard), exactly what excuse do you have for continuing to play the puerile game run by both the banksters and the politicians of all stripes?
The costs of maintaining a sclerotic, cartel-state Status Quo infected with incurable diminishing returns eventually exceed the carrying capacity of the real economy and the Status Quo collapses in a heap.
On the surface, the Status Quo appears stable, if not quite healthy. This stability is illusory, however, for the Status Quo has a fatal disease: diminishing return.
The basic idea of diminishing return is closely related to marginal utility and marginal return: the more capital, energy and labor committed to a project, the lower the return/yield/output.
Diminishing return works in two ways:
1. Output (yield) remains stable, but it requires an ever-increasing input of capital, energy and labor to maintain that output.
2. Input remains stable but output (yield) constantly declines.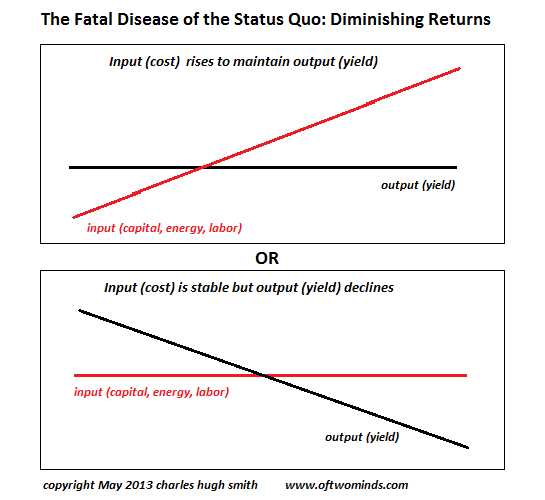 To survive, the Status Quo must maintain the same output: the stock market must be held aloft at current levels, entitlements must be paid, the National Security State must either expand or maintain its current global reach, and so on.
What's hidden from view is the rising input costs to maintain this illusion of stability. Consider the Federal Reserve's campaign to elevate the housing and stock markets. First the Fed need only threaten to buy mortgages and Treasury bonds to trigger a market rally. But soon this is not enough to keep the market aloft, so the Fed unleashes a campaign of quantitative easing (QE1) with an eventual end date.
This pushes the market higher, but once the artificial stimulus ends, the market feels gravity once again and rolls over. To maintain the necessary output–a rising stock market–the Fed must increase each dose of QE.
But the return on this ever-increasing input diminishes. Like an organism fed a stimulant, markets habituate to the artificial stimulus and quickly become dependent on ever-increasing doses to maintain the output (i.e. the "high").
In 2012, the Fed announced essentially unlimited QE to infinity. There can no longer be any hint of an end to the quantitative easing, or the output (the market) will fall off a cliff.
That's the problem with diminishing return: eventually the input is so costly the system implodes. The Fed has already injected the patient (the economy) with massive doses of financial crystal meth to maintain the stock market's "high." Unfortunately for the Fed, the market demands a bigger dose to keep the high going, but the larger dose will prove fatal.
Illustrating the other mechanism of diminishing return is the Higher Education Cartel, one of the monopolistic rentier arrangements that dominate our economy (banks, the mortgage industry, national security, healthcare/sickcare, etc.).
Even as the cost of attending college have skyrocketed by 600% (adjusted for inflation), the output–the value of that education–has declined. A recent major study, Academically Adrift: Limited Learning on College Campuses, concluded that "American higher education is characterized by limited or no learning for a large proportion of students."
'Academically Adrift': The News Gets Worse and Worse (The Chronicle of Higher Education)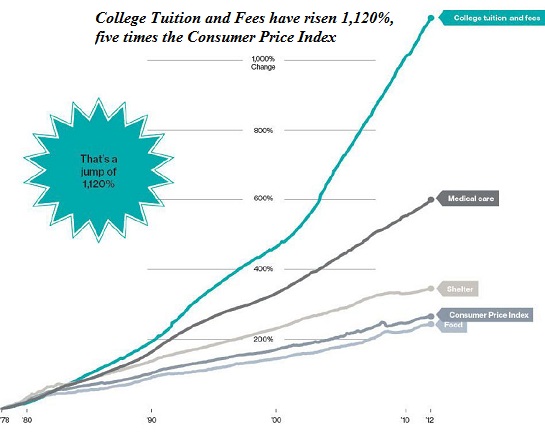 Meanwhile, student loans exceed $1 trillion, only 37% of freshmen at four-year colleges graduate in four years (58% finally graduate in six years), and 53% of recent college graduates under the age of 25 are unemployed or doing work they could have done without going to college–retail clerks, waiting tables, etc.
The Educrat Industry blames the economy for its own abysmal failure to actually provide a measurable yield on the immense sums spent on higher education, of course, but the reality is that higher education fails to prepare students for work in the real economy.
What higher education excels at is maintaining an ever-increasing input of cash while its output/yield declines. the same is true of all the other fiefdoms and rentier arrangements that dominate our economy.
The input needed to keep the Status Quo stable must be taken from other potentially more productive investments. Taxes notch higher as the state scoops ever greater sums into its maw to fund its failing fiefdoms and diminishing-return cartels, and it borrows trillions of dollars to fill the gap between tax revenues and ever-rising input costs.
All that borrowed money has a cost, too, of course–interest. The costs of maintaining a sclerotic, cartel-state Status Quo infected with incurable diminishing returns eventually exceed the carrying capacity of the real economy and the Status Quo collapses in a heap.
Charles Hugh Smith – Of Two Minds
If feedback from the real world is suppressed, then decisions will necessarily be bad.
You've probably heard this stock market truism: what everyone knows has no value. This has several components:
1. If you're basing your trading decisions on the same contexts and conclusions as everyone else, it's difficult to develop much of an edge.
2. Unless it's completely manipulated, the market generally doesn't reward "what everyone knows," i.e. the consensus, for long.
3. "What everyone knows" often includes trends and targets. For example, everyone now knows gold is in a bear market and the next technical target is $1,250 – $1,300. As a result, everyone's on one side of the boat: those recommending buying gold at $1,480 are few and far between.
Legendary traders like Jesse Livermore viewed the market as a mechanism for taking as much money from the consensus as possible: taking as few traders as possible along on bullish runs higher and punishing as many traders as possible on bearish declines.
This raises two questions:
1. What does everyone not know that might have value?
2. Is there some contrarian value in what everyone knows?
We all know the Federal Reserve is manipulating the stock market. It does so in two ways:
1. Financial repression: lowering the yield on "safe" assets such as Treasury bonds to negative rates (adjusted for inflation, you're paying the government to park your capital in its bonds), which drives capital into so-called risk assets that offer a yield, for example dividend-paying stocks and rental housing.
2. POMO and bulk purchases of futures contracts on the S&P 500 before the market opens. Studies have found that the majority of gains in the stock market occur on POMO (one of the Fed's quantitative easing programs) days and on days when large lots of E-Mini futures contracts are purchased, pushing the markets higher at the open.
Everyone knows markets in the U.S. and Japan are levitating higher as money is created and pushed (via currency devaluation and financial repression) into stocks.
What nobody knows is the eventual consequence of all this manipulation. Right now the consensus is "don't fight the Fed," meaning stay invested in stocks because they're going higher.
In less-manipulated markets, we would expect the consensus to eventually be punished, simply because the market rarely rewards the majority for long. But in central-planning manipulated markets, the feedback that is the foundation of open markets has been suppressed.
Feedback is another way of saying information from the real world is allowed to enter a transparent exchange. We know the exchange is no longer transparent, what with dark pools and high-frequency trading machines. We also know signals from the real economy are not the dominant market-moving forces.
What we know, but cannot say out loud lest the charade lose power, is that the Fed is manipulating the stock market higher because it has lost the ability to manipulate the real economy. Our political and financial Elites would prefer to extend their neofeudal dominance by expanding the traditional foundations of debt-based "prosperity": increasing household income so households can spend more and service more debt.
With household incomes for the bottom 90% in structural decline, they've failed, for reasons they either can't understand or dare not discuss.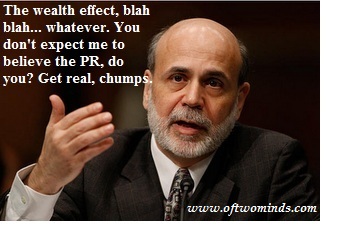 Their only control is the lever pushing stocks higher. Publicly, Fed chairman Bernanke has justified goosing the stock market and housing higher as the only available way to trigger the wealth effect, an inner state of consumerist bliss in which the owner of assets sees his assets gain in value. Feeling wealthier, he goes out and buys a bunch of junk he doesn't need with debt, boosting demand and bank profits.
As for the fact his real income is declining–sorry, Bucko, we can only boost your assets and herd you into risky bets and more debt. The 90% of you with no meaningful exposure to the stock market–well, don't you feel things are picking up when you see those "Dow hits new high" headlines? Of course you do; that's the propaganda value of goosing markets higher.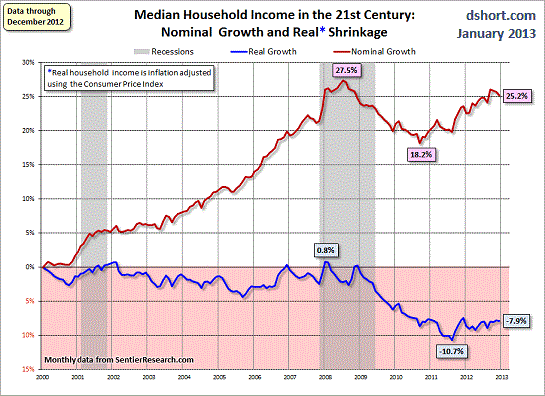 When the causal connection between risk and consequence has been severed, we call it moral hazard. When banks get to keep their gambling profits and taxpayers cover the banks' losses, this is moral hazard writ large.
In effect, the Fed is extending moral hazard to the entire stock and housing markets. What the Fed is implicitly promising is this: "Go ahead and sink your wealth and income into risky stocks and housing, because we have your back–we'll never let stocks or housing go down again."
Do we know if this campaign of extending moral hazard into every market is sustainable over the long term? No. It is an unprecedented experiment, just like the Krugman Cargo Cult Fantasy being played out by the authorities in Japan.
One thing to keep in mind is the size of the markets the Fed is manipulating. The Fed is injecting $85 billion a month into the stock market ($15 trillion) and the housing market ($17.6 trillion). It also manages the purchases of S&P 500 futures contracts via proxies, but these are in the billions of dollars, not hundreds of billions.
So the Fed is leveraging a relatively modest amount of money to manipulate and control very large markets. This is possible because the percentage of total assets that trade daily is small.
Should the herd that actually owns most of the stocks (mutual funds, pension funds, insurance companies, 401K management firms, etc.) get spooked and decide to book their profits, the Fed's $85 billion bazooka will be revealed as too small to stem the tide.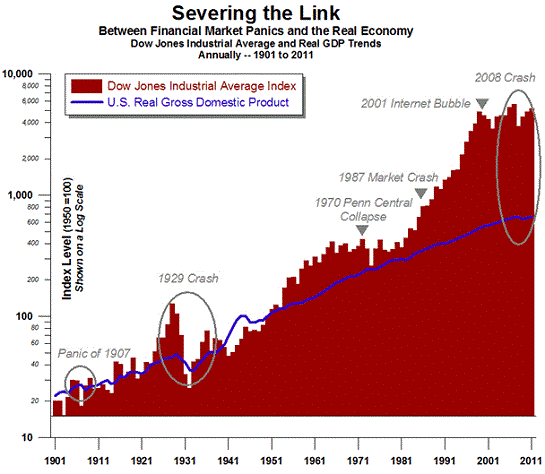 The keys to the Fed's success are trust and belief. These don't lend themselves to data and charting, though we can measure some aspects of trust/belief via sentiment indicators.
But the whole game really rests on participants' trust/belief that the Fed can continue pushing markets higher and that it will continue to do so.
The problem with cutting the links between risk and consequence and the real economy and the stock market is that a market deprived of feedback from reality is prone to disorderly disruption. Why is this so? Participants make decisions based on the information made available to them. If the information from the real world is suppressed or limited, then the decisions made by participants will necessarily be misinformed, i.e. wrong.
Moral hazard does not lead to positive outcomes. As I explained in my book Why Things Are Falling Apart and What We Can Do About It, this leads to making bigger and riskier bets at the casino, until a loss occurs that bankrupts the house.
What happens when a bet that can't lose does in fact lose? Trust is lost.
I see a lot of long-term charts where technical analysts extend past trends and cycles out 10 and 20 years. Many predict a new Bull Market in stocks starting in 2015 or maybe 2016 and running for 13 to 18 years.
It's easy to project the past onto the future, but what few observers seem to ask is: what happens to the belief system that supports the stock market when trust and credibility are undermined by central-planning manipulation that failed?
If feedback from the real world is suppressed, then decisions will necessarily be bad.
The only choice for participants who have lost faith in central planning's promise of permanently higher markets will be to abandon the manipulated markets entirely.
Charles Hugh Smith – Of Two Minds
While the market levitation courtesy of the Fed, BIS and BOJ continues unabated to give the impression that all is well, allowing empty momentum-chasing chatterboxes to say that Cyprus is not a big deal because… well, look at the market (and real traders the chance to quietly dump existing risk positions), the artificial, centrally-planned calm during the storm may be ending. The reason comes from none other than the Eurogroup, whose deputy finance ministers held a conference call last night, and whose transcript has been seen by Reuters.
Here are the highlights.
Euro zone finance officials acknowledged being "in a mess" over Cyprus during a conference call on Wednesday and discussed imposing capital controls to insulate the region 

from a possible collapse of the Cypriot economy

.
Not very confidence boosting. But then again, with confidence in Cyprus now gone, the time for damage control is long gone. Sure enough, it just goes from bad to worse:
"The (Cypriot) parliament is obviously too emotional and will not decide on anything, if Cyprus does not even feel that they can attend the call it is a big problem for us," the French representative said, according to the notes seen by Reuters.

"We have never seen this."
"Ring-fencing" is back, and so are Lehman references.
The official also referred to the need to resolve Cyprus's two biggest banks, both of which are close to collapse, and mentioned the possibility of Cyprus leaving the euro zone.

In the event of an exit, the official said steps needed to be taken to "ring-fence" the rest of the euro zone from the impact and to ensure there was no contagion to Greece.
Bad news for locals: your economy is done, so may as well drag the entire Eurozone down with you:
"The economy is going to tank in Cyprus no matter what," the notes quoted him as saying. "Restrictions on capital will probably be imposed," he said, adding that further conference calls would be organised in the coming days.
And the punchline:
"Markets believe that we will find a solution and that we will provide more money and this might not be the case," one of the participants on the call said
Hint to those confused: the market is not at all ignoring Cyprus. The central banks manipulating the market are doing their best to make it seem the market is not affected by a development which not even politicians have any idea how to negate as everything is now in unchartered territory. Of course, if and when control of the market is lost, that's when things get really interest.
The futures are open and down by 15, which doesn't sound like much (about 1%)
The problem isn't the magnitude of the drop.  It's the principle of the matter — Cyprus told its residents recently that there was no contemplation of taking bank deposits.
Bluntly, they lied.
Remember that Euro Zone depositors allegedly have bank account insurance just like we do with the FDIC in the United States.  Their funds are supposed to be guaranteed by their respective governments.
Instead they are being stolen to bail out both outrageous speculation and rank malfeasance by government regulators who failed to shut these banks down before they invaded their depositor capital, an act that any reasonable person would consider grand larceny and an outrageous felony for which people should literally hang.
The problem is that all the politicians lie.  Obama lies.  Boehner lies.  Reid lies.  Pelosi lies.  Merkel lies.
They all lie and in fact all they do is lie!
As we saw last week in the Senate Subcommittee hearing the entire "London Whale" scheme was a litany of lies, obfuscations and regulators ducking their jobs, despite virtually everyone admitting that they knew there was something wrong.
Nobody who lies pays, you see; the common man is the only one who pays.
And he pays so those who lie can loot, cheat and steal — and get away with it.
Confidence is a funny thing.  People will stand for just about anything for quite some time, but eventually they have had enough and confidence breaks.  When it breaks it does so suddenly, without warning.
Is this "the event"?
Who the hell knows.
What I do know with certainly is this: Unless the liars, cheats and scammers start facing the music — indictments, prosecutions and prison sentences, instead of being given license by the government to loot the people in furtherance of their schemes, confidence will inevitably be lost.
We're well past the point where we should have had heads on pikes through lawful process.
We haven't gotten that and there's no indication that it's going to happen either, despite the claims of many in Government and elsewhere.
Time is quickly running out for the process to remain peaceful and lawful.  What comes next is something nobody who is sane wants to see, but if there is no change in the immediate future in the behavior of our national governments it is, unfortunately, inevitable.
Things look eerily similar to 1936: From devaluations lifting stocks to inflationary side-effects of money flow and from short-covering, money-on-the-sidelines, Jobs, Europe, low-volume ramps…
While chart analogs provide optically pleasing (and often far too shockingly correct) indications of the human herd tendencies towards fear and greed, a glance through the headlines and reporting of prior periods can provide just as much of a concerning 'analog' as any chart. In this case, while a picture can paint a thousand words; a thousand words may also paint the biggest picture of all. It seems, socially and empirically, it is never different this time as these 1936 Wall Street Journal archives read only too well… from devaluations lifting stocks to inflationary side-effects of money flow and from short-covering, money-on-the-sidelines, Jobs, Europe, low-volume ramps, BTFD, and profit-taking, to brokers advising stocks for the long-run before a 40% decline.
Things look eerily similar eh?
But when we look at the headlines in the Wall Street Journal from mid 1936 to mid 1937 as the market topped out (orange oval), dipped, was bought back, then collapsed 40% in 3 months, nothing ever changes…
Government Bailouts Repaid – Bullish Implications…
N.Y. Central Has Repaid All Government Loans
The Wall Street Journal, 978 words
Dec 1, 1936
WASHINGTON Numerous railroad developments here yesterday were climaxed by the announcement of RFC Chairman Jesse H. Jones that New York Central had repaid all of its government loans, totaling $16,858,950, most of which was not due until 1941.
….
For a wonderful comparison of this Fiscal Cliff with the one in 1937 see Steve Keen's presentation before congress in Dec of 2012:
http://www.debtdeflation.com/blogs/2012/12/11/briefing-on-the-fiscal-cliff-at-congress/
WASHINGTON (AP) — A record number of U.S. counties – more than 1 in 3 – are now dying off, hit by an aging population and weakened local economies that are spurring young adults to seek jobs and build families elsewhere.
New 2012 census estimates released Thursday highlight the population shifts as the U.S. encounters its most sluggish growth levels since the Great Depression.
Despite the plethora of propagandist panderings, the reality of the Business Roundtable (BRT – an association of chief executive officers of leading U.S. companies) findings are far less enthralling than the headlines might suggest. In fact, despite the protestation that their economic outlook ticked up – which as the chart below shows so evidently – is merely a reversion to the lows of 2011; the sad 'fact' is that expectations for higher Sales, CapEx, and Employment are as bad as they have been since early 2010. CapEx, the much-vaunted miracle driver of revenues this year, is below Q4 2009 levels of expectation. Even the BRT itself offers up the words 'moderate' when describing the changes and yet the mainstream media pounce on an uptick like cardinals to the new Pope. It appears that we will have to wait another quarter to see what the CEOs of the nations largest companies are really doing as their stocks soar to record highs.
The BRT CEO Economic Outlook in context… back at the lows of the pre-crisis and post-crisis 2010 lows – and as is very clear, the hope in the blue lines continues to be dragged back to reality of the economy (green line)…
If anyone is confused why European stocks just hit their highest levels in nearly 5 years (if not all time highs – there America with its 48 million foodstamp recipients has it beat), the chart below should provide some lack of color. According to Eurostat, in Q4 the number of persons employed in Europe compared to Q4 declined by 0.3% in the Euroarea, and 0.2% in the Eu27. The decline was -0.8% and -0.4% for the EA17 and EU27 compared to a year ago. Of course, if the Fed and ECB keeps pushing stocks higher, monetary illogic dictates that eventually this number will rise because somehow having more diluted claims on money floating around is good for jobs. Just not yet.
The Greek Unemployment Nightmare Continues To Get Worse
Ever since Italian elections yielded inconclusive results a few weeks ago, everyone has been wondering what happens next and how markets will digest the process.
Center-left candidate for prime minister Pier Luigi Bersani was expected to come out on top. While he managed to do that, center-right rival Silvio Berlusconi and anti-establishment candidate Beppe Grillo took a bigger share of the vote than anyone expected. Now, Bersani has to form a coalition with one or the other in order to form a government, and both routes could be problematic. (For more on that, click here.)
That means Italy could be headed straight back to elections, introducing further uncertainties that could result in unfriendly scenarios for markets.
Luca Jellinek, head of European Rates Strategy at French investment bank Crédit Agricole, suggests that the worst case scenario going forward is also most likely.
…
Someone is obviously not complying with the central-planner script and rotating fast enough into equities.
In February, total NYSE matched volume (defined as the number of shares of equity securities and exchange-traded products executed on the NYSE Group's exchanges), dropped 13.6% from a year ago, 9.4% from January, and at 20.5 billion shares in the 19 trading days of February, represents a fresh decade low for the exchange (source).
from kimblechartingsolutions:
CLICK ON CHART TO ENLARGE
Is the number "13″ Lucky/important to the stock market?
For some odd reason every 13th year since the 1974 stock market low, a historical event/year has taken place….13 years later.
1974….Stock Market low

1987… Stock Market Crash

2000…Tech Bubble Peak

2013…Another important historical year at hand?
Stay tuned!