Archive for the 'Treasury Department' Category
Let's see how I do with the list.
Fast And Furious (guns for drug lords, resulting in murder of Americans and Mexicans)
Robosigning (over 100,000 perjured affidavits filed in court cases)
IRS Tea Party and other group and individual abuse in direct violation of the law (politically-based harassment and now apparently-perjured testimony before Congress)
Money Laundering for terrorists and drug lords (by multiple large banks)
Intentional and unlawful destruction of property rights (GM bondholders screwed for political cronies in the UAW)
Intentional and unlawful destruction of your saved wealth (QE, QE2, QE3, QEinfinity, $1 trillion+ deficits, etc; Treasury and Federal Reserve actions)
Benghazi (apparent illegal arming of terrorists, then an attempt to reverse that leading to the attack on our CIA outpost and what appears to beintentional indifference and orders to stand down during the attack that had to come from the White House despite ability to respond; this amounts to conspiracy with the terrorists to kill Chris Stevens and the others who died.)
Swindles by the billions in countless schemes during the 2000s related to securitizations and other hinky deals (where despite black letter legal requirements for actual endorsement and delivery of documents banks simply did not comply and now argue there should be no penalty for not having done so, and that these defects are "mere procedural errors" despite intent to not comply.)  The result is that our land title system no longer has any resemblance of integrity.
Intentional destruction of anything approaching a "free market" for health care going back 30+ years and now compounded through active conspiracy by Obama and all of the political parties to grant, protect and enforce through government monopolies and cost-shifting resulting in cost escalations of 500-1,000% or even more against market prices and now, with Obamacare, abuse of the IRS tax power to force another 100% or more increase in those expenses down your throat for the express purpose of enrichment of those in the medical industry.
I'm sure I've missed a bunch, but this is a good start.
What do all these (and more) have in common?
Your refusal, as Americans, to stand and demand that The Rule of Law be restored and honored and that those who refuse to do so be impeached (if in government) and stand trial for their abuses.
I keep hearing people ask when I, or someone else, will "lead" on this issue.
Why do you ask where the leader is?
Do you want a Hitler?  You're going to get one if you keep that shit up.
We the people do not need "leaders" to resolve this.
We all need to personally grow a pair of balls to replace that vacuum between our legs (or nestled in our pelvis where our ovaries are supposed to be.)
We need to get off our fat asses and stop demanding that someone else take care of what is our job as citizens of this nation.
You do not have the right to health care.
You do not have the right to a job.
You do not have the right to go to college.
You do not have the right to a house.
You do not have the right to food.
You do have the right to effort to generate some form of economic activity by your own hand and mind for yourself and those who you have as dependents through your own actions, such as your children (who exist because of your actions – your exercise of the power to create life.)  You may then expend the fruits of that economic activity as you see fit because such is your property; you earned it through an honest exchange with another.
You do have the right to life, liberty and the pursuit (but not guarantee of attainment) of happiness.  This means that all of the above — every single one of those abuses that have been served upon you — are unlawful.
But those three rights only exist so long as you will stand and defend them.  A person is a victim only until he or she gives consent.  
Put a different way: The only difference between sex and rape is consent. 
As soon as you consent to the frauds and abuses heaped upon you they cease to be frauds and abuses and become part of a sick sado-masochistic ritual you have willingly taken upon yourself.
They remain so until you stand and demand that it stop, backing that demand with whatever defensive force is necessary to stop what has now become rape rather than sex.
It is for that reason that I am an absolutist on where the Second Amendment's boundaries lie.  It is impossible as a matter of logic for me or anyone else to depend on someone else to stop a criminal who intends to take my life or that of those in my care, irrespective of how we would otherwise design such a social system.  By definition the first person able and often the only person able to stop such an assault is the victim that the perpetrator intends to assault or kill.  It matters not whether the assailant is an individual thug, a pair of thugs, an organized gang or a government agency.
The bottom line is the same; your right to life only exists so long as you are willing and able to defend it.
The same bottom line exists for liberty and the offense against it that is delineated in most of the above list; you have such a right only so long as you are willing to defend it.  The minute you cede that right you have consented to what you are experiencing and you lose the right to bitch about it until and unless you stand and take back that which God gave you.
This is basic logic and as soon as you cede basic logic you inevitably lose every other point of argument.  In this case when you lose those arguments you risk losing your life and/or liberty; you are literally risking death or enslavement.
Since 2007 I have written on these matters in the economic realm and laid forth arithmetic proving that what has been done is not an accident but rather is a swindle.  It is not a new swindle either; it is in fact one of the oldest in the history books, rivaling only prostitution in age.  Arithmetic is not subject to debate; you can choose to overlook it but you cannot change it.
Those of you who seek leaders are fools; each of you should lead for yourself and confine that leadership to yourself and your life along with those dependent upon you through acts of your own free choice, enjoying or suffering the consequences of those choices.
Your right to lead in that regard ends as soon as you demand that someone else pay for whatever it is that you want to acquire or suffer as a consequence of your actions and inactions, whether it be food, shelter, education, health care or anything else.
The first principle behind The Declaration is that we are a nation governed by laws, not men, with each such law that is valid and enforceable being able to be tied back all the way to The Declaration through The Constitution.
The Declaration sets forth the reason why although rights are absolute societies organize governments — it is for the purpose of providing a framework of laws to enforce those rights and punish violators.  Absent that you have only the law of the jungle, where the individual with the biggest teeth, claws and body mass wins while everything else is food.
That is what you have in the absence of the rule of law, and that is what we have collectively and individually allowed to occur in this country.  All of the above has occurred because we have regressed to The Law of the Jungle from The Rule of Law.
We either stop it or we will be consumed by it.
Everybody is talking about the cuts in government spending with the $85 billion in forced spending cuts in military and social programs.  $85 billion amounts to little more than a 2% cut in $3.8 trillion (or $3,800 billion) in federal spending per year.  Didn't most working Americans just suffer a 2% pay cut with the expiration of the Social Security tax holiday? How many times have we heard that thousands of government jobs will be lost to sequestration?  The so-called Great Recession destroyed at least 8 million private sector jobs, and if you count the underemployed and discouraged workers, it's easily 23 million.
Why are government employees being considered as some sort of sacred cow?  What many are feeling was summed up with a recent comment on the USAWatchdog.com site from "Chuck O."  He wrote, "I've retired after 44 years working. Throughout the entire period, I lived through no fewer than 10 lay-offs and cut-backs. I have yet to see any appreciable lay-off or cut-back in the federal work force (EVER). I feel it is about time "they" should take a "hit." How about a 20% cut back on ALL salaries? "They" need to share in the austerity. We all should have the same insurance benefits, too. "Their" retirement program and health insurance is way out of line; cut it back. A 20% cut would be way better than NO PAY at all. 20 % could really help lower the debt. I'm really getting KILLED by this money printing. In the 12 years I've been retired, my dollars have lost more than 30 % of their purchasing power. Obama's crew hasn't a clue. My wife and I have BOTH had to go back to work at 70 years old." 
With foreigners increasingly shunning Treasuries and the dollar, the only way to keep all those government jobs is to raise taxes on the private sector or print money.  The Republicans caved on tax increases at the beginning of the year, so that option is closed.  Now, we are left with the Federal Reserve's "open-ended" money printing operation that creates $85 billion a month out of thin air.  A little more than half of that amount ($45 billion) goes to buy Treasury bonds to finance the federal government.  The rest ($40 billion) goes to the continued banker bailout that buys their sour (and I think fraudulent) mortgage debt.  The money printing is what's causing Chuck O's "30%" loss in purchasing power for his retirement dollars. As the money printing continues, the buck will buy less and less.
Why doesn't the President divert just 2 months of the $40 billion the Fed creates every month to continue the banker bailouts to stop most of the $85 billion of spending cuts?  In case you haven't noticed, the bankers are a sacred cow.  The big banks have gobbled up trillions in bailouts already, and there is no end in sight.  After all, the Fed action is "open-ended."  The banks are the reason why the U.S is in financial trouble, and the continuing banker bailout is why the economy will never get better.  The only reason why the economy has not collapsed is the Fed can print money to buy sour debt that no one else would touch.
Because of all this money printing, the rest of the world is in the process of shunning the dollar and the U.S. Treasury.  It looks like gold, or some other gold-backed currency, will facilitate global trade in the not-so-distant future.  Jim Willie of GoldenJackass.com says when the world stops using the dollar, it's game over.  In a recent post, Mr. Willie wrote, "The gold trade finance concept ushers in a new alternative system long sought in order to create a more viable equitable sustainable financial structure. The banking system should serve trade, not the reverse. Hence the UST Bond will slowly vanish from the global banking system, and the US Dollar will lose its global reserve status. The end result is an unavoidable slide by the United States into the Third World."  (Click here for the complete GoldenJackass.com post.)   
You want to see what an "unavoidable slide by the United States into the Third World" looks like?  Behold the bankrupt city of Detroit that recently became a ward of the State of Michigan.  Detroit's bond debt alone is a whopping $14 billion.  I doubt it's worth pennies on the dollar, if that much.  You are not hearing much about this in the mainstream media (MSM).  Maybe it's because this is what socialism looks like when you finally run out of other people's money.   In a recent post on the FinancialSurvivalNetwork.com, Kerry Lutz wrote, "The city's day-to-day operations are in total meltdown. Many police calls go unanswered. Large sections of the city are dark at night because thieves have stolen the streetlights' copper wiring for scrap. Public education is a euphemism for warehousing and babysitting the criminal youth of tomorrow. Packs of wild dogs are found throughout the city. In many areas, garbage collection is a luxury that can no longer be afforded, and street cleaning is non-existent."  (Click here for the complete FSN post.)
Do you really think Detroit can turn things around without big cuts and sacrifice?  They keep telling us about how the cuts will hurt and they need to be done in a "smart way."  I'll bet Detroit would have liked to have tackled their financial problems in a "smart way" and made all of those "smart cuts."  Every time I hear the "smart cut" argument, I think, okay, give me $85 billion in "smart cuts" this year and every year for the next 10 years.  I also keep hearing that we need to fix our financial problems long term and not now during this "fragile recovery."   Haven't the powers been telling us this for years?  You can see how well it has worked.
Remember, what is going on with the $600 billion in new taxes and $1.2 trillion in spending cuts (total of $1.8 trillion) is less than half of what the bi-partisan Simpson-Bowles debt commission came up with in 2010.  The Simpson-Bowles plan was around a $4 trillion combination over the next 10 years, and even that only slowed the growth of our debt.  Everyone keeps asking about the pain caused by the spending cuts.  They are asking the wrong question.  Everyone should be asking: What happens if the U.S. doesn't cut spending?  I think the answer is Detroit.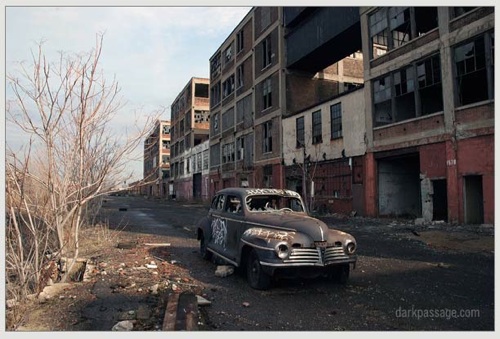 Greg Hunter – USA Watchdog
It looks like Congress is finally getting worried — as they should be — about "monetary policy."
Specifically, they appear to be rather concerned as to whether The Fed can "unwind" its "extraordinary measures" without utterly destructive side effects.
The real problem, unfortunately, is that The Fed has enabled Congress to deficit spend without limit and without the market signals that would ordinarily constrain such behavior.  Now, with a trillion dollars a year plus worth of deficits, the government has spent the last five years without the pushback of market signals that would otherwise have constrained its actions.
This in turn has added six trillion to the debt of the United States, all of which has done exactly nothing to actually permanently advance the economy, but the market's warning that this was and would be ineffective was lost because of these intentional distortions.
Now Congress has a problem — The Fed has prevented the market from doing its job, Congress has pretended that there are no consequences to these actions, and what's worse both parties and the Administration have become drunk on the ability to pull this crap on a repetitive basis.
So now what?  Now Congress wants an explanation?  Good luck — what you're likely to get is what you've gotten thus far — half-answers and worse, half-truths or outright lies, such as when Bernanke said "The Federal Reserve will not monetize the debt." while it was doing exactly that.
Does Congress have the balls to stomp on this little man's neck and put a stop to his acts, knowing that doing do will mean a forced end to deficit spending?
Worse, should the blended interest rate on government debt rise to a mere 5%, a level that is consistent with short-term interest rates not long ago,the interest expense alone would be over $800 billion — or roughly 1/5th of the total US Budget and more than a third of all tax receipts.
How you gonna get out of this box, folks?
This is exactly what I've been warning about in this column since 2007.

MR. LACKER. If I could just follow up on that, Mr. Chairman.

CHAIRMAN BERNANKE. Yes, go ahead.

MR. LACKER. Vice Chairman Geithner, did you say that they are unaware of what we're considering or what we might be doing with the discount rate?

VICE CHAIRMAN GEITHNER. Yes.

MR. LACKER. Vice Chairman Geithner, I spoke with Ken Lewis, President and CEO of Bank of America, this afternoon, and he said that he appreciated what Tim Geithner was arranging by way of changes in the discount facility. So my information is different from that.
Oh I see.
Reuters has contacted Mr. Lacker who backed and in fact expanded his claim:
Jeffrey Lacker, the head of the Richmond Fed, originally raised the allegation during a Fed conference call in August 2007, and he stuck to his 5-year-old claim against the current U.S. treasury secretary in a statement provided to Reuters on Friday.

"From conversations I had prior to the video conference call on August 16, 2007, I was aware of discussions among a few large banks about borrowing from their discount windows to support the asset backed commercial paper market," Lacker said in the statement. "My understanding was that (New York Fed) President Geithner had discussed a reduction in the discount rate with these banks in connection with these initiatives."
If you or I were to do something like this we'd go directly to jail, especially if we traded on it, and it is clear that many people did.
If you remember, this was the infamous August 17th Discount Rate Cut that buried myself and a huge number of other people who were short (and correctly so) at the time.  The market inexplicably rose into the close on the 16th — and then the hammer came down on the 17th before the open.
So may I ask two questions:
Why is Geithner not under indictment?
Why have none of the other FOMC members been held to account for misprison on this event, which they all heard on the conference callincluding the Chairman, and thus have all been aware of — and done nothing about – for the last five years?
Yeah.
Mother should I trust the government?
Answer: Not as far as you can throw it.
Discussion below (registration required to post)
(Reuters) – The Treasury Department and Federal Reserve were blindsided and angered by New York's banking regulator's decision to launch an explosive attack on Standard Chartered Plc over $250 billion in alleged money laundering transactions tied to Iran, sources familiar with the situation said.

By going it alone through the order he issued on Monday, Benjamin Lawsky, head of the recently created New York State Department of Financial Services, also complicates talks between the Treasury and London-based Standard Chartered to settle claims over the transactions, several of the sources said.
Complicates?
What's complicated here?  The facts appear to show that the bank didn't give a damn about what the United States law said or what regulators thought.  That's what the email context appears to demonstrate.
Treasury and the US Government in general have a long history of looking the other way and simply imposing tiny fines and hand-slaps for conduct that would land any other entity in front of a court on felony charges.  Just try doing business with blacklisted Iranian firms yourself and see how fast you get locked up!
The law either applies to everyone or it is a joke.  We have myriad examples over the last few years of "handslap" sorts of fines imposed for conduct that were you or I to engage in it would earn us a long and very unpleasant date with Bubba in a nice gray cell.
A spokesperson for the Federal Reserve said it had been working closely with various prosecutorial offices on matters involving Iran and other sanctioned entities, but could not comment on ongoing investigations.

White House Press Secretary Jay Carney said the government takes alleged violations of sanctions "extremely seriously" and the Treasury remains in close contact with federal and state authorities on the matter. The Treasury declined to add to that comment.
Oh 

Obama's administration, like Bush's before him, have done exactly nothing about all the various and blatantly apparent violations of the law by financial institutions.  There are only two sanctions that work when it comes to corporations — you either jail the people involved (literally) or you revoke or suspend corporate charters.  Any sort of monetary penalty is ineffective because it is just passed through to customers; this is particularly true when the firm involved is considered "essential" in some way — such as a bank or pharmaceutical company.
Proof that these "fines" do not deter behavior comes in the fact that despite consent decrees and agreements not to offend again virtually all of these firms are in fact recidivists; worse is that most are three-time losers which for ordinary people exposes them to "three strikes" laws that imprison them for life.
New York is right and the US Government and Fed are both not only wrong, they're willing co-conspirators.
Investors are plowing cash into new U.S. Treasuries at a record pace, making economic growth rather than budget austerity a key issue as President Barack Obama andMitt Romney face off in November's presidential election.

Bidders offered $3.16 for each dollar of the $1.075 trillion of notes and bondsauctioned by the Treasury Department this year as yields reached all-time lows, above the previous high of $3.04 in all of 2011, according to data compiled by Bloomberg. The so-called bid-to-cover ratio was 2.26 from 1998 to 2001 when the nation ran budget surpluses.
I love this sort of misdirection.
First, investors are "plowing cash into Treasuries" because they are convinced that they will at least get their money back, and further, they believe that a positive real rate of return can be had.
The latter means deflation will win.  The former means that investors believe they will lose money in anything else.
Now maybe you can construe that as "bullish" on Treasuries, but that's a bit of a stretch.
Actually, it's more than a stretch — it's really bad, especially when a distorted market sends bad signals into the market and people listen to that in making policy decisions.  Japan has bricked themselves inside a building of their own design; if rates go up ever the nation's government will be immediately bankrupted.  We're not far from the same position; run our figures with a 5% average coupon across the curve and you find that we have a $750 billion annual interest cost, or 20% of the federal budget or more than three times what it is today.
That would make interest expense greater than we spent on any of Defense, Social Security or Medicare and Medicaid last year!  Needless to say that won't happen without bankrupting the Federal Government — yet that sort of average coupon was normal just a few years ago.
This sort of market distortion is not good, it's ruinously bad.  And as we have seen repeatedly over in Europe, rates have a habit of going from "heh, this is really nice" to "screw you" in extraordinarily violent moves, often with little or no effective warning.
Discussion (registration required to post)