Archive for the 'Unemployment Benefits' Category
It's time to cut the crap on this so-called "help" and call it what it is: Welfare, then take it out back and shoot it.
About 2.1 million Americans receive payments through federally backed emergency unemployment programs, which Congress adopted starting in 2008 as a temporary supplement to state-level programs funded primarily with taxes on employers, which generally offer six months of benefits. That number has tumbled from more than 3.5 million at the start of the year and a peak of more than six million in early 2010, reflecting not just the gradual improvement of the job market but also new limits that have pushed hundreds of thousands of workers off the rolls before they could find jobs.
These programs are simple welfare, nothing, more or less.
As of last week's report "EUC 2008″, which is the program in question, had 2.156 million "beneficiaries."  To put this in context "regular" state unemployment had 2.956 million people receiving benefits as of November 3rd.
"Regular" unemployment (26 weeks) is an insurance program.  You, the employee, pay into it with a piece of every paycheck.  It is prohibited by law for your employer to itemize this as a deduction from your paycheck, but it is a fact that it comes out of your offered wage in each and every case.  In this regard it is a forced insurance program (gee, where do you think the Government got the idea that forcing people to buy insurance — like health insurance — was a good idea?) but the fact remains that "regular" 26-week unemployment compensation is something you paid into, although as an employee it is an insurance program you cannot opt out of.
EUC is a welfare program.  It is entirely unfunded and you paid nothing for it.  It was and is the clear intent of government to blur the line between the two, making you believe you were and are entitled to the latter benefit because "it's something you earned" when in point of fact nothing of the sort ever occurred.
The problem is that not only does this form of welfare distort the job market, as it encourages people to "hold out" for a job they want rather than taking whatever they can get (or starting their own business, even if it is nothing more than doing odd jobs for money from people.)
It also distorts the picture that people have regarding work .vs. welfare, a hand out .vs. a hand up.
It is my considered opinion that unemployment insurance is something that you should have the right to either buy or not as an individual employee and your employer should have nothing to do with it.  The current system is rife with fraud; in Illinois, for example, it is virtually impossible to prevent someone from getting unemployment even if they are fired for cause.  I had multiple cases when I ran MCSNet where I terminated someone for a blatantly "for-cause" reason (e.g. not showing up for work on a repeated and notorious basis) and they would file for unemployment anyway.  We would protest and lose and the person who got canned would collect despite being outrageously ineligible.
This sort of abuse hurt everyone who legitimately wanted to work at the shop, since their wage offer was originally reduced by the amount that I would have to fork over for unemployment "insurance."  The fact that any random employee could (and some did) claim this benefit illegitimately and got away with it meant that everyone in the place got screwed.  Oh sure, the amount of the screwing for each employee was relatively small, but that's not the point — if you steal a dollar or $10,000 from someone the only thing we're arguing about is the amount of damage, not whether the act was proper.
As a nation we need to fix these problems.  The best way to solve it in this case is to scrap the "unemployment" system entirely, and make unemployment a insurance program that employees can buy on their own initiative.  That in turn would make such a benefit entirely portable and entirely at the employee's discretion; in some cases people would choose not to buy it at all (e.g. a teen taking a summer job or a second income in a household that is not necessary but enhances lifestyle) where others would want to buy it (e.g. a head-of-household.)  This would also allow private companies to price the insurance for the risk on an individual basis and they'd have a strong incentive to police fraud and claims for "benefits" where the person in question was fired for cause.
Let the hate mail aimed at me for the termerity to suggest that people should work for what they get, and that the scam level in our system be reduced, no matter how slightly, begin.

I am amused by the Shadow Weekly Leading Index Project which claims the probability of recession is 31%. I think it is much higher.
When the NBER, the official arbiter of recessions finally backdates the recession, May or June of 2012 appear to be likely months. Let's take a look at why.
US Manufacturing PMI
Markit reports PMI signals weakest manufacturing expansion in 11 months
Key points:
PMI lowest since July 2011, suggesting slower rate of manufacturing expansion
Rate of output growth broadly unchanged
New orders rise at weakest pace in four months
Input costs fall for first time in three years
Durable Goods Orders Plunge
Those numbers do not look good but they are hardly disastrous. Here are some numbers that are disastrous.
Philly Fed Survey
For the second consecutive the Philly Fed Survey has been solidly in the red.
click on chart for sharper image
Those numbers are nothing short of a disaster.
 The survey's broadest measure of manufacturing conditions, the diffusion index of current activity, fell from a reading of ‐5.8 in May to ‐16.6, its second consecutive negative reading. Nearly 40 percent of the firms reported declines in activity this month, exceeding the 22 percent that reported increases in activity.

Indexes for new orders and shipments also showed notable declines, falling 18 and 20 points, respectively. Indexes for current unfilled orders and delivery times both registered negative readings again this month, suggesting lower levels of unfilled orders and faster deliveries.

Firms' responses suggest steady employment this month but shorter hours. The percentage of firms reporting higher employment (14 percent) edged out the percentage reporting lower employment (12 percent). The current employment index increased 3 points this month. Firms indicated fewer hours worked this month: the average workweek index decreased 14 points and posted its third consecutive negative reading.
Misguided Optimism
click on chart for sharper image
Note the misguided optimism about six months from now. It's not going to happen.
Why?
Europe is a disaster.
US manufacturing is cooling rapidly
China is cooling rapidly: China Manufacturing PMI 7-Month Low, Sharpest Decline in New Export Orders Since March 2009
US Monetary policy is at best useless, but more likely net harmful, especially to those on fixed income.
First year presidential politics are frequently recessionary
US still needs fiscal tightening
Unemployment insurance has expired for millions: 200,000 Lose Unemployment Benefits This Week, Nearly Half From California
Self-Employment desperation: 100% of U.S. Jobs Added Since 2010 Have Been Self-Employment, Contractor, or Other Jobs Without Unemployment Insurance Benefits
Last two jobs reports have been dismal: Another Payroll Disaster: Jobs +69,000, Employment Rate +.1 to 8.2%, April Jobs Revised Lower to +77,000; Long-term Unemployment +310,000
The 4-week moving average of weekly unemployment claims is at the highest rate of the year, at 386,250.
New home sales cannot gain significant traction: New Home Sales Hype vs. Reality
Tax Armageddon
Deficit spending has carried this "recovery" further than I thought it would, but the party is now over.
It will be difficult if not impossible to overcome the above set of circumstances regardless of what anyone feels about economic back-tested recession probabilities.
Taxmageddon
Please consider Taxmageddon
 The Tax Foundation reports that because of higher federal income and corporate tax collections, Tax Freedom Day came four days later this year than last. And the bad news is that unless Washington takes action, it will take working Americans 11 more days to meet next year's tax burden.

That's all due to Taxmageddon — a slew of expiring tax cuts and new tax increases that will hit Americans on January 1, 2013, amounting to a $494 billion tax hike. Heritage's Curtis Dubay reports that American households can expect to face an average tax increase of $3,800 and that 70 percent of Taxmageddon's impact will fall directly on low-income and middle-income families, leaving them with $346 billion less to spend.
Taxes Will Go Through the Roof
PolicyMic reports When the Payroll Tax Holiday Ends in 2013, Taxes Will Go Through the Roof
 Without significant tax code changes, in 2013, America is scheduled to get hit with what would be the largest tax increase in our history.

Not only will the $1,000 per year tax holiday for a $50,000 income household disappear, come 2013 all Americans will see the tax on their first $8,700 of income jump from a 10% rate to 15% rate.

That hike will cost the majority of filers an additional $435.

For those eligible for child care tax credits that deduction will drop from $1,000 to $500. The marriage penalty will roar back into effect. The AMT, alternative minimum tax, will finally kick in.

Roll those changes up and a family filing as married with two children making $50,000, will see their taxes increase by basically $2,700.
Regardless of whether or not you feel taxes need to be raised, a big set of tax hikes is scheduled to happen.
To be sure, some of those hikes will be undone in compromises,  but many if not most will sneak through.
Who is to blame for Taxmageddon?
Republican are to blame. They accepted this silly deal instead of a far better one that Obama would actually have signed.
But No! Republicans insisted on no tax hikes at all in 2012, putting everything off until after the election, believing Romney would win in a cake-walk.
However, if President Obama wins, certainly not at all an unlikely possibility, he is going to drive a much harder bargain this go around.
Regardless of tax consequences, the US is headed for recession, if not already in one. 2013 rates to be a disaster regardless who wins.
Mike "Mish" Shedlock
In the week ending June 16, the advance figure for  seasonally adjusted initial claimswas 387,000, a decrease of 2,000 from the previous week's revised figure of 389,000. The 4-week moving average  was 386,250, an increase of 3,500 from the previous week's revised average of  382,750.
Well, no, it's not.  And that's a problem.
Ominously, the "big table" was almost flat — roll-offs in the extended benefits are countered by new claims in the 26 week "basic" program, which may indicate building layoff pressures once again.
This is not confirmed, but it's definitely not a good sign, and this far into the so-called "recovery" we should be well on our way to solid, week-over-week gains in these statistics.
It's not happening.
There is no recovery folks, and there can't be — there is simply too much debt and thus far everyone's "prescription" for how to "fix it" is to…. wait for it… add more!
This economic decline has been really hard on everyone, but it has been particularly hard on American men.  During the last recession male employment dropped like a rock and it has not recovered much at all since then.  That is why many referred to the last recession as a "mancession".  Industries where men are disproportionately represented such as construction and manufacturing have really been hit hard in recent years.  In the old days, you could take a high school education down to the local factory and get a job that would enable you to live a middle class lifestyle and support a growing family on just that one income.  Sadly, those days are long gone.  Today, American men live in a world where their labor is not really needed.  Wages are falling because almost any worker can be easily replaced by the vast pool of unemployed American workers that are currently searching for work, and a lot of big companies are shifting labor-intensive jobs overseas where workers only make a small fraction of what they make in the United States.  American workers (especially those without much education) are considered to be expensive liabilities in a world where labor has become a global commodity.  So the percentage of working age American men that have jobs is likely to continue to decline and wages are likely to continue to stagnate as well.
For many men, a long-term bout with unemployment can almost be worse than a major illness.  It can be really hard to feel like a man when you don't have a job.  Men often see themselves as filling the "provider" role, and when they aren't providing for their families self-esteem can fall through the floor.  It is easy to feel worthless when there is no money coming in and your wife and your kids are looking at you with worry every single day.
As you read this, there are millions upon millions of unemployed men sitting at home with a glazed look in their eyes.  When you talk with these men, many of them seem as though the life has been sucked right out of them.
As I wrote about recently, when you cannot find a job month after month after month people start to look at you differently.  Some start to look at you with pity in their eyes, and others start to look at you with disgust in their eyes.
Most Americans don't really understand how much the economy has fundamentally changed, and many of them still believe that it shouldn't be too difficult to find a job in "the greatest economy on earth".
But things have changed.  If you don't have a college education or some highly specialized skills then it is going to be exceedingly difficult to get a good paying job in this economy.
Unfortunately, finding a job is not going to be getting any easier.  Times are hard now, but they are going to be getting a lot harder.
The following are 16 signs that this economic decline is sucking the life out of the American male….
#1 During the last recession, men lost twice as many jobs as women did.
#2 According to the Economic Policy Institute, the "real entry-level hourly wage for men who recently graduated from high school" has declined from $15.64 in 1979 to $11.68 last year.
#3 During the recent economic downturn millions of men saw their family finances get absolutely destroyed.  According to the Federal Reserve, the median net worth of families in the United States declined "from $126,400 in 2007 to $77,300 in 2010".
#4 As you can see from the chart below, in the 1950s there were times when nearly 85 percent of all working age men had a job.  Sadly, that number has stayed below 65 percent since the end of the last recession….
#5 More unemployed fathers than ever are staying at home with the kids.  Over the past decade the number of "stay at home dads" has doubled.
#6 Prior to the recession, women accounted for approximately 45 percent of the workforce.  Now, they account for 49.4 percent of the workforce.
#7 According to one new survey, 23 percent of all small business owners in America have gone for more than a year without pay.  More than half of all small business owners are men.
#8 The decline in manufacturing jobs has had a disproportionate impact on men.  Back in 1940, 23.4% of all American workers had manufacturing jobs.  Today, only 10.4% of all American workers have manufacturing jobs.
#9 More than half of all middle management jobs in America are now held by women.
#10 More than half of all health care jobs in America are now held by women.
#11 American men love to watch television.  But because of harsh economic conditions more families than ever are eliminating cable television service.  According to one survey, a whopping 6.9 million American homes cancelled cable service last year.
#12 According to the New York Times, approximately 57 percent of all Americans that are currently enrolled in college are women.
#13 According to one study, between 1969 and 2009 the median wages earned by American men between the ages of 30 and 50 dropped by 27 percent after you account for inflation.
#14 According to another study, "young, urban, childless women" make more money in America today than young, urban, childless men do.
#15 According to CNN, in the United States today men in the 25 to 34 age bracket are nearly twice as likely to live with their parents as women the same age are….
The number of adult children who live with their parents, especially young males, has soared since the economy started heading south. Among males age 25 to 34, 19% live with their parents today, a 5 percentage point increase from 2005, according to Census data released Thursday. Meanwhile, 10% of women in that age group live at home, up from 8% six years ago.
#16 Our system often treats elderly American men like absolute trash.  Just check out what happened to one elderly veteran up in Montana recently….
Warren C. Bodeker is an 89 year old World War II Army Airborne combat veteran and war hero, living in Montana, who is being thrown off of his own land and thrown out of his own house, by Montana Federal Bankruptcy Trustee, Christy Brandon, with the approval of the U.S. Bankruptcy Court in Montana. And to make matters worse, Warren's wife Lorna just died of cancer this past year, and is buried there on their land, right next to the house. Warren had planned to live there till he died and then be buried right next to his wife, there on their property at 11 Freedom Lane, in the town of Plains, Montana, but now, not only is he being forced off his land, he is being forced to exhume his wife's body and take her with him.
As the ability of men (and women) to take care of their families continues to decline, the middle class continues to shrink rapidly.
Most Americans continue to expect our economy to be able to bounce back to where it was before, but the truth is that the U.S. economy is in the midst of a long-term decline.
We are heading for an absolute economic nightmare, and we desperately need to come together as a nation and find some real solutions.
Unfortunately, our nation is becoming more divided than ever, and most of our politicians are proposing that we continue to do the exact same things that got us into this mess.
So what do all of you think about "the mancession" and what this economic decline is doing to the American male?  Please feel free to post a comment with your thoughts below….
The economic treadmill is throwing millions out of the middle class and into poverty.  In 2010 75 percent of unemployed received unemployment benefits while today it is down to 48 percent.  From unemployment to food stamps.
The economy is being pulled apart from the center as if two mighty horses on both sides were set to run in opposite directions of the financially strapped middle class.  This seems to be the current trajectory of our economic progress.  The ranks of the poor continue to grow while the financial sector continues to strive based on government favoritism and a strong form of corporatacracy.  Take this startling fact under consideration that last year 75 percent of the unemployed received some form of unemployment benefits. That figure is set to fall to 48 percent this year.  Part of the main reason has been the long-term structural unemployment in our economy.  The current economy resembles two different worlds and most Americans are still feeling the pangs of the recession that began in 2007.  The main question many are asking is where will this country be heading if the same financial sector that created rampant disorder in the last decade is still at the helm of the ship?  We can look at current trends and the results do not look promising.
The super long-term unemployed
It used to be the case that 99 weeks was the extreme end of the long-term unemployed.  But now we are seeing this lack of job growth continue even longer: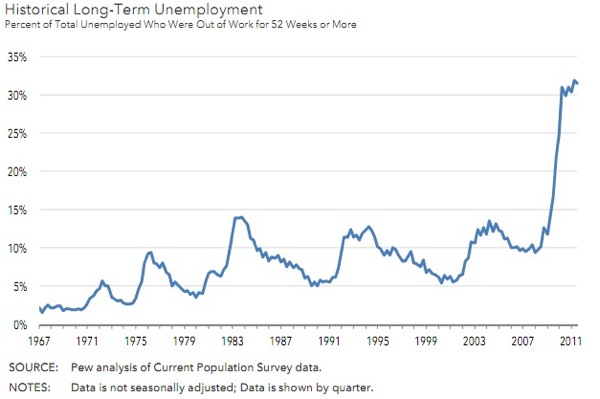 Over 30 percent of the currently unemployed have been out of work for one year or longer.  This stubborn unemployment is causing major problems in the fabric of our economy.  Many states have adjusted to provide 99 weeks of unemployment but the number of those not working is so large that 99 weeks is not enough and many fall off the benefit count.  Take for example the proportion of those that are unemployed and receive unemployment benefits: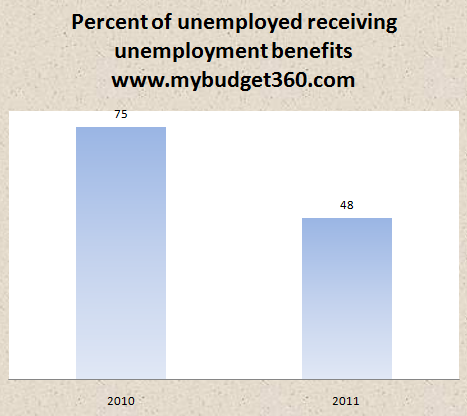 What this chart highlights is the reality that many of the long-term unemployed are going to fall onto other safety nets like food stamps or other aid.  It is astounding how we can be seeing such structural problems yet the financial sector seems to be booming.  It is booming not because it has earned it in the typical capitalist sense but they have earned it by stealing it.  Unlike the unemployed person that runs out of benefits, the too big to fail simply rewrite laws and call up their Federal Reserve counterparts and draw on their unlimited credit lines.  Of course the burden is then largely place on the middle class that is simply struggling to stay in place without falling further and further behind.
Read the rest at My Budget 360
So today, two bits of news came out: Unemployment declined to 8.9% last February, as the U.S. economy added 192,000 jobs; and the Federal Reserve signalled that it is definitely-definitely-definitely ending Quantitative Easing 2 (QE-2) in June, as originally scheduled, on the assumption that the economy is improving, and therefore no further extension of QE-2 will be necessary. 
Portrait of the author,
chewing over what it all means.  
On its face, this would seem to be . . . not good news, but at the least encouraging news: The economy seems to be improving, albeit anæmically. 
But is it? 
This points to something that a lot of commentators of the BLS's numbers have been saying for a while: The number of individuals in the labor market as defined by the BLS has been steadily dropping. But it hasn't been because of some sudden demographic shock—it's been because more people have been unemployed for more than two years. 
Calculated Risk had a very clever chart back in December: