Archive for the 'Wall Street' Category
Most people fail to understand basic mathematical concepts such as exponents and ratios as they apply to everyday life.  We usually "get it" when it comes to the mathematical facts that are taught in school (if we passed through basic Algebra) but nobody in our government schools ever teaches how these functions apply to the real world.
The reason they don't, I assert, is that the educational establishment from the government itself on down knows full well how these functions relate to everyday life, and they also know that if you understood these facts there would be a revolution the next morning as you would understand exactly how you have been systematically and intentionally robbed by the mavens of finance with not only the consent but the active participation of your government.
With that in mind I wish to present two pieces of data today.  The first is "average hourly earnings", which is  from the St Louis Fed, and the second is the total systemic debt, public and private, taken from the Fed Z1.
Why the second as a point of comparison?  Because as I have repeatedly pointed out "credit" (that is, debt on the other side of the balance sheet) spends exactly the same as does currency (emitted money.)  Therefore, when one compares earnings power in real terms one must look at the denominator that is in actual use, which is that currency + credit.
Over the last 30 years, from 1980 to today, the average production and non-supervisory employee earnings have gone from $6.61 to $20.09 (not seasonally adjusted.)  We will use the September 2012 cut-off for this because that's where our Z1 data ends (for another few weeks), which is $19.83.
This is an almost-perfect triple, which sounds great at first — you're making three times as much, per hour, today as you were in 1980.
But how far does that money go?
In January of 1980 (in other words, the end of Q4 1979) the total systemic debt was $4.274 trillion.  Were that to have tripled, that is, your purchasing power was to remain exactly constant then systemic debt would be about $12.82 trillion.
It is in fact $55.358 trillion, or 12.95 times greater.
Now to be fair we adjust for the population change.  It has gone from ~227 million to about 314 million; roughly a 38% increase.  In other words on a per-person basis the increase in debt has been a bit over 9x.
You got 3 of the multiples in increased dollars in your paycheck.  You went backwards at three times the rate of "nominal" acceleration unless you were somehow able to glom some of the debt cycle "profits", all of which were factually illusory.
This is what "drove" you into the stock market.  It is what "drove" you into "investing" rather than saving. But since you can only pick up small crumbs even if you do so, and even if you're right more often than wrong, the fact remains that you are still behind.
Who stole your purchasing power via this mechanism?
That's simple — the 0.01%.  The Wall Street Banks.  The politicians.  Their friends.
Everyone but you.
But — but — but you say, how about since 2006?
Ok.  2006, incidentally, is when the BLS started tracking all employees, not just non-supervisory ones. At the end of the first quarter of 2006 the average hourly earnings were $20.38.  Again, as of 10/1/2012 (last update for the Z1) they were $23.55, or an increase of 15.6%.
At the end of the first quarter of 2006 systemic debt was $43.16 trillion.  As of the end of the third quarter of last year it was $55.36 trillion, as noted before,an increase of 28.3% while population only increased about 5% during the same period.
In other words you are still going backward and in fact your hourly earnings are decreasing in purchasing power terms and have been since 2006, just as they have been since 1980.  In fact GDP has "increased" by 20.1% over the same period (2006-Q1 to 2012-Q3) yet debt has gone up by 28.3% (22.2% population-adjusted), which means that GDP has actually declined in real terms on a per-capita basis over that period, not advanced.
The so-called "increase" in your wages are an intentional chimera which is thrown to you to make you "feel good" about your earnings "going up."  But in point of fact they're not going up at all, they are going down because the divisor, the total number of dollars in the system that are available to buy the goods and services are rising much faster than your earnings are.
The fraud you're being sold is exactly identical to going into a bakery and ordering a sheet cake.  The baker asks you how many pieces you would like the cake cut into; your options are 2, 4, 8, 16 or 32.  He then tells you that if you're really hungry you should choose 32, because that way you can eat more pieces.
You'd either laugh at the baker or string him up by his necktie were he to pull that crap, yet this is exactly what Ben Bernanke along with all the politicians have been selling you for the last 30 years.
Incidentally the S&P 500 stood at about 107 at the start of 1980.  If it increased at the same rate as systemic credit it would stand at 1385, which is not all that far from where it actually is.  "Greatest Bull Market in History" or outright fraud due to credit manipulation by a 0.01% of the population who have systematically and intentionally lied to you while skimming off 90+% of the so-called "gains" of said "bull market", leaving you with scraps — if you're fortunate enough to be able to participate at all.
There is no answer to these problems found in "redistribution" or "entitlements."  There is only one answer available, and that is to stop inflating the monetary system through fraudulently unbacked emission of credit and remove same from the system, forcing those who unjustly stole your effort to eat the losses that will ensue and go bankrupt, deflating the price level and restoring balance to the economy so that your purchasing power is also restored.
Would doing that result in a large amount of short-term economic pain?  You bet it would.  But that pain would fall disproportionately on those who stole from you in the first place, exactly as it should.
There is no other means by which you can restore your purchasing power; all other schemes to "increase credit", "increase lending", "lend support through QE" or "tax and redistribute" will simply steal more through the exact mechanism that has been used to rip you off thus far.
I can understand how someone might not "get it" when it comes to how they've been robbed if it has not been clear to them, and they simply didn't know where to look to find the truth.  But after seeing this (and verifying it for yourself, which is not very hard), exactly what excuse do you have for continuing to play the puerile game run by both the banksters and the politicians of all stripes?
"Rolling Stone" magazine published an excellent article on April 25, 2013 on the out-of-control illegality of the world's big banks. The thrust of the piece is that banks are so big that government is scared to reign them in. But the problem is deeper than breaking up the big banks. It can't be fixed unless you do two things. Features a synopsis of Prof. Jeffrey Sachs comments from last week.
You can now Pre-Order the new documentary, "Jekyll Island" at:
www.jekyllisland-themovie.com
Please circulate this around to your friends. Let's see if we can get a big audience going all around the world. This is what you can do to help out.
Also, here is the DONATE link.
I am not the author of today's catchy headline. No, that was Gretchen Morgenson writing in the New York Times on January 5, 2013.
If you were hoping that things might be different in 2013 — you know, that bankers would be held responsible for bad behavior or that the government might actually assist troubled homeowners — you can forget it. A settlement reportedly in the works with big banks will soon end a review into foreclosure abuses, and it means more of the same: no accountability for financial institutions and little help for borrowers.

Last week, The New York Times reported that regulators were close to settling with 14 banks whose foreclosure practices had ridden roughshod over borrowers and the rule of law. Although the deal has not been made official and its terms are as yet unknown, the initial report said borrowers who had lost their homes because of improprieties would receive a total of $3.75 billion in cash. An additional $6.25 billion would be put toward principal reduction for homeowners in distress.
Gretchen was reporting a few days before the official announcement. The deal was done, and the settlement turned outto be $8.5 billion, with $3.3 billion of that set aside for cash relief for homeowners.
The settlement Bank of America, Citigroup Inc, JPMorgan Chase & Co, Wells Fargo & Co and five other banks entered with regulators pays out up to $125,000 in cash to homeowners whose homes were being foreclosed when the paperwork problems emerged.
Remember that $125,000 number. That's pure propaganda, given the size of the group of aggrieved mortgage holders.
About $3.3 billion of the $8.5 billion settlement with the Office of the Comptroller of the Currency will be in cash, with the rest in changes to the terms of loans or mortgage forgiveness.

In April 2011, the government required banks that collect payments on mortgages, known as servicers, to review whether errors in the foreclosure process had harmed borrowers.
Gretchen did some "back of the envelope" math for us. I am too lazy to correct it for the lower cash settlement.
Some back-of-the-envelope arithmetic on this deal is your first clue that it is another gift to the banks. It's not clear which borrowers will receive what money, but divvying up $3.75 billion among millions of people doesn't amount to much per person. If, say, half of the 4.4 million borrowers were subject to foreclosure abuses, they would each receive less than $2,000, on average. If 10 percent of the 4.4 million were harmed, each would get roughly $8,500.
Gretchen then did a follow-up on January 12, 2013 called Paying the Price, but Often Deducting It, which I will not quote. She notes that these unimpressive settlements are usually tax-deductible for the banks.
And then FRONTLINE (PBS) ran yet another hour-long documentary about why no bankers have gone to jail. It's called The Untouchables, and contains this quote from Lanny Breuer, who has been the head of the Department of Justice's criminal division in the 1st Obama administraton, and who was still in that position when the documentary was made.
MARTIN SMITH — You gave a speech before the New York Bar Association. And in that speech, you made a reference to losing sleep at night, worrying about what a lawsuit might result in at a large financial institution.

LANNY BREUER — Right.

MARTIN SMITH — Is that really the job of a prosecutor, to worry about anything other than simply pursuing justice?

LANNY BREUER — Well, I think I am pursuing justice. And I think the entire responsibility of the department is to pursue justice. But in any given case, I think I and prosecutors around the country, being responsible, should speak to regulators, should speak to experts, because if I bring a case against institution A, and as a result of bringing that case, there's some huge economic effect — if it creates a ripple effect so that suddenly, counterparties and other financial institutions or other companies that had nothing to do with this are affected badly — it's a factor we need to know and understand.
This is as candid a statement as you're ever going to read that the banks in question are considered too big to fail, and, as such, they are above the law. And now we learn that Lanny is resigning, having done his job to protect those banks, and having been exposed as a fraud.
Lanny Breuer is leaving his position as head of the Justice Department's criminal division, The Washington Post reported Wednesday.

As assistant attorney general, Breuer led the effort to pursue allegations of fraud and corruption at major banks in the wake of the financial meltdown. The Post said it was unclear when Breuer will leave, and didn't offer a reason. A DOJ spokeswoman told FRONTLINE that the department wouldn't comment on the report.

Breuer was featured in FRONTLINE's documentary The Untouchables, which aired on Tuesday and explored the reasons why no Wall Street executives have been prosecuted for fraud in connection with the financial crisis. Breuer told FRONTLINE that the DOJ had pursued charges when officials found evidence of fraud. "But in those cases where we can't bring a criminal case — and federal criminal cases are hard to bring — I have to prove that you had the specific intent to defraud. …If we cannot establish that, then we can't bring a criminal case," he said.
And now I will make a few remarks.
I find it telling that humans, in this case Americans, continue to pretend that they live in a legitimate, fair society, despite massive and compelling evidence to the contrary. Or a society which—once again?—things might be set right. As usual, that observation tells us a lot more about humans (and Americans) than it does about the specific injustices and corruption in these pro-forma "prosecutions" of the banks, which are merely typical examples of how elites control complex human societies. As such, this kind of behavior is exactly what we would expect to see, independent of the messy details about how elite control is implemented.
As usual, if you research this particular manifestation of typical human corruption, of elite control, you will find much wailing and gnashing of teeth, for example, at places like Naked Capitalism.
I mean, why does FRONTLINE (video below) even bother to make these documentaries? So I'm here to ask disconcerted "progressives" and do-gooders some simple questions—
What the fuck did you expect to happen with the banks?
What is it, exactly, that you are complaining about?
Do you actually expect that this typical human corruption might be eradicated?
If you have not already seen PBS Frontline's The Untouchables, I encourage you to do so.
Dave Cohen – Decline of the Empire
Smoke and mirrors economy – 47 percent of the members in Congress are millionaires. 67 percent of Senators. Fed and Treasury money close to $7 trillion.
The Federal Reserve is really deep into uncharted territory.  In no other time in history has the Fed been so intricately involved in the overall economy.  The Fed balance sheet has expanded to an incredible level under very little scrutiny by the public or elected officials, many who have a vested interest in keeping the status quo.  The banking system has been bailed out but the working and middle class still struggle.  There is an interesting narrative going on in the press.  Since Wall Street is on the mend and hefty banking bonuses are once again making the rounds, every corner of the country is now somehow celebrating in this same process, at least in theory.  That is simply not the case in actuality.  The system has been decoupled internally.  Profits are made globally with local banking subsidies.  The public is left holding the bag on massive speculation and is shifted out of any prosperity.  It is odd what passes for good news.  The fact that Congress acknowledges that they will deal with the fiscal challenges facing our nation is applauded even though this is their job and most are already millionaires.  The Fed is still deeply intertwined in the current economy.
Fed and Treasury Total Money
There is an interesting chart examining all Fed and Treasury Money out in the economy.  The Fed has introduced a historic amount of measures to bailout the current market.  In 2008, this mixed bag of funding was at $1.5 trillion.  Today that figure is near $7 trillion: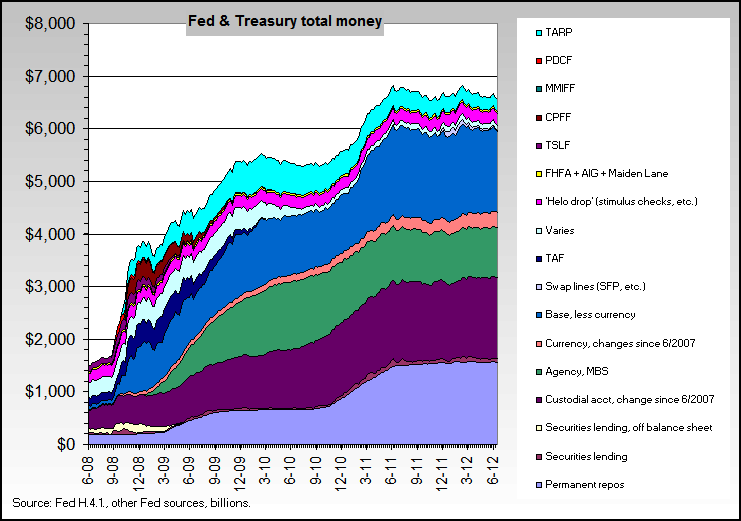 Source:  Nowandfutures
Does the above look like the Fed is unwinding?  In fact, you can rest assured this is only going to increase with QE3 now in full bloom.  The risk of course is that the unwinding of these mechanisms back into the market is going to cause inflation.  Some argue that there is no inflation so why worry.  Well just look at the above.  Can the Fed permanently keep that near $7 trillion on its balance sheet forever?  That seems to be the plan and banks are happy with this approach since they can keep churning profits in the meantime.
The issue of course is that working and middle class Americans are being left behind.  The middle class has demonstrably shrunk over the past few decades.  This trend is unmistakable.  Some of it is simply due to the fierce competition globally but a lot of it has to do with internal banking welfare and an antagonistic view towards labor.  The same people that disparage working class Americans in the same voice talk about the need to grow jobs.
Read the rest at My Budget 360
Debt.  There isn't a day that passes as of late that the issue of debt doesn't arise.  Federal debt and consumer debt (including mortgages) are of the most concern due to its impact on the domestic economy.   Debt is, by its very nature, a cancer on economic growth.  As debt levels rise it consumes more capital by diverting it from productive investments into debt service.  As debt levels spread through the system it consumes greater amounts of capital until it eventually kills the host.  The chart below shows the rise of credit market debt and its impact on both personal savings and economic growth.
From the 1950's through the late 1970's interest rates were in a generally rising trend with the Federal Funds rate at 0.8% in 1954 and rising to its peak of 19.1% in 1981.  Of course, during this time the U.S. was the manufacturing and production powerhouse of the entire global economy post the wide spread devastation of Europe, Germany and Japan during WWII.  The rebuilding of Europe and Japan, combined with the years of pent up demand for goods domestically, led to a strongly growing economy and increased personal savings.
However, beginning in 1980 the world changed.  The development of communications shrank the global marketplace while the rise of technology allowed the U.S. to embark upon a massive shift to export manufacturing to the lowest cost provider in order to import cheaper goods.  The deregulation of the financial industry led to new innovations in financial engineering, easy money and wealth creation through the use of leverage which led to a financial boom unlike any seen in history.  The 80-90′s was a period of unrivaled prosperity and the envy of every nation on earth.
Unfortunately – it was the greatest economic illusion ever witnessed.
The reality is that the majority of the aggregate growth in the economy was financed by deficit spending, credit creation and a reduction in savings.  In turn this reduced productive investment in the economy and the output of the economy slowed.   As the economy slowed, and wages fell, the consumer was forced to take on more leverage to maintain their standard of living which in turn decreased savings.   As a result of the increased leverage more of their income was needed to service the debt – and with that the "debt cancer" engulfed the system.
The Austrian business cycle theory attempts to explain business cycles through a set of ideas. The theory views business cycles "as the inevitable consequence of excessive growth in bank credit, exacerbated by inherently damaging and ineffective central bank policies, which cause interest rates to remain too low for too long, resulting in excessive credit creation, speculative economic bubbles and lowered savings."
In other words, the proponents of Austrian economics believe that a sustained period of low interest rates and excessive credit creation results in a volatile and unstable imbalance between saving and investment.   In other words, low interest rates tend to stimulate borrowing from the banking system which in turn leads, as one would expect, to the expansion of credit.   This expansion of credit then, in turn, creates an expansion of the supply of money.
Therefore, as one would ultimately expect, the credit-sourced boom becomes unsustainable as artificially stimulated borrowing seeks out diminishing investment opportunities. Finally, the credit-sourced boom results in widespread malinvestments. When the exponential credit creation can no longer be sustained a "credit contraction" occurs which ultimately shrinks the money supply and the markets finally "clear" which then causes resources to be reallocated back towards more efficient uses.
The chart below shows the increasing levels of money supply and debt versus the changes in economic and wage growth.  The impact of debt on the economy remains unrecognized by policy makers and central bankers who have failed to understand what the current downturn encompasses.  Therefore, these same individuals continue to chase economic theories based on a mistaken belief that the current recession is an ordinary period of falling aggregate demand.  However, the reality is something far different.
The reason that the policies which have been enacted by the current Administration up to this point have all but failed, be it "cash for clunkers"  to "Quantitative Easing", is because they were designed to either drag future consumption forward or to slow the deleveraging process.  The Keynesian view that "more money in people's pockets" will boost consumer spending, and ultimately grow GDP, has clearly been wrong.  It hasn't happened in 30 years.   What is missed is that things like temporary tax cuts, or one time injections, don't create economic growth but merely reschedules it.  While the average American will act on a near-term increase in their take home pay – any increased consumption in the present will be matched by a decrease later when the tax cut is revoked.
This is, of course, assuming the balance sheet at home hasn't broken.  The problem today is that for only the second time in the history of the United States we are in the process of deleveraging the balance sheet of the U.S. economy.   As we saw during the period of the"Great Depression" most economists thought that the simple solution was just more stimulus.   Work programs, lower interest rates, government spending all didn't work to stem the tide of the depression era.
The problem is that during a "balance sheet" recession the consumer is forced to pay off debt which detracts from their ability to consume.   This is the one facet that Keynesian economics doesn't factor in. More importantly it also impacts the production side of the equation as well since no act of saving ever detracts from demand.  Consumption delayed is merely a shift of consumptive ability to other individuals, and even better, money saved is often capital supplied to entrepreneurs and businesses that will use it to expand, and hire new workers. 
So, while classical economics says that production comes first, the problem becomes that during a "balance sheet recession" the economy is put into a stranglehold for productive investment. The continued misuse of capital and continued erroneous monetary policies have instigated not only the recent downturn but actually 30 years of an insidious slow moving infection that has destroyed the American legacy.
This is why we need real reform in government that leads to a smaller government, more clarity for businesses through pro-growth policies, real regulation of Wall Street which separates banks and brokerages, as well as programs and subsidies for bringing back to America those jobs that require a little hard work and a little bit of sweat but create a whole lot of pride and prosperity along the way.
It's time for our leaders to wake up and smell the burning of the dollar – we are at war with ourselves and the games being played out by Washington to maintain the status quo is slowing creating the next crisis that won't be fixed with monetary bailout.
Lance Roberts – Street Talk Live