Does it need anything more?  Sure does — an explanation.
The sell-off today is the start.  Not the end.  And it's also the end of the rope for our Congress, if they don't get off their butts, which I do not expect them to do.
Therefore, I hope you're ready.
I bet you're not.
http://blogtalkradio.com/marketticker 3:30 Central today.
Employment is dead in the water because opportunities for organic expansion are few and the cost basis of doing business in the U.S. keeps rising.
Let's start by reviewing the basics of employment in the U.S. Courtesy of the St. Louis Federal Reserve, here is the noninstitutional civilian population of the U.S. (Note that the Civilian Noninstitutional Population With No Disability, 16 years and over (LNU00074593)–roughly speaking, the workforce of the nation– is 215 million).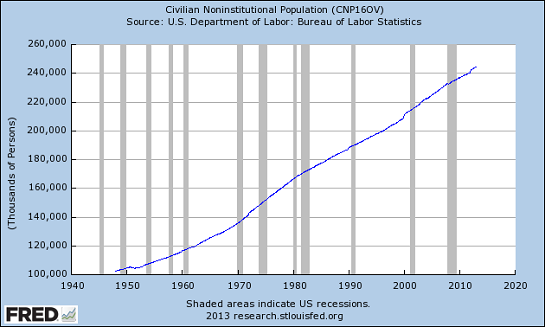 Here is the percentage of the population with some kind of job: note this could be self-employment that earns $1,000 a year or a job with 4 hours a week; recall that 38 million American workers earn less than $10,000 per year, 50 million earn less that $15,000 a year and 61 million earn less than $20,000 annually. All these numbers are drawn directly from Social Security Administration payroll data.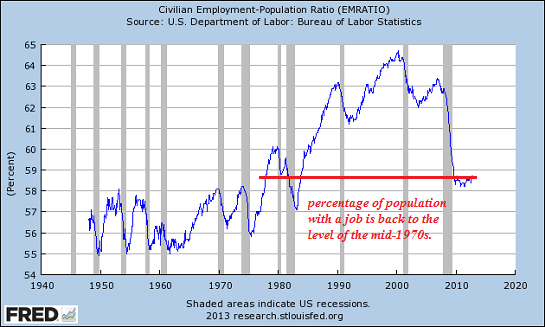 Here is real (adjusted) gross domestic product (GDP), which includes government spending: (in other words, as you borrow-and-blow trillions of dollars, GDP rises).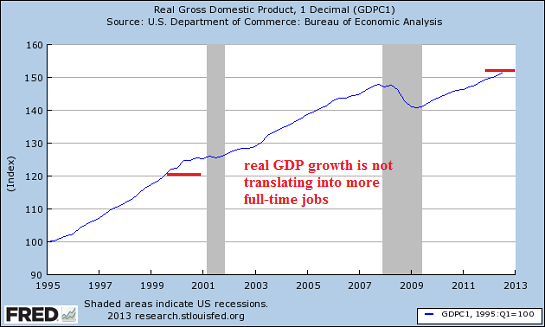 Unfortunately, employment hasn't risen along with the population or the GDP:the only metric with any meaning is full-time employment, as self-employed and part-time jobs may pay a few thousand dollars a year and should not be included in the same category as full-time jobs.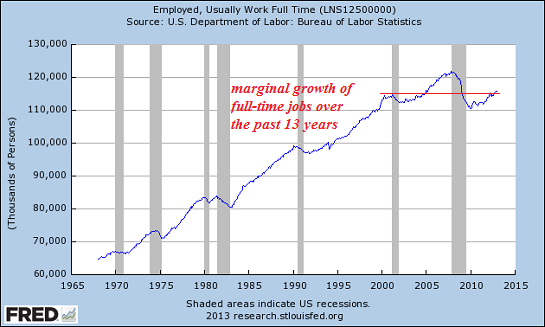 In sum: the population and GDP have both expanded smartly since 2000, but full-time employment has barely edged above levels reached 13 years ago.
Academic economists and political progressives would have us believe that the only thing restraining employers from hiring millions more people is lack of access to cheap credit.
The explicit assumption here is that cheap credit is all employers need to expand their workforce. This is so out of touch with reality that it beggars description. Progressives and academic economists generally claim the Federal Reserve's zero-interest policy (ZIRP) and its other policies of flooding the economy with liquidity "are working," i.e. boosting the economy.
Here is what the Fed's policies are boosting: financial sector profits Please compare this chart with the chart above of full-time employment, and then decide where the Fed's free money/easy credit is flowing.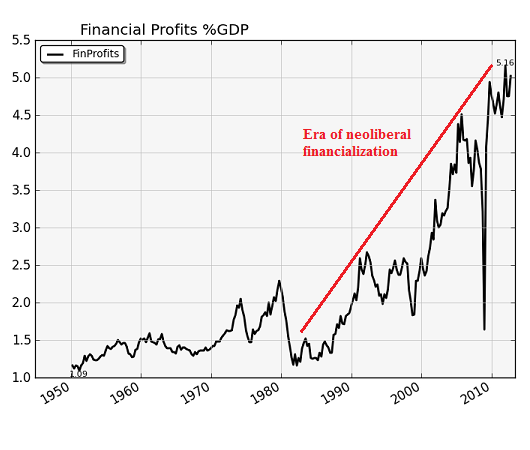 Here are financial profits per capita: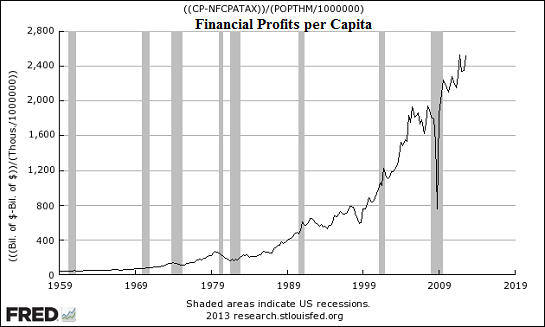 The only way to understand why employment is dead in the water is to stand in the shoes of a potential employer or entrepreneur. Remarkably, this perspective is unknown to economists and progressive politicians because they have never been an employer (and no, hiring a grad student to grade papers or an illegal nanny to watch your kids does not make you an employer.)
I have described this vast divide between small business employers, entrepreneurs and the self-employed and those working in government or Corporate America as one of the least explored social/economic divisions in the nation.
Those who have spent their careers in government or academia have little idea what it takes to hire more people. Number one is a business with strong demand for one's products or services. In a developed world with too much of everything except energy, that is no small challenge: the world is awash in over-capacity in every field except niche industries such as deepwater oil rigs.
Second, you need a process that generates so much value (specifically surplus value) that you will generate immediate profits by hiring more people.
If the value added by additional labor is low, then you have no reason to hire more employees, even if Ben Bernanke personally knocked on your door begging you to borrow a couple million dollars at low rates of interest.
If an additional unskilled worker will cost $10 an hour and might generate $100 a day in additional gross revenues, that is $20 in gross profit. But the overhead costs of operating a business are rising faster than inflation: junk fees imposed by cities, counties and states, workers compensation and disability premiums, healthcare costs (if you hire full-time workers), energy costs, and so on.
For most businesses, overhead costs 50% to 100% of total employee compensation–wages plus benefits and payroll taxes. So adding another employee to gross 20% more doesn't make it worthwhile–it actually generates a loss once overhead costs are paid.
The only time it makes sense to hire another worker is if that worker will create 100% or more surplus value from their labor. For example, a worker paid $200 a day in total compensation generates $400 more in gross revenues–enough to not only support the added overhead but net the business a profit.
In a global economy, competition constantly lowers the premium most businesses can charge. That places most businesses in the vice of declining gross margins and higher labor/ overhead costs. The only way to stay solvent is to grow revenues and slash costs so declining gross margins are still enough to pay the bills and leave some return on capital/time/risk invested.
Cheap credit doesn't create surplus value, increase gross margins or get rid of over-capacity. It is a financial non-sequitur for all but a relative handful of enterprises. The only firms interested in borrowing money for expansion are those relative few in sectors that are not burdened with overcapacity. That might include oil services, network security and a handful of others.
But high-margin sectors such as technology either get funding from venture capital or their high margins generate enough income to fuel expansion without taking on debt.
The only companies borrowing vast sums of money are those paying off higher-cost existing debt with new cheap-credit loans. The savings from lower interest payments don't flow to new hires, they flow to the bottom line and from there to executives, owners or stock buybacks that boost the portfolios of institutional owners.
Employment is dead in the water because opportunities for organic expansion are few and the cost basis of doing business in the U.S. keeps rising. That vise forces businesses large and small to reduce labor costs while boosting productivity. There is no other way to stay solvent in a post-bubble, over-capacity, over-indebted consumerist economy awash in too much of everything but energy, common sense and fiscal prudence.
Charles Hugh Smith – Of Two Minds
There may be cause for "Longer-term optimism":
There Is Reason For Longer-Term Optimism

I can't go into details this morning about exactly why, or what.

But if you've followed me for any length of time at all you know that I have been extremely negative when it comes to our government budgetary process and the prospects for us to have a sustainable environment in that regard at any time in the reasonable future.

My opinion is now shifting toward positive, believe it or not.

I cannot go into exactly why.  All I can tell you at the present time is that there are a number of people in the US Senate who have "gotten it" for some time, and now it appears that this is spreading to The House.

Now I could easily be wrong, and if I am I'll say so as soon as I know.

But cautious optimism is now creeping into the pattern of activity, despite the short term debt-ceiling reprieve vote.

Sausage tastes good, but nobody wants to see how it's made.

Sausage is being made.

Stay tuned.

Discussion (registration required to post)
One possible hint at what this glimmer may be, comes from Market Watch: Sequester cuts looking harder to undo, wherein potential budget cuts under the sequester are discussed, which had been postponed by the 11th-hour fiscal cliff deal.
So, you see, there may be good reason for an otherwise fiscally-conservative congressman to support the temporary debt ceiling increase. Before you prepare an effigy of your congressman, pause and give that some thought…they may have information you do not.
There may even be another hint forthcoming over the weekend.
Stay tuned.
Ray Dalio is talking about this:
Ok, something has officially changed folks.
There is now a veritable flood of people on the "bubble vision" TV that are talking about the reality of leverage application and its un-sustainability.
Once something reaches mainstream media currency then it becomes a thing that can no longer be avoided — or evaded.
Roughly six years into this for The Ticker we are finally seeing something approaching the recognition of reality.
"The level of spending (must come down to) the level of income."
Yep.
But… he's rather positive in the general sense as to the economy.  Sorry, but you forgot to subtract that from GDP, and more-importantly, you also forgot what happens when bond yields start to back up and what this does to national budgets.
Discussion (registration required to post)
Oh come on — you're just figuring this out?
President Barack Obama, who said his "one mandate" in a second term was to help middle class families, takes the oath of office with many barriers to raising most Americans' living standards.

Most Americans started this year with a cut in take-home pay as Congress let a temporary 2-percentage-point reduction in payroll taxes expire. Workers' own leverage to gain wage increases will be limited for years by competition from the swollen ranks of jobless Americans as forecasters expect the unemployment rate to remain at or above 7 percent through 2014.

You'd think these guys over at Bloomberg could manage to use a calculator, or just apply a bit of critical thinking, instead of popping off at the mouth on things that have exactly nothing to do with the problem at hand.
The middle class have been decimated by more than a decade of outrageous deficit spending, which both parties are equally complicit in.  There is no way to resolve this problem with more deficit spending just as you can't drink yourself sober.
Every dollar of deficit spending is exactly identical to a tax increase of the same dollar.  And since deficit spending goes directly into the economy unlike a tax increase you can't shield certain people from it by directing what you tax!
Now it is true that if the deficit spending was entirely contained to that lower and middle class then the impact would be blunted to some degree.  Unfortunately even that doesn't work because debt accumulation and the GDP "spike" it produces is cumulative and that makes it an exponential series.
That is, to maintain the same effect "next year" the amount of deficit spending must increase every year, and it must rise faster than GDP does because all debt comes with interest.
Even if it's only a little interest.
There is no way out of the trap.  Like all exponential functions when you begin this one seems to be rather benign.  It's only a "little" extra spending, you tell yourself.  Anyone who has gotten in trouble with their credit card (or worse, the local payday loan shark) knows this.
This is why in 2008 when the banks got in trouble the only correct action was to let them fail.  Sure, we need banks to clear payments and such.  We didn't need those banks.  And we certainly didn't need to drop interest rates to zero and inject trillions of dollars of new federal debt into the economy, trashing the lower and middle class standard of living.
Back in 2007 I wrote a letter to all 535 Clowns on The Hill in which I exhorted them to find a couple hundred billion dollars to provide "three hots and a cot" to anyone who would need and be willing to accept it.  Not as "Section 8″, or "Food Stamps" or anything of the sort – rather, literal "three hots and a cot".
You come with a duffel bag of clothes (we'll provide a duffel bag) and here's your cot.  There's a bathroom over there with toilets, sinks and showers.  The food kitchen is over there, and it serves three hot meals.  You're not going to get your preferences, but you've got a place to sleep, you've got food to eat, there's a sanitary place to take a crap and you've got a shower.  You can move between these facilities if you wish, and the facility will keep you in reasonable physical condition along with being reasonably presentable so you can try to find work.
There are no luxuries, no pretty-pretty.  Do this with old bases we've closed; clean 'em up enough to use their kitchen facilities and places to set up racks.  Anyone who becomes violent, abusive, or is caught using or distributing any sort of mind-altering drug, including alcohol, is expelled — permanently.  One strike and you're done; go fend for yourself.  But for those truly in need, we can do that.
Of course I'm sure the Democrats would see this as "mean"; who knows what Republicans would say.  I say that breaking the exponential cycle is not an option; it is essential.  More to the point, it's going to happen, and we are simply choosing to do it on our terms instead of on someone else's when the market has had enough.  The latter day always comes.
Greece did what we're attempting.  They continually increased deficit spending and "social support" right into the maw of the exponential curve.  Even when they could see the wall approaching they refused to stop.  You can see the mess they're in — and they're not alone.
Latvia, on the other hand, took the other approach.  Faced with the same exponential cycle they immediately put in place severe budget cuts, including huge salary reductions for everyone in the government.  Resistance within the government was fierce, but the choice was put to the people – either do this or we go bankrupt.  The people decided and backed it up.
And what were the immediate results?
GDP declined by 20% in 2009 and unemployment reached 22%.   
But a year later unemployment was down to 15% and is continuing to fall, albeit slowly.  More importantly, however, the budgetary red ink has been staunched, with Moody's believing that a 2012 1.9% deficit was achievable, and moved their ratings outlook from "negative" to "stable."  This proved to be pessimistic – the nation achieved a 1.2% deficit!
Is the game over in this regard and the book closed?  Of course not.  The urge to attempt to paper over trouble remains strong, but economic progress has returned to Latvia in the last two years.  The target for the 2013 budget deficit is 1.4% and perhaps this will prove pessimistic as well.
The United States is attempting to do what Greece did.  It won't work, not because we lack national will but because it can't work.  This is a matter of arithmetic rather than "hope and change."
The driver of our budget problems is found in the medical system.  We cannot fix Medicare and Medicaid standing alone no matter what policies government adopts.
Obamacare threatens to double private insurance costs over the next year in many markets.  This is exactly what I forecast would happen when this law was being debated, and now it is happening.  The attempt to "shield" the government from these escalating costs, and which a few liars are claiming was achieved with Medicare, will fail — as private entities are simply unable to shoulder this cost it will ricochet back on the government, making the former 9% rate of increase look like a Girl Scout Picnic.
Exponents aren't something you can change by diktat.  The laws of mathematics are not suggestions and they have nothing to do with politics.  Left, right, center, Democrat, Republican, doesn't matter.  All projections and intentions ultimately fall to the simple test of whether the arithmetic that comes from your policies will confirm your claims.
The lie factory is running out of steam and the consequences of our actions, both personally and through our alleged "representatives" in Congress over the last two decades, which are and will remain severe, are about to be served upon us.
Discussion (registration required to post)
In America tonight, tens of millions of men and women will struggle to get to sleep because they are stressed out about not making enough money even though they are working as hard as they possibly can.  They are called "the working poor", and their numbers are absolutely exploding.  As a recent Gallup poll showed, Americans are more concerned about the economy than they are about anything else.  But why are Americans so stressed out about our economic situation if things are supposedly getting better?  Well, the truth is that unemployment is not actually going down, and the real unemployment numbers are actually much worse than what is officially being reported by the government.  But unemployment is only part of the story.  Most American workers are still able to find jobs, but an increasing proportion of them are not able to make ends meet at the end of the month.  Our economy continues to bleed good paying middle class jobs, and to a large degree those jobs are being replaced by low income jobs.  Approximately one-fourth of all American workers make 10 dollars an hour or less at this point, and we see them all around us every day.  They flip our burgers, they cut our hair and they take our money at the supermarket.  In many homes, both parents are working multiple jobs, and yet when a child gets sick or a car breaks down they find that they don't have enough money to pay the bill.  Many of these families have gone into tremendous amounts of debt in order to try to stay afloat, but once you get caught in a cycle of debt it can be incredibly difficult to break out of that.
So what is the solution?  Well, the easy answer would be that we need the U.S. economy to start producing more good paying jobs, but that is easier said than done.  Our big corporations continue to ship huge numbers of good paying manufacturing jobs out of the country, and millions of Americans have been forced to scramble to find whatever work is available.  Today, there are so many very talented American workers that are trapped in low wage work.  According to the Working Poor Families Project, "about one-fourth of adults in low-income working families were employed in just eight occupations, as cashiers, cooks, health aids, janitors, maids, retail salespersons, waiters and waitresses, or drivers."  A lot of those people could do so much more for society, but they don't have the opportunity.
Sadly, the percentage of low paying jobs in our economy continues to increase with each passing year, so this is a problem that is only going to get worse.  So don't look down on the working poor.  The good paying job that you have right now could disappear at any time and you could end up joining their ranks very soon.
The following are 35 statistics about the working poor in America that will blow your mind…
#1 According to the U.S. Census Bureau, more than 146 million Americans are either "poor" or "low income".
#2 According to the U.S. Census Bureau, 57 percent of all American children live in a home that is either "poor" or "low income".
#3 Back in 2007, about 28 percent of all working families were considered to be among "the working poor".  Today, that number is up to32 percent even though our politicians tell us that the economy is supposedly recovering.
#4 Back in 2007, 21 million U.S. children lived in "working poor" homes.  Today, that number is up to 23.5 million.
#5 In Arkansas, Mississippi and New Mexico, more than 40 percent all of working families are considered to be "low income".
#6 Families that have a head of household under the age of 30 have a poverty rate of 37 percent.
#7 Half of all American workers earn $505 or less per week.
#8 At this point, one out of every four American workers has a job that pays $10 an hour or less.
#9 Today, the United States actually has a higher percentage of workers doing low wage work than any other major industrialized nation does.
#10 Median household income in the United States has fallen for four consecutive years.
#11 Median household income for families with children dropped by a whopping $6,300 between 2001 and 2011.
#12 The U.S. economy continues to trade good paying jobs for low paying jobs.  60 percent of the jobs lost during the last recession were mid-wage jobs, but 58 percent of the jobs created since then have been low wage jobs.
#13 Back in 1980, less than 30% of all jobs in the United States were low income jobs.  Today, more than 40% of all jobs in the United States are low income jobs.
#14 According to the U.S. Census Bureau, the middle class is taking home a smaller share of the overall income pie than has ever been recorded before.
#15 There are now 20.2 million Americans that spend more than half of their incomes on housing.  That represents a 46 percent increase from 2001.
#16 Low income families spend about 8.6 percent of their incomes on gasoline.  Other families spend about 2.1 percent.
#17 In 1999, 64.1 percent of all Americans were covered by employment-based health insurance.  Today, only 55.1 percent are covered by employment-based health insurance.
#18 According to one survey, 77 percent of all Americans are now living paycheck to paycheck at least part of the time.
#19 Millions of working poor families in America end up taking on debt in a desperate attempt to stay afloat, but before too long they find themselves in a debt trap that they can never escape.  According to a recent article in the New York Times, the average debt burden for U.S. households that earn $20,000 a year or less "more than doubled to $26,000 between 2001 and 2010".
#20 In 1989, the debt to income ratio of the average American family was about 58 percent.  Today it is up to 154 percent.
#21 According to the Economic Policy Institute, the wealthiest one percent of all Americans households on average have 288 times the amount of wealth that the average middle class American family does.
#22 In the United States today, the wealthiest one percent of all Americans have a greater net worth than the bottom 90 percent combined.
#23 According to Forbes, the 400 wealthiest Americans have more wealth than the bottom 150 million Americans combined.
#24 The six heirs of Wal-Mart founder Sam Walton have a net worth that is roughly equal to the bottom 30 percent of all Americans combined.
#25 Sadly, the bottom 60 percent of all Americans own just 2.3 percentof all the financial wealth in the United States.
#26 The average CEO now makes approximately 350 times as much as the average American worker makes.
#27 Corporate profits as a percentage of GDP are at an all-time high.  Meanwhile, wages as a percentage of GDP are near an all-time low.
#28 Today, 40 percent of all Americans have $500 or less in savings.
#29 The number of families in the United States living on 2 dollars a day or less more than doubled between 1996 and 2011.
#30 The number of Americans on food stamps has grown from 17 million in the year 2000 to more than 47 million today.
#31 Back in the 1970s, about one out of every 50 Americans was on food stamps.  Today, about one out of every 6.5 Americans is on food stamps.
#32 More than one out of every four children in the United States is enrolled in the food stamp program.
#33 Incredibly, a higher percentage of children is living in poverty in America today than was the case back in 1975.
#34 If you can believe it, the federal government hands out money to128 million Americans every single month.
#35 Federal spending on welfare has reached nearly a trillion dollars a year, and it is being projected that it will increase by another 80 percent over the next decade.