It's time we freed ourselves from needless stuff, needless calories, needless spending, needless guilt and needless derangement.
My Mom, bless her heart, drove a stake through the guilt-ridden, retail-riot needless-gift Christmas madness: "Let's not exchange gifts this year–none of us need more stuff or calories." Done! We are having a gift-free party, where the "gifts" will be the experience of conviviality and the memories.
No matter how "small" the gifts may be, the guilt-soaked onus to buy something, anything for everyone in the family/enterprise is deranging. What most households need is not more stuff but someone to haul stuff away.
Is Anybody Else Tired of Buying and Owning Stuff? (September 7, 2012). The real gift to loved ones would be freeing them of stuff they no longer use.
We as a nation are awash in stuff. Dumpsters are crammed with perfectly good food (an estimated 40% of food in America is thrown out), perfectly good electronics, still usable furniture, and on and on.
As for candy, confections, cakes, etc.–as Mom said, none of us need more sugar-fat calories. If we do give sweets this year, they will be homemade so we can use real ingredients and cut the sugar used in the recipe. We can also trim the portion sizes. Less is better in so many ways.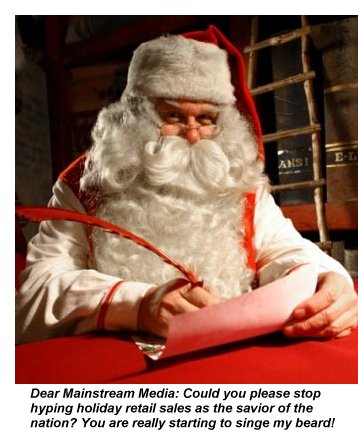 Part of the guilt of Christmas is the constantly repeated message that our economy will collapse if people don't buy more stuff on credit, even if the stuff is needless. Please, Santa, Let This Be the Last Christmas in America (that's supposed to "save" the U.S. economy) (November 23, 2010). Recall that holiday retail sales are a mere 3.4% of the U.S. GDP.
Well guess what, America–if your economy is based on buying useless stuff on credit, then it shouldcollapse, and the sooner the better, because there is another, better way to live: without credit, and without needless stuff.
In a largely loveless, technology-distracted, burned-out society, then the guilt of self-absorbed emotional miserliness drives us to salvage an expression of caring from a needless gift. Too busy to actually listen to your kids? Lavish them with a gift. Ditto your parents, colleagues, etc.
If time is the ultimate gift, then what better gift than time spent together enjoying a home-cooked meal or other conviviality?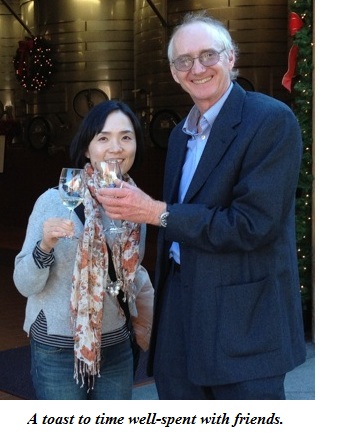 Yes, children expect multiple gifts, even if their rooms are already warehouses of consumerism, and a gift may be expected in certain business settings. But is there no other way to express caring than a frantically purchased retail-riot gift? How about sharing some item that is somebody else's surplus? This is now a business model: yerdle – why shop when you can share? "Sharing is more fun than shopping."
If you are in a position of responsibility, then how about ending the gift-exchange charade in your enterprise/division? Or if you face a full-blown rebellion in the family or company, then why not place a $5 limit on all gifts? Or require the gifts be home-made, or consumable?
If you must give gifts, then how about making them useful tools? This is the idea behind our list of practical kitchen tools: Favorite Practical Kitchen Tools (All Under $23, many under $10, most made in U.S.A.): if you feel you must give a gift, or want to help stock a new household's kitchen, then for goodness sakes, give something that is useful on a daily basis, not an electric pasta maker (or equivalent) that collects dust in a closet until the owner moves or has a garage/jumble sale.
Yes, we will give a few gifts to children, friends and key clients; but the gifts will be small, handmade or consumable. It's time we freed ourselves from needless stuff, needless calories, needless spending, needless guilt and needless derangement.
Charles Hugh Smith – Of Two Minds
The Consumer Price Index for All Urban Consumers (CPI-U) increased 0.5 percent in February on a seasonally adjusted basis, the U.S. Bureau of Labor Statistics reported today. Over the last 12 months, the all items index increased 2.1 percent before seasonal adjustment.
Wait a second… I thought that 1-2% was what The Fed targeted?  Oh, and this is over the last 12 months, since this is a trailing indicator.  PPI, of course, is a leading indicator, and it was hotter than a pistol yesterday.
Let's have us a look inside…..
Yuck.  The areas highlighted are selected for their impact on the lower and middle income Americans, and they're ugly.  These annualized rates are over ten percent for food and seriously ugly when one looks at energy, which we all need to buy.  In addition the so-called "zero" inflation for Americans is coming with a roughly 5% escalation in actual medical costs, and since many of those costs are "absorbed" and shifted due to our so-called "insurance" system the true rate of price change is likely even higher.
I wish I could give you good news from our so-called "robust" services side.  I can't.  Non-durables less food and apparel (you can choose not to buy clothes for a while) have an annualized rate of price change exceeding twenty-five percent, and this is not a one-month aberration – it now extends over three months and thus must be considered valid.  This is the start of the push-through that I have talked about since August's PPI release, and is going to get worse, showing up both on the shelf and also in margins.
This is a bad release folks, and the trend is going the wrong way.  Sadly, the usual transmission delay into margins and prices, around nine months, appears to be pretty-much spot-on, and the impacts are showing up exactly where I would expect them to, given the food and energy situation.
The only glimmer of good news, if you need to grasp for some, is that since the largest component of this is rising energy costs should we get some sort of relaxation there the impact would likely become muted as well.  The bad news is that if it happens it likely comes from a global "double dip" with added pressure coming from what is certain to be some sort of disruption in normal capital flows as a consequence of the events in Japan.