Posts Tagged 'Foreclosures'
Let's see how I do with the list.
Fast And Furious (guns for drug lords, resulting in murder of Americans and Mexicans)
Robosigning (over 100,000 perjured affidavits filed in court cases)
IRS Tea Party and other group and individual abuse in direct violation of the law (politically-based harassment and now apparently-perjured testimony before Congress)
Money Laundering for terrorists and drug lords (by multiple large banks)
Intentional and unlawful destruction of property rights (GM bondholders screwed for political cronies in the UAW)
Intentional and unlawful destruction of your saved wealth (QE, QE2, QE3, QEinfinity, $1 trillion+ deficits, etc; Treasury and Federal Reserve actions)
Benghazi (apparent illegal arming of terrorists, then an attempt to reverse that leading to the attack on our CIA outpost and what appears to beintentional indifference and orders to stand down during the attack that had to come from the White House despite ability to respond; this amounts to conspiracy with the terrorists to kill Chris Stevens and the others who died.)
Swindles by the billions in countless schemes during the 2000s related to securitizations and other hinky deals (where despite black letter legal requirements for actual endorsement and delivery of documents banks simply did not comply and now argue there should be no penalty for not having done so, and that these defects are "mere procedural errors" despite intent to not comply.)  The result is that our land title system no longer has any resemblance of integrity.
Intentional destruction of anything approaching a "free market" for health care going back 30+ years and now compounded through active conspiracy by Obama and all of the political parties to grant, protect and enforce through government monopolies and cost-shifting resulting in cost escalations of 500-1,000% or even more against market prices and now, with Obamacare, abuse of the IRS tax power to force another 100% or more increase in those expenses down your throat for the express purpose of enrichment of those in the medical industry.
I'm sure I've missed a bunch, but this is a good start.
What do all these (and more) have in common?
Your refusal, as Americans, to stand and demand that The Rule of Law be restored and honored and that those who refuse to do so be impeached (if in government) and stand trial for their abuses.
I keep hearing people ask when I, or someone else, will "lead" on this issue.
Why do you ask where the leader is?
Do you want a Hitler?  You're going to get one if you keep that shit up.
We the people do not need "leaders" to resolve this.
We all need to personally grow a pair of balls to replace that vacuum between our legs (or nestled in our pelvis where our ovaries are supposed to be.)
We need to get off our fat asses and stop demanding that someone else take care of what is our job as citizens of this nation.
You do not have the right to health care.
You do not have the right to a job.
You do not have the right to go to college.
You do not have the right to a house.
You do not have the right to food.
You do have the right to effort to generate some form of economic activity by your own hand and mind for yourself and those who you have as dependents through your own actions, such as your children (who exist because of your actions – your exercise of the power to create life.)  You may then expend the fruits of that economic activity as you see fit because such is your property; you earned it through an honest exchange with another.
You do have the right to life, liberty and the pursuit (but not guarantee of attainment) of happiness.  This means that all of the above — every single one of those abuses that have been served upon you — are unlawful.
But those three rights only exist so long as you will stand and defend them.  A person is a victim only until he or she gives consent.  
Put a different way: The only difference between sex and rape is consent. 
As soon as you consent to the frauds and abuses heaped upon you they cease to be frauds and abuses and become part of a sick sado-masochistic ritual you have willingly taken upon yourself.
They remain so until you stand and demand that it stop, backing that demand with whatever defensive force is necessary to stop what has now become rape rather than sex.
It is for that reason that I am an absolutist on where the Second Amendment's boundaries lie.  It is impossible as a matter of logic for me or anyone else to depend on someone else to stop a criminal who intends to take my life or that of those in my care, irrespective of how we would otherwise design such a social system.  By definition the first person able and often the only person able to stop such an assault is the victim that the perpetrator intends to assault or kill.  It matters not whether the assailant is an individual thug, a pair of thugs, an organized gang or a government agency.
The bottom line is the same; your right to life only exists so long as you are willing and able to defend it.
The same bottom line exists for liberty and the offense against it that is delineated in most of the above list; you have such a right only so long as you are willing to defend it.  The minute you cede that right you have consented to what you are experiencing and you lose the right to bitch about it until and unless you stand and take back that which God gave you.
This is basic logic and as soon as you cede basic logic you inevitably lose every other point of argument.  In this case when you lose those arguments you risk losing your life and/or liberty; you are literally risking death or enslavement.
Since 2007 I have written on these matters in the economic realm and laid forth arithmetic proving that what has been done is not an accident but rather is a swindle.  It is not a new swindle either; it is in fact one of the oldest in the history books, rivaling only prostitution in age.  Arithmetic is not subject to debate; you can choose to overlook it but you cannot change it.
Those of you who seek leaders are fools; each of you should lead for yourself and confine that leadership to yourself and your life along with those dependent upon you through acts of your own free choice, enjoying or suffering the consequences of those choices.
Your right to lead in that regard ends as soon as you demand that someone else pay for whatever it is that you want to acquire or suffer as a consequence of your actions and inactions, whether it be food, shelter, education, health care or anything else.
The first principle behind The Declaration is that we are a nation governed by laws, not men, with each such law that is valid and enforceable being able to be tied back all the way to The Declaration through The Constitution.
The Declaration sets forth the reason why although rights are absolute societies organize governments — it is for the purpose of providing a framework of laws to enforce those rights and punish violators.  Absent that you have only the law of the jungle, where the individual with the biggest teeth, claws and body mass wins while everything else is food.
That is what you have in the absence of the rule of law, and that is what we have collectively and individually allowed to occur in this country.  All of the above has occurred because we have regressed to The Law of the Jungle from The Rule of Law.
We either stop it or we will be consumed by it.
The latest report on personal incomes and outlays showed the expected collapse in personal incomes post the pre-fiscal cliff surge.  However, the reversion was more than expected.  Today's charts of the day present the effects of both the reversion in incomes, post the special yearend payouts to avoid the impact of higher taxes, and the impact of the payroll tax increase.
The first chart shows real (inflation adjusted) personal incomes.  The effect of the surge in payrolls due to concerns over the "fiscal cliff" is clearly shown, as well as, the subsequent reversal in January as real incomes slid by a whopping 3.6% or $437 billion.
The next chart shows the breakdown of those contributions to incomes.  Not surprisingly, the largest factor was in "special dividends"that were paid out at a 15% tax rate on fears that taxes on dividends would rise to as much as 40%.  However, these "special dividends"were primarily paid to those evil "one percenters" which are primarily businesses owners who extracted capital from the businesses.
Not surprisingly, real personal consumption tracks real incomes, and with the sharp drop in income in January, higher payroll taxes, and a sharp rise in gasoline prices, it is very likely that real personal consumption will show a larger than expected decline in February.
The reality, as we discussed recently, is that consumers really are not deleveraging their balance sheets much at all.  Outside of mortgage debt which has fallen due to foreclosures, write downs, forgiveness, bankruptcies and refinancing – revolving credit has continued to rise.  The problem with this is that revolving credit comes at much higher interest rates and the debt service payments continue to erode living standards due to stagnant incomes.
This is clearly seen in the declining trends of personal consumption expenditures.  The annualized percentage change in PCE has now fallen to levels that have normally been seen during recessionary periods.  Despite trillions of dollars of injections, supports and bailouts personal consumption clearly peaked in 2011, and like the majority of all most every economic indicator, has been waning since.
If we put all of this together we can see a picture of the average American.  The chart below shows the annual change in personal incomes combined with the annual change in personal expenditures.  What is clear is that consumption has been supported by rising transfer receipts (welfare) and a drop in the personal savings rate which is now at the lowest level since just prior to the last recession.  The consumer is clearly struggling to maintain their current standard of living and all indications are that they are going to lose this battle.
While the chart above is a bit cluttered what is important to understand is that the world changed in 1980.  Deregulation of the finance industry, combined with continually falling interest rates, allowed for easier, more pervasive, use of credit.  This allowed for a higher standard of living, an explosion of investment and a massive surge in productivity due to the technological revolution.  However, the shift from manufacturing and production, high economic multipliers, to a finance and service, low multipliers, based economy led to a steady decline in the rate of increase in incomes.  The illusion of wealth, spawned by lower interest rates and easy access to credit, which allowed for excess consumption through leverage drained the average American's ability to save.
It is crucially important to understand the impact of low savings rates on economic growth.  The reason, that despite all of the government's best attempts, that economic growth and employment remains weak can be directly attributed to still high leverage ratios for consumers and low savings rates.
It is only when debt levels fall to sustainable levels, and savings rates rise, that the economy can begin to function normally again.  The Federal Reserve's continued endeavors at the flooding the system with liquidity to induce employment continue to fail because such programs do not positively impact the ability of the end consumer to create increases in aggregate end demand.  Ultimately, it is only production and employment that can achieve that goal.
So, while "QE to Infinity" will likely continue to push asset prices higher, at least until the next financial bubble pops, higher asset prices only benefit a small portion of the overall economy.  For the rest of America the struggle to maintain their declining standard of living continues as the impact of continued weak economic growth and high levels of real unemployment continue to take their toll.
Guest Post on Zero Hedge - Submitted by Lance Roberts of StreetTalkLive,
All those who were dispossessed of their homes….. when do they get them back?
GRAND RAPIDS — The former president of a mortgage document processing company has pleaded guilty to a racketeering charge in Michigan.

The state attorney general's office says Lorraine Brown pleaded guilty Monday in a Kent County circuit courtroom. She faces up to 20 years in prison when sentenced on May 2.

The state says that the 51-year-old Brown orchestrated a robo-signing scheme in which employees fraudulently signed another authorized person's name on mortgage documents to expedite foreclosures.
So about all those titles that were fraudulently transferred away from the owners of the homes, and the subsequent resales by banks which are factually void as you cannot convey that which you never had lawful possession of.
We're going to see that addressed….. exactly when?
Why do I know this is going to be crickets, despite the fact that now we have a criminal racketeering guilty plea on the table?
The reason for that, of course, is simple – if the banks had to unwind these transactions and cover the damages of everyone harmed by them they would collapse instantly.
Therefore it won't be done, even though this individual and the firm undertook this at those institutions' behest!
To claim a "recovery" based on unlimited Central State borrowing and spending and central bank manipulation of asset valuations is self-sustaining is beyond absurd.
The mainstream media (MSM) is overflowing with stories proclaiming the global economy is on the mend: Europe's crisis is in the rearview mirror, China's growth has rebounded, Japan is aggressively pursuing Keynesian Nirvana and the U.S. economy is in the sweet spot between resurgent housing prices and ever-higher corporate profits.
This reality is the reason global stock markets have surged: everything's getting better.
The goal of every Central Planning scheme on the planet is a self-sustaining recovery: that is, one that doesn't require another couple trillion dollars, euros, yen or yuan to keep it from collapsing in a heap.
Though the conventional punditry is hesitant to declare victory, by reading between the lines we know the basic propaganda thrust: we are over the hump, the recovery (in housing, stocks, bat guano, etc.) is now self-sustaining.
Really? Based on what engine of growth? If we cut through the Keynesian jargon of aggregate demand and other Cargo-Cult mumbo-jumbo, what we find is the Status Quo is hoping to boost its precious aggregate demand with the same bag of tricks that imploded so spectacularly in 2008: the wealth effect based on phantom collateral created by Centrally Planned asset bubbles.
Central Planners in America have had remarkable success in inflating an asset bubble in stocks–five year highs!–but alas, the wealth effect is limited by the inconvenient reality that only the top of 10% of households own enough stock to feel any wealth effect from a market that has more than doubled in four years of Fed intervention and unprecedented fiscal profligacy.
That leaves housing as the only widely held asset that can possibly generate a wealth effect in more than the top 10% of households. This explains the Federal Reserve's frantic campaigns to reflate housing prices: buying 10% of all outstanding mortgages in 2009-10, and then setting out to buy another 10%-20% in an unlimited mortgage buying program announced in 2012.
Add $1 trillion+ in Treasury bond purchases designed to keep interest rates negative when adjusted for inflation, and the Fed is literally pulling out all the stops to reflate housing with historically low mortgage rates.
I covered this recently in The Rise and Fall of Phantom Housing Collateral (December 13, 2012).
With the Fed's unspoken collusion, lenders have reduced housing inventory by keeping foreclosed and defaulted homes off the market. By driving supply below recession-weakened demand, the Fed and lenders have managed to trigger bidding wars that have boosted home prices by 20% or more in beaten-up markets.
By keeping interest yields at less than zero, the Fed has effectively driven "hot money" seeking a yield into stocks and housing; as a result, investors and prospective flippers account for 30%+ of home sales.
Nothing is too grandiose for Central Planning, of course, when the goal is to save the banks from having to mark their vast portfolios of defaulted and foreclosed mortgages to market, or forcing them to liquidate millions of impaired properties. Saving crony capitalism from itself is the raison d'etre of Our Expansionist Central State (video presentation).
But inflating asset bubbles to create phantom collateral to support the much-desired borrowing-and-squandering of debt-based aggregate demand has a funny little self-destruct feature: the phantom collateral vanishes, leaving behind the debt, which still must be paid. And all those heavy monthly payments on old debt leaves less income to spend on stuff.
In other words, asset bubbles and debt based on phantom collateral crush real demand based on rising income.
In the last Fed-engineered asset bubble, mortgage debt doubled to more than $10 trillion from a previous base of $5 trillion. The phantom collateral soon disappeared, leaving homeowners owing the extra $5 trillion: the pleasure boats, fine dining and exotic vacations of debt-based aggregate demand are long forgotten, but the debt payments are still around and must be paid monthly.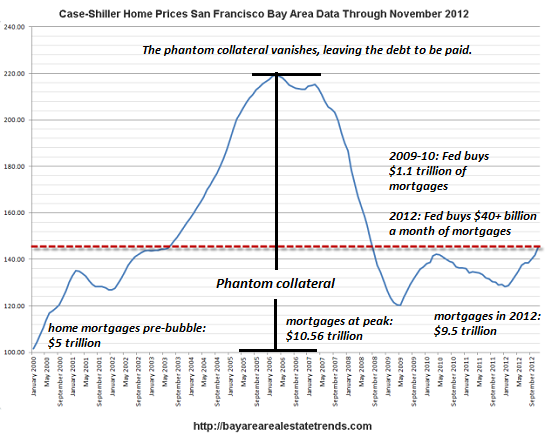 The aggregate demand so beloved by Keynesians was all based on debt rising faster than either GDP or household income: As a percentage of disposable personal income, mortgage debt rose from 53% in 1960 to 113% in 2003. Mortgage debt rose from 50% of GDP in pre-bubble years to 79.3% of GDP–an astounding rise of 30% in a mere decade of home-equity-extraction, borrow-and-blow gluttony.
When this unsustainable acquisition of debt finally hit the wall in the 2008-09 global financial meltdown, debt's unyielding rise stutter-stepped and slowed, as the collateral underlying that debt vanished into thin air.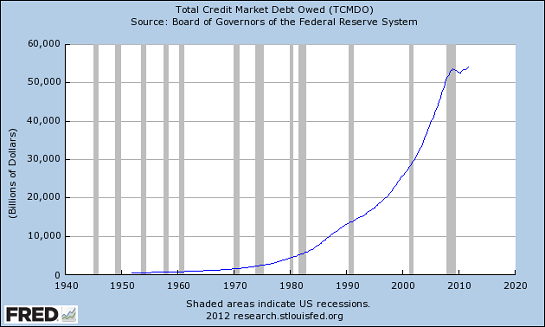 Never fear, the Expansionist Central State to the rescue. When one debt bubble bursts, crimping the consumerist orgy of "aggregate demand," then the State creates a new debt bubble–in this case, a $1 trillion student-loan monster that has turned a significant percentage of an entire generation into debt-serfs.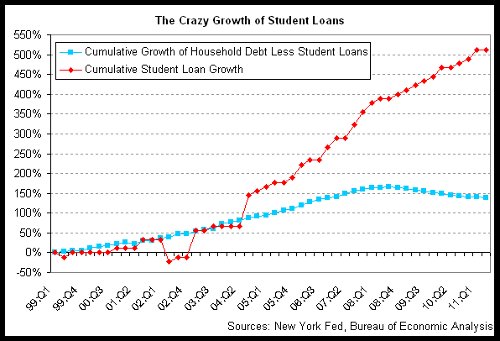 Since the collateral supporting Federal debt is presumed to be infinite, so too is the Central State's line of credit: need $6 trillion to prop up a crony-capitalist, hopelessly corrupt and inefficient Status Quo? No problem.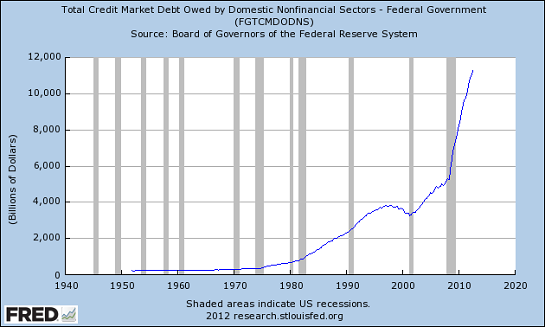 Though you will not find a Keynesian pundit or economist with the courage required to admit it, the same problem of phantom collateral applies to Federal and state debt: the consumption all that debt funded is soon forgotten, but the debt remains to be paid, essentially forever.
The collateral supporting Federal debt is also phantom. Printing money is not the same as creating surplus value; that requires actual work and capital, and it is intrinsically limited by the cost-basis of production and market forces.
To claim a "recovery" based on unlimited Central State borrowing and spending and central bank manipulation of asset valuations is self-sustaining is beyond absurd. Aggregate demand (i.e. debt-based spending) supported by phantom collateral is not sustainable, no matter how many times Keynesian Cargo-Culters and Federal Reserve governors dance around their flickering little camp fire waving dead chickens.
Charles Hugh Smith – Of Two Minds
I am not the author of today's catchy headline. No, that was Gretchen Morgenson writing in the New York Times on January 5, 2013.
If you were hoping that things might be different in 2013 — you know, that bankers would be held responsible for bad behavior or that the government might actually assist troubled homeowners — you can forget it. A settlement reportedly in the works with big banks will soon end a review into foreclosure abuses, and it means more of the same: no accountability for financial institutions and little help for borrowers.

Last week, The New York Times reported that regulators were close to settling with 14 banks whose foreclosure practices had ridden roughshod over borrowers and the rule of law. Although the deal has not been made official and its terms are as yet unknown, the initial report said borrowers who had lost their homes because of improprieties would receive a total of $3.75 billion in cash. An additional $6.25 billion would be put toward principal reduction for homeowners in distress.
Gretchen was reporting a few days before the official announcement. The deal was done, and the settlement turned outto be $8.5 billion, with $3.3 billion of that set aside for cash relief for homeowners.
The settlement Bank of America, Citigroup Inc, JPMorgan Chase & Co, Wells Fargo & Co and five other banks entered with regulators pays out up to $125,000 in cash to homeowners whose homes were being foreclosed when the paperwork problems emerged.
Remember that $125,000 number. That's pure propaganda, given the size of the group of aggrieved mortgage holders.
About $3.3 billion of the $8.5 billion settlement with the Office of the Comptroller of the Currency will be in cash, with the rest in changes to the terms of loans or mortgage forgiveness.

In April 2011, the government required banks that collect payments on mortgages, known as servicers, to review whether errors in the foreclosure process had harmed borrowers.
Gretchen did some "back of the envelope" math for us. I am too lazy to correct it for the lower cash settlement.
Some back-of-the-envelope arithmetic on this deal is your first clue that it is another gift to the banks. It's not clear which borrowers will receive what money, but divvying up $3.75 billion among millions of people doesn't amount to much per person. If, say, half of the 4.4 million borrowers were subject to foreclosure abuses, they would each receive less than $2,000, on average. If 10 percent of the 4.4 million were harmed, each would get roughly $8,500.
Gretchen then did a follow-up on January 12, 2013 called Paying the Price, but Often Deducting It, which I will not quote. She notes that these unimpressive settlements are usually tax-deductible for the banks.
And then FRONTLINE (PBS) ran yet another hour-long documentary about why no bankers have gone to jail. It's called The Untouchables, and contains this quote from Lanny Breuer, who has been the head of the Department of Justice's criminal division in the 1st Obama administraton, and who was still in that position when the documentary was made.
MARTIN SMITH — You gave a speech before the New York Bar Association. And in that speech, you made a reference to losing sleep at night, worrying about what a lawsuit might result in at a large financial institution.

LANNY BREUER — Right.

MARTIN SMITH — Is that really the job of a prosecutor, to worry about anything other than simply pursuing justice?

LANNY BREUER — Well, I think I am pursuing justice. And I think the entire responsibility of the department is to pursue justice. But in any given case, I think I and prosecutors around the country, being responsible, should speak to regulators, should speak to experts, because if I bring a case against institution A, and as a result of bringing that case, there's some huge economic effect — if it creates a ripple effect so that suddenly, counterparties and other financial institutions or other companies that had nothing to do with this are affected badly — it's a factor we need to know and understand.
This is as candid a statement as you're ever going to read that the banks in question are considered too big to fail, and, as such, they are above the law. And now we learn that Lanny is resigning, having done his job to protect those banks, and having been exposed as a fraud.
Lanny Breuer is leaving his position as head of the Justice Department's criminal division, The Washington Post reported Wednesday.

As assistant attorney general, Breuer led the effort to pursue allegations of fraud and corruption at major banks in the wake of the financial meltdown. The Post said it was unclear when Breuer will leave, and didn't offer a reason. A DOJ spokeswoman told FRONTLINE that the department wouldn't comment on the report.

Breuer was featured in FRONTLINE's documentary The Untouchables, which aired on Tuesday and explored the reasons why no Wall Street executives have been prosecuted for fraud in connection with the financial crisis. Breuer told FRONTLINE that the DOJ had pursued charges when officials found evidence of fraud. "But in those cases where we can't bring a criminal case — and federal criminal cases are hard to bring — I have to prove that you had the specific intent to defraud. …If we cannot establish that, then we can't bring a criminal case," he said.
And now I will make a few remarks.
I find it telling that humans, in this case Americans, continue to pretend that they live in a legitimate, fair society, despite massive and compelling evidence to the contrary. Or a society which—once again?—things might be set right. As usual, that observation tells us a lot more about humans (and Americans) than it does about the specific injustices and corruption in these pro-forma "prosecutions" of the banks, which are merely typical examples of how elites control complex human societies. As such, this kind of behavior is exactly what we would expect to see, independent of the messy details about how elite control is implemented.
As usual, if you research this particular manifestation of typical human corruption, of elite control, you will find much wailing and gnashing of teeth, for example, at places like Naked Capitalism.
I mean, why does FRONTLINE (video below) even bother to make these documentaries? So I'm here to ask disconcerted "progressives" and do-gooders some simple questions—
What the fuck did you expect to happen with the banks?
What is it, exactly, that you are complaining about?
Do you actually expect that this typical human corruption might be eradicated?
If you have not already seen PBS Frontline's The Untouchables, I encourage you to do so.
Dave Cohen – Decline of the Empire
If you want to frighten Baby Boomers, just show them the list of statistics in this article.  The United States is headed for a retirement crisis of unprecedented magnitude, and we are woefully unprepared for it.  At this point, more than 10,000 Baby Boomers are reaching the age of 65 every single day, and this will continue to happen for almost the next 20 years.  The number of senior citizens in America is projected to more than double during the first half of this century, and some absolutely enormous financial promises have been made to them.  So will we be able to keep those promises to the hordes of American workers that are rapidly approaching retirement?  Of course not.  State and local governments are facing trillions in unfunded pension liabilities.  Medicare is facing a 38 trillion dollar shortfall over the next 75 years.  The Social Security system is facing a 134 trillion dollar shortfall over the next 75 years.  Meanwhile, nearly half of all American workers have less than $10,000 saved for retirement.  The truth is that I was being incredibly kind when I said earlier that we are "woefully unprepared" for what is coming.  The biggest retirement crisis in history is rapidly approaching, and a lot of the promises that were made to the Baby Boomers are going to get broken.
The following are 35 incredibly shocking statistics that will scare just about any Baby Boomer…
1. Right now, there are somewhere around 40 million senior citizens in the United States.  By 2050 that number is projected to skyrocket to 89 million.
2. According to one recent poll, 25 percent of all Americans in the 46 to 64-year-old age bracket have no retirement savings at all.
3. 26 percent of all Americans in the 46 to 64-year-old age bracket have no personal savings whatsoever.
4. One survey that covered all American workers found that 46 percentof them have less than $10,000 saved for retirement.
5. According to a survey conducted by the Employee Benefit Research Institute, "60 percent of American workers said the total value of their savings and investments is less than $25,000″.
6. A Pew Research survey found that half of all Baby Boomers say that their household financial situations have deteriorated over the past year.
7. 67 percent of all American workers believe that they "are a little or a lot behind schedule on saving for retirement".
8. Today, one out of every six elderly Americans lives below the federal poverty line.
9. More elderly Americans than ever are finding that they must continue working once they reach their retirement years.  Between 1985 and 2010, the percentage of Americans in the 65 to 69-year-old age bracket that were still working increased from 18 percent to 32 percent.
10. Back in 1991, half of all American workers planned to retire before they reached the age of 65.  Today, that number has declined to 23 percent.
11. According to one recent survey, 70 percent of all American workers expect to continue working once they are "retired".
12. According to a poll conducted by AARP, 40 percent of all Baby Boomers plan to work "until they drop".
13. A poll conducted by CESI Debt Solutions found that 56 percent of American retirees still had outstanding debts when they retired.
14. Elderly Americans tend to carry much higher balances on their credit cards than younger Americans do.  The following is from a recent CNBC article…
New research from the AARP also shows that those ages 50 and over are carrying higher balances on their credit cards — $8,278 in 2012 compared to $6,258 for the under-50 population.
15. A study by a law professor at the University of Michigan found that Americans that are 55 years of age or older now account for 20 percentof all bankruptcies in the United States.  Back in 2001, they only accounted for 12 percent of all bankruptcies.
16. Between 1991 and 2007 the number of Americans between the ages of 65 and 74 that filed for bankruptcy rose by a staggering 178 percent.
17. What is causing most of these bankruptcies among the elderly?  The number one cause is medical bills.  According to a report published in The American Journal of Medicine, medical bills are a major factor in more than 60 percent of the personal bankruptcies in the United States.  Of those bankruptcies that were caused by medical bills, approximately 75 percent of them involved individuals that actually did have health insurance.
18. In 1945, there were 42 workers for every retiree receiving Social Security benefits.  Today, that number has fallen to 2.5 workers, and if you eliminate all government workers, that leaves only 1.6 private sector workers for every retiree receiving Social Security benefits.
19. Millions of elderly Americans these days are finding it very difficult to survive on just a Social Security check.  The truth is that most Social Security checks simply are not that large.  The following comes directly from the Social Security Administration website…
The average monthly Social Security benefit for a retired worker was about $1,230 at the beginning of 2012. This amount changes monthly based upon the total amount of all benefits paid and the total number of people receiving benefits.
Could you live on about 300 dollars a week?
20. Social Security benefits are not going to stretch as far in future years.  The following is from an article on the AARP website…
Social Security benefits won't go as far, either. In 2002, benefits replaced 39 percent of the average retirees salary, and that will decline to 28 percent in 2030, when the youngest boomers reach full retirement age, according to the Center for Retirement Research at Boston College.
21. In the United States today, more than 61 million Americansreceive some form of Social Security benefits.  By 2035, that number is projected to soar to a whopping 91 million.
22. Overall, the Social Security system is facing a 134 trillion dollar shortfall over the next 75 years.
23. As I wrote about in a previous article, the number of Americans on Medicare is expected to grow from 50.7 million in 2012 to 73.2 million in 2025.
24. Medicare is facing unfunded liabilities of more than 38 trillion dollars over the next 75 years.  That comes to approximately $328,404for each and every household in the United States.
25. Today, only 10 percent of private companies in the U.S. provide guaranteed lifelong pensions for their employees.
26. Verizon's pension plan is underfunded by 3.4 billion dollars.
27. In California, the Orange County Employees Retirement System is estimated to have a 10 billion dollar unfunded pension liability.
28. The state of Illinois has accumulated unfunded pension liabilities of more than 77 billion dollars.
29. Pension consultant Girard Miller told California's Little Hoover Commission that state and local government bodies in the state of California have 325 billion dollars in combined unfunded pension liabilities.
30. According to Northwestern University Professor John Rauh, the latest estimate of the total amount of unfunded pension and healthcare obligations for retirees that state and local governments across the United States have accumulated is 4.4 trillion dollars.
31. In 2010, 28 percent of all American workers with a 401(k) had taken money out of it at some point.
32. Back in 2004, American workers were taking about 30 billion dollars in early withdrawals out of their 401(k) accounts every single year. Right now, American workers are pulling about 70 billion dollars in early withdrawals out of their 401(k) accounts every single year.
33. Today, 49 percent of all American workers are not covered by an employment-based pension plan at all.
34. According to a recent survey conducted by Americans for Secure Retirement, 88 percent of all Americans are worried about "maintaining a comfortable standard of living in retirement".
35. A study conducted by Boston College's Center for Retirement Research found that American workers are $6.6 trillion short of what they need to retire comfortably.
So what is the solution?  Well, one influential organization of business executives says that the solution is to make Americans wait longer for retirement.  The following is from a recent CBS News article…
An influential group of business CEOs is pushing a plan to gradually increase the full retirement age to 70 for both Social Security and Medicare and to partially privatize the health insurance program for older Americans.

The Business Roundtable's plan would protect those 55 and older from cuts but younger workers would face significant changes. The plan unveiled Wednesday would result in smaller annual benefit increases for all Social Security recipients. Initial benefits for wealthy retirees would also be smaller.
But considering the fact that there aren't nearly enough jobs for all Americans already, perhaps that is not such a great idea.  If we expect Americans to work longer, then we are going to need our economy to start producing a lot more good jobs than it is producing right now.
Of course the status quo is not going to work either.  There is no way that we are going to be able to meet the financial obligations that are coming due.
The federal government, our state governments and our local governments are already drowning in debt and we are already spending far more money than we bring in each year.  How in the world are we going to make ends meet as our obligations to retirees absolutely skyrocket in the years ahead?
That is something to think about.
So what do you think?  Do you believe that there is a solution to our retirement crisis?  Do you think that we can actually keep all of the promises that we have made to the Baby Boomers?  Please feel free to post a comment with your thoughts below…