"Raise toner cartridges!"
"ChairSatan, they've blasted the laser printers and the toner cartridge is destroyed!"
"Use the keyboard — the KEYBOARD!"
"ChairSatan, the margin is too great and the clerk is on line 1 with terms for your surrender…."
Last night Japan imploded, down over 1,100 points.
Helping accelerate the decline was the China PMI which was under 50 (negative, that is), throwing cold water on theChina will save the world crowd.  In point of fact, China has been losing their battle with credit games for over two years — but these sorts of shifts take time to come to fruition.
Let us remember that margin debt has risen to outrageously ridiculous levels.  This means that the clerk is going to be making some calls, if they haven't already started being received.
As I have said over the last couple of months this has the nasty feel of still air just before a big tornado comes ripping through — or like 2007, or like early 2000.
Not only is margin debt ridiculously high, much of which is likely out to hedge funds (speaking of which, how many piled into that Japanese trade, turning the crank on their leverage as "profits" expanded) and now are looking at losses that are likely in the 5-7% range over one night?  I'll bet the list contains a few names and well-known ones.
CNBC is pumping just like they were last time… and the time before that.  "The declines are not nearly as bad."
Who remembers that in 2007 the same pattern initiated, with the Asian markets leading.
Then the losses were "magically" recovered and the market roared higher, finally posting its apex in the fall.
Today the market moves much faster.  I would not be even slightly surprised if the instabilities that central banks haveintentionally put into the system go "prompt critical" this year.
I'm sure there will be many who will dismiss this as "Oh that Denninger, he's just a perma-bear."
My riposte is simple:  While the extraordinary madness of crowds can take manias much further than anyone could ever believe, the math is never wrong.
The Japanese model of incrementally perfecting consumer technologies may well have have reached marginal returns.
Do we have what it takes to get from here to there?
This apparently simple question offers profound insights into the dynamics of individuals, households, enterprises and nation-states. If we answer this question honestly, it establishes a "road map" of what must be in place before a progression from here to a more sustainable future ("there") can take place.
Individuals, households, enterprises and nations can have goals–where they want to be in the future–but to get there, they need to construct the necessary foundation of values, processes, skillsets, networks, practical experience and capital.
Since my partner and I built about 100 houses back in the mid-1980s, I see building a house as a useful analogy for getting from here to there: each step requires different tools, skills, experience and sufficient capital invested to get to the next phase. If you don't have all of these in hand for each step, the goal of completing the house will remain a fantasy.
As correspondent Mark G. recently observed in an email, "hyper-centralized entities are institutionally incapable of adopting decentralized solutions." I immediately thought of the Federal Reserve, which has responded to a crisis of centralized "too big to fail" banks holding phantom collateral to support massive leverage and debt with increasingly centralized actions to recapitalize those same centralized banks.
The Federal Reserve is incapable of overseeing a decentralized economy; it has responded to the insolvency of our centralized banking sector by increasing counterproductive central planning (zero interest rate policy, money-laundering dodgy mortgages, monetizing Federal debt, etc.).
There is no way the Fed's policies are going to get the nation from here (centralized stagnation) to there (sustainable prosperity).
It's a profound question when answered honestly: Do we have what it takes to get from here to there? For most of the world's economies and societies, the answer is a resounding "no."
The U.S. Status Quo is as intellectually bankrupt as it is financially bankrupt. Our "leadership" cluelessly clings to the only model they know: incentivize "consumers" into borrowing more money to buy more "stuff" from China, in the magical-thinking belief this churn will somehow lead to sustainable "growth." This is akin to handing a parched alcoholic a fresh bottle of whiskey to wean him of his addiction.
That model isn't going to get us from here to there.
Since Gordon T. Long and I were recently discussing Lessons From Japan (video), let's ask: does Japan have what it takes to get from here (fiscal-cliff stagnation) to there (sustainable growth)?
I recently presented a multi-part look at Japan's economy and society:
Narcissism, Consumerism and the End of Growth
Japan and the Exhaustion of Consumerism
The Hidden Cost of the "New Economy": New-Type Depression
The Future of America Is Japan: Stagnation
The Future of America Is Japan: Runaway Deficits, Runaway Debts
The short answer is no, Japan does not have what it takes to exit stagnation. After 20+ years of extend-and-pretend Keynesian Cargo-Cult "stimulus" borrowing and QE, Japan has managed to construct:
1. Bridges to nowhere (make-work projects for the powerful construction lobby)
2. An unprecedented fiscal cliff (interest on the debt and Social Security are 114% of tax revenues–oh yeah, that's sustainable)
3. A demographic cliff as having children is increasingly burdensome and the "long hours prove you're worthy" work culture deprive children of their fathers
4. An export-based economy that is now running structural deficits
5. A sclerotic, ruled-by-vested-interests Central State in the grip of intrinsically corrupt political parties
6. A revolving-door prime ministry with a new prime minister every year or so
7. Global corporations that have lost their edge (when was the last time you saw Sony or Toshiba on a hot new electronics device? It's all Apple, Samsung and Google)
8. An undeclared but very real trade war with China (Japanese brand auto sales have plummeted by 20+% in China, global auto makers' last best market) China, Japan and the Senkaku Islands: The Roots of Conflict Go Back to 1274 (September 25, 2012)
9. An immigration policy that restricts the very workforce Japan needs to offset its rapidly aging population.
(During my last visit, we stayed for a few days in an apartment owned by a friend's parents. The Japanese Police knocked on the door to check on the whereabouts and status of the previous residents, workers from Korea. Imagine the police in the U.S. keeping close tabs on every "foreign born worker." Maybe this is a make-work project in low-crime Japan, but it does suggest that immigrants are viewed as "other" their entire time in Japan. How appealing is that to immigrants?)
10. Innovation in Japan has atrophied to specialized techno-gimmicks, materials and biomedical research with unknown commercial applications. Yes, it remains a high-tech research dynamo, but without commercial applications, thousands of patents come to naught.
The Japanese model of incrementally perfecting consumer technologies may well have have reached marginal returns. Japan's reliance on the auto and machine tools industries is also creating a drag, as these once fast-growing sectors have reached the stagnation phase as China's growth matures. The notion that everyone wants a car is also on an S-curve as miles driven and auto ownership decline across the developed world.
There is a subdued but worried debate in Japan over many of these issues. Clearly, what worked in the postwar boom era from 1949 to 1989–forty years–no longer works, and indeed is now counterproductive.
The MITI model of deeply interconnected government agencies, banks and corporations that got Japan from "postwar ruins" to "advanced, wealthy democracy" is not enough to get Japan from here (stagnation and social recession) to there (a rejuvenated society that encourages and enables parenthood and sustainable growth).
---
NEW VIDEO: CHS and Gordon Long discuss Lessons From Japan: "How has Japan avoided an economic death spiral?". (24 minutes, 35 slides)
If Japan's economy has stagnated during a global boom, what will it do during a global bust? 
Japan's economy has stagnated for two decades despite the global economy experiencing one of its greatest economic booms ever. To get a sense of the stagnation, let's look at some charts, courtesy of frequent contributor B.C.
It's difficult to maintain widespread prosperity if the percentage of the populace powering the economy declines. Here is a chart of the employment-population ratio in Japan and the U.S.
B.C.'s comment: The US is 12 years behind the Japanese peak Baby Boomer curve (1947-49 and 1956-61). Beginning next year, the peak demographic drag effects begin in earnest for those peak Boomers turning age 62-65 en masse. With US fertility rate falling below replacement at 1.9, we will not experience a reacceleration of the employment-population ratio.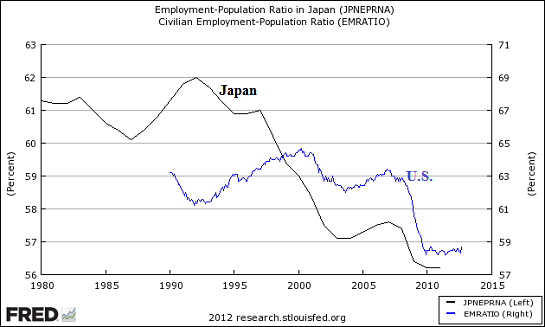 Despite 23 years of unprecedented stimulus and deficit spending, Japan's consumer price index (CPI) is at 1994 levels. Japan's stock market and real estate bubbles peaked between 1989 and 1991. CPI rose smartly in the post-bubble decline and then leveled off, rising during the tech/dot-com bubble of the late 1990s and the global commodity bubble of 2008. But despite these temporary (and modest) spikes, adjusted CPI is back to 1994 levels. So much for inflating away one's debts.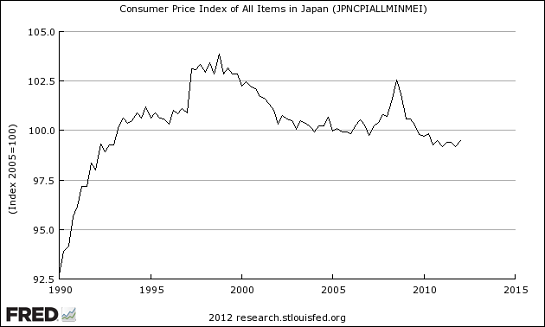 Japan's gross domestic product (GDP) has oscillated around the zero line for 20 years. Japan was in effect bailed out by China's massive stimulus spending after the 2008 global financial meltdown, but now that China's growth and stimulus are both slowing, saviors of Japan's export-dependent GDP are nowhere in sight.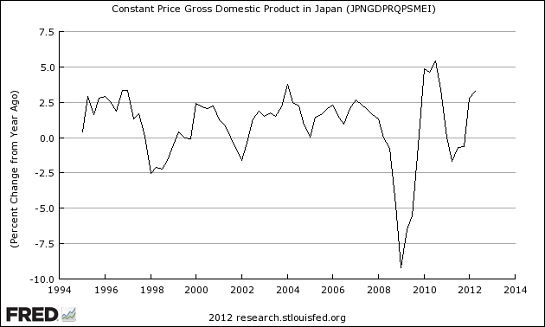 Japan has relied on government deficit spending to prop up its economy and GDP. Deficit spending means borrowing money via the bond market and squandering it on sclerotic fiefdoms, entrenched cartels and bridges to nowhere (the construction industry cartel).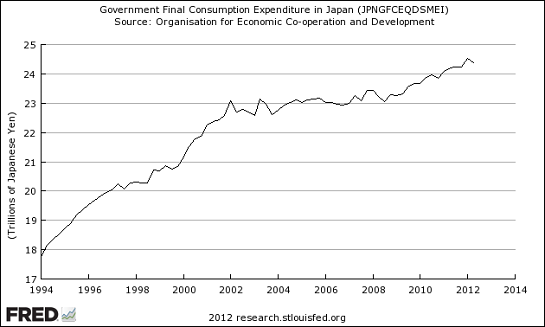 Subtract government spending from GDP and we get a snapshot of the private-sector economy. The private-sector GDP topped in 2007, and has not recovered that peak.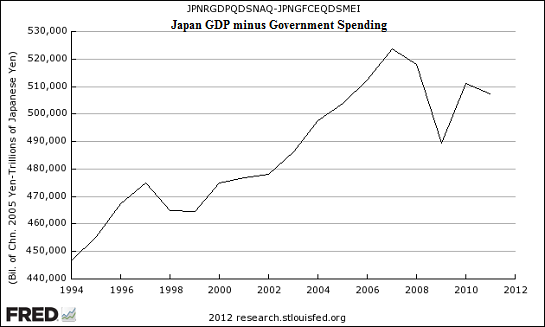 Yesterday we covered Japan's "fiscal cliff," as tax revenues don't even cover interest on the national debt and Social Security. ( The Future of America Is Japan: Runaway Deficits, Runaway Debts)
Japan continues to avoid fiscal or financial crisis, and perhaps it can do so for decades to come. But we should note that Japan has had the incredible, once-in-a-lifetime tailwind of a global boom for the past 23 years. That has enabled Japan, and all the other developed economies, the means to avoid facing their structural and demographic problems.
If Japan's economy has stagnated during a global boom, what will it do during a global bust? How will it fare as demographic forces reduce its workforce while increasing the number of retirees depending on government spending? Can a nation borrow its way to prosperity while its tax base erodes and its Central State expenses skyrocket?
Japan's stable stagnation will continue in a linear fashion–until it doesn't.
Charles Hugh Smith – Of Two Minds
When expectations are raised to impossible heights based on the promise of exponential financialization, the credibility of the Status Quo is doomed.
Data is important, but not all trends can be quantified. Longtime readers know that I value data and often use charts to explain the forces of transition/collapse. But there are profound dynamics that are not easily quantified, instances in which quantification may obscure our understanding.
Credibility and expectations are two such dynamics. Both credibility and expectations are very real forces, despite their status as inner states immune to direct measurement.
Beneath the surface of financial statistics, the real bedrock of any political and financial Status Quo is its credibility in the minds of its subjects. Once the people lose faith in the system, it will collapse under its own weight, a process I described in When Belief in the System Fades (March 12, 2008).
The corollary to this structural need for highly motivated, dedicated people to work the gears is that if their belief in the machine fades, then the machine grinds to a halt.
The loss of credibility in the European Union, China, Japan and the U.S. is now in full swing. Credibility is like a sand castle; every false promise, every half-truth, every simulacra "solution," every secret deal, every surrender to vested interests, every politically expedient but ultimately disastrous "fix" removes a handful of sand from beneath the sand castle.
When enough sand has been removed, the castle collapses under its own weight.
The most interesting characteristic of this hollowing out process is the apparent stability of the Status Quo until the sudden "nobody saw it coming" collapse. In the current era, the Arab Spring is a regional example of this hollowing out of credibility; in the late 1980s, the process was exemplified by the "nobody saw it coming" implosion of the Soviet Empire. In 2007-08, the exposure of phantom wealth tracked a similar pathway, with apparently "solid" institutions imploding "unexpectedly."
Can anyone seriously claim the European Union, the European Central Bank and its alphabet-soup programs still retain a shred of credibility? Every EU/ECB "save" is fictitious, every "fix" expedient, every promise empty, every face-saving summit a living lie.
Ultimately, all the posturing, promises and saves come down to an impossibility: "rescuing" phantom assets purchased with astounding levels of debt by issuing even more astounding levels of debt.
Does anyone truly believe this absurdity is anything more than a transparent fraud designed to extend the life of a failed, corrupt system constructed on fantasies and lies?
Those with assets are fleeing for less fantastic and dangerous climes. The handful of French millionaires who are supposed to magically bail out a failed-state that absorbs 55% of GDP are busy transferring their assets out of France, a mass exodus of capital that is also playing out in China, where those who embraced the slogan "to get rich is glorious" are transferring their wealth, ill-gotten or well-earned, overseas.
So vast is this outflow of wealth that for the first time the outflow of capital from China exceeds the inflow of investment capital. The smart money is exiting, and the last batch of credulous "China story" rubes are dumping their capital down a rathole.
The same process is visible in global stock markets, where the smart money is selling. The loss of credibility in the digital bucket shop known as the U.S. stock market is evidenced by the outflow of some $200 billion over the past few years. To some degree, this has been offset by the influx of foreign capital desperate to escape the black hole of the euro, but the steady erosion of faith in the U.S. stock market is striking: as noted last week, 80% of the trading is either invisible, officially sanctioned manipulation or computers trading.
If the U.S. legal system weren't hopelessly compromised, the U.S. stock markets would be shuttered as corrupted beyond redemption.
Globally, the erosion of petrocapitalism (more on that later this week, via correspondent Ray W.) and the self-destruction sequence of financialization are laying waste to the credibility of politicos' promises. It was so easy to be a politico when financialization (exponential expansion of debt and leverage) raised the global tide, lifting all boats; extravagant promises based on everlasting "growth" could be issued, votes bought and the vested interests of crony-capitalist cartels and public employees lavishly rewarded.
In this environment, expectations were raised to impossible heights.Expectations are the yin to credibility's yang: together they form a unity, as credibility is linked to the fulfillment of expectations. If expectations are raised and then dashed, credibility is eroded and then lost entirely.
Expectations everywhere have been raised to heights so lofty that the air has become thin: all these expectations are like debt-money claims on the real world: the claims can expand to near-infinity, but the real world remains stubbornly limited.
As lofty expectations are unmet, the credibility of the Status Quo inevitably decays and implodes. We are as yet in the early stages of this process. Let's check back in 2014 to see if the sand castle of the Status Quo has collapsed in a heap of wet sand, or if it is merely sagging in the pre-collapse phase.
Charles Hugh Smith – Of Two Minds
Investors are plowing cash into new U.S. Treasuries at a record pace, making economic growth rather than budget austerity a key issue as President Barack Obama andMitt Romney face off in November's presidential election.

Bidders offered $3.16 for each dollar of the $1.075 trillion of notes and bondsauctioned by the Treasury Department this year as yields reached all-time lows, above the previous high of $3.04 in all of 2011, according to data compiled by Bloomberg. The so-called bid-to-cover ratio was 2.26 from 1998 to 2001 when the nation ran budget surpluses.
I love this sort of misdirection.
First, investors are "plowing cash into Treasuries" because they are convinced that they will at least get their money back, and further, they believe that a positive real rate of return can be had.
The latter means deflation will win.  The former means that investors believe they will lose money in anything else.
Now maybe you can construe that as "bullish" on Treasuries, but that's a bit of a stretch.
Actually, it's more than a stretch — it's really bad, especially when a distorted market sends bad signals into the market and people listen to that in making policy decisions.  Japan has bricked themselves inside a building of their own design; if rates go up ever the nation's government will be immediately bankrupted.  We're not far from the same position; run our figures with a 5% average coupon across the curve and you find that we have a $750 billion annual interest cost, or 20% of the federal budget or more than three times what it is today.
That would make interest expense greater than we spent on any of Defense, Social Security or Medicare and Medicaid last year!  Needless to say that won't happen without bankrupting the Federal Government — yet that sort of average coupon was normal just a few years ago.
This sort of market distortion is not good, it's ruinously bad.  And as we have seen repeatedly over in Europe, rates have a habit of going from "heh, this is really nice" to "screw you" in extraordinarily violent moves, often with little or no effective warning.
Discussion (registration required to post)
Very few things illustrate how dramatically America has been deindustrialized than the stunning decline of the U.S. auto industry.  Once upon a time, the United States literally taught the rest of the world how to make cars.  We were the ones that invented the assembly line.  We were the ones that showed the rest of the world what mass production could do for an economy.  For decades, we produced more cars than anyone else and we sold more cars than anyone else.  Detroit was known as "the Motor City" and our manufacturing prowess dominated the planet.  But now all of that has changed.  Japan makes far more vehicles than we do today.  So does Germany.  As you read this, state of the art production facilities are going up all over China.  Meanwhile, the U.S. auto industry continues to rot and thousands upon thousands of good automotive jobs continue to leave our shores.  The rest of the world is making cars better than we are, they are making them cheaper than we are and they really don't care that many of our formerly great manufacturing cities are turning into rotting, stinking hellholes.  The U.S. auto industry was once a symbol of American dominance, but now it is just a symbol of American decline.  If we want to remain a great nation, then we need to start becoming great at making things once again.
The following are 17 facts about the decline of the U.S. auto industry that are almost too crazy to believe….
#1 The average age of an automobile in the United States has gone up more than 50% since 1990 and is now sitting at an all-time record of 10.8 years.  The average length of a marriage in the United States that ends in divorce is only 8 years.
#2 Germany made 5.5 million cars in 2010.  The United States made less than half that (2.7 million).
#3 When you add up salary and benefits, the average auto worker in Germany makes $67.14 an hour.  In the United States, auto workers only make $33.77 an hour in salary and benefits.
#4 Back in 2000, about 17 million new automobiles were sold in the United States.  During 2011, less than 13 million new automobiles were sold in the United States.
#5 Do you remember when the United States was the dominant manufacturer of automobiles and trucks on the globe?  Well, in 2010 the U.S. ran a trade deficit in automobiles, trucks and parts with the rest of the world of $110 billion.
#6 Japan builds more cars than anyone else on the globe.  Japan now manufactures about 5 million more automobiles than the United States does.
#7 In 2010, South Korea exported approximately 12 times as many automobiles to us as we exported to them.
#8 According to the New York Times, a Jeep Grand Cherokee that costs $27,490 in the United States costs about $85,000 in China thanks to new tariffs.
#9 U.S. car companies are spending hundreds of millions of dollars building shiny new automobile factories in China.
#10 In 1970, General Motors had about a 60 percent share of the U.S. automobile market.  Today, that figure is down to about 20 percent.
#11 The combined U.S. market share of the "Big Three" American car companies fell from 70% in 1998 to 53% in 2008.
#12 Detroit was once known as the "Motor City", but in recent decades automobile production has been leaving Detroit at a staggering pace.  One analysis of census figures found that 48.5% of all men living in Detroit from age 20 to age 64 did not have a job during 2008.
#13 Today, only Chrysler still operates an automobile assembly line within Detroit city limits.
#14 Since Alan Mulally became CEO of Ford, the company has reduced its North American workforce by nearly half.
#15 Today, only about 40 percent of Ford's 178,000 workers are employed in North America, and a significant portion of those jobs are in Canada and Mexico.
#16 The average Mexican auto worker brings in less than a tenth of the total compensation that a U.S. auto worker makes.
#17 In the year 2000, the U.S. auto industry employed more than 1.3 million Americans.  Today, the U.S. auto industry employs about 698,000 people.
Sadly, it is not just the auto industry in America that is falling apart.  In fact, almost everywhere you look in our economy (and in our society as a whole) there is decay and decline.
For example, our infrastructure was once the envy of the entire globe.  Today, U.S. infrastructure is ranked 23rd.
Recently, I wrote an article entitled "24 Statistics To Show To Anyone Who Believes That America Has A Bright Economic Future".  In that article, I discussed many of the long-term trends that are systematically destroying this nation.
Just because we have had it so good for so long does not mean that it will always be that way.
As a nation, our wealth is declining.  A decade ago, the United States was ranked number one in average wealth per adult.  By 2010, the United States had fallen to seventh.
We lived off the wealth created by previous generations for a long time, but that was not enough for us.  We always wanted more.  Eventually we started going into massive amounts of debt so that we could keep this bubble of "false prosperity" going.
Today, when you add up all forms of debt in America, it comes to over 50 trillion dollars.
We are a great nation that is in an accelerating state of decline.
We have got to quit living off of the past accomplishments of previous generations.
We have got to quit being so lazy and decadent and spoiled.
There is absolutely no guarantee that America will always be a great nation.  In fact, when great nations fall, it usually happens very quickly.
I'm still proud to be an American, but the decay and the decline that I see all across this country sickens me.
And it should sicken you too.