This is the sort of outrage that should provoke torches, pitchforks and contemplation of worse.
AUSTIN, Texas—On the 13th floor of a sleek downtown office building here, the trading desks are manned overnight. The chief investment officer favors cowboy boots made of elephant skin. And when a bet pays off, even the secretaries can be entitled to bonuses.

The office's occupant isn't a highflying hedge fund but the Teacher Retirement System of Texas, a public pension fund with 1.3 million members including schoolteachers, bus drivers and cafeteria workers across the state.

It is a sign of the times. Numerous pension funds are still struggling to make up investment losses from the financial crisis. Rather than reduce risks in the wake of those declines, many are getting aggressive. They are loading up on private equity and other nontraditional investments that promise high, steady returns in the face of low interest rates and a volatile stock market. 
Oh, they promise high, steady returns eh?
Sounds like Charlie to me.  You know…. Charlie PONZI?
Yes, him.
Now I have no quarrel with a private pension system that has no recourse to the public purse making such a decision, provided that the beneficiaries decided to go down this road and accept the risks from doing so.
But that's not the case here, nor with any other public pension system.  In these cases if the "strategy" winds up with the result that is mathematically inevitable over time (that is, it is not possible to obtain reward without risk, and the more reward you expect the more risk you take) then the taxpayer will be attacked to make up the difference.
The solution to this problem is quite simple – remove the backstop.
That is, go ahead and do what you want, but if you can't pay down the road then the system goes into receivership just like anyone else who makes a bet that doesn't pay off, and the pensioners take it in the ass.
If that's an acceptable trade-off for the pensioners then this sort of arrangement is fine.  That's called the "free market" and is how things are supposed to work.
But there is no such thing as a free lunch, and there is utterly no argument that one can raise for this sort of arrangement where public employees are able to gamble with the taxpayers money – getting paid irrespective of whether their bets win or lose.
Discussion (registration required to post)
If you want to frighten Baby Boomers, just show them the list of statistics in this article.  The United States is headed for a retirement crisis of unprecedented magnitude, and we are woefully unprepared for it.  At this point, more than 10,000 Baby Boomers are reaching the age of 65 every single day, and this will continue to happen for almost the next 20 years.  The number of senior citizens in America is projected to more than double during the first half of this century, and some absolutely enormous financial promises have been made to them.  So will we be able to keep those promises to the hordes of American workers that are rapidly approaching retirement?  Of course not.  State and local governments are facing trillions in unfunded pension liabilities.  Medicare is facing a 38 trillion dollar shortfall over the next 75 years.  The Social Security system is facing a 134 trillion dollar shortfall over the next 75 years.  Meanwhile, nearly half of all American workers have less than $10,000 saved for retirement.  The truth is that I was being incredibly kind when I said earlier that we are "woefully unprepared" for what is coming.  The biggest retirement crisis in history is rapidly approaching, and a lot of the promises that were made to the Baby Boomers are going to get broken.
The following are 35 incredibly shocking statistics that will scare just about any Baby Boomer…
1. Right now, there are somewhere around 40 million senior citizens in the United States.  By 2050 that number is projected to skyrocket to 89 million.
2. According to one recent poll, 25 percent of all Americans in the 46 to 64-year-old age bracket have no retirement savings at all.
3. 26 percent of all Americans in the 46 to 64-year-old age bracket have no personal savings whatsoever.
4. One survey that covered all American workers found that 46 percentof them have less than $10,000 saved for retirement.
5. According to a survey conducted by the Employee Benefit Research Institute, "60 percent of American workers said the total value of their savings and investments is less than $25,000″.
6. A Pew Research survey found that half of all Baby Boomers say that their household financial situations have deteriorated over the past year.
7. 67 percent of all American workers believe that they "are a little or a lot behind schedule on saving for retirement".
8. Today, one out of every six elderly Americans lives below the federal poverty line.
9. More elderly Americans than ever are finding that they must continue working once they reach their retirement years.  Between 1985 and 2010, the percentage of Americans in the 65 to 69-year-old age bracket that were still working increased from 18 percent to 32 percent.
10. Back in 1991, half of all American workers planned to retire before they reached the age of 65.  Today, that number has declined to 23 percent.
11. According to one recent survey, 70 percent of all American workers expect to continue working once they are "retired".
12. According to a poll conducted by AARP, 40 percent of all Baby Boomers plan to work "until they drop".
13. A poll conducted by CESI Debt Solutions found that 56 percent of American retirees still had outstanding debts when they retired.
14. Elderly Americans tend to carry much higher balances on their credit cards than younger Americans do.  The following is from a recent CNBC article…
New research from the AARP also shows that those ages 50 and over are carrying higher balances on their credit cards — $8,278 in 2012 compared to $6,258 for the under-50 population.
15. A study by a law professor at the University of Michigan found that Americans that are 55 years of age or older now account for 20 percentof all bankruptcies in the United States.  Back in 2001, they only accounted for 12 percent of all bankruptcies.
16. Between 1991 and 2007 the number of Americans between the ages of 65 and 74 that filed for bankruptcy rose by a staggering 178 percent.
17. What is causing most of these bankruptcies among the elderly?  The number one cause is medical bills.  According to a report published in The American Journal of Medicine, medical bills are a major factor in more than 60 percent of the personal bankruptcies in the United States.  Of those bankruptcies that were caused by medical bills, approximately 75 percent of them involved individuals that actually did have health insurance.
18. In 1945, there were 42 workers for every retiree receiving Social Security benefits.  Today, that number has fallen to 2.5 workers, and if you eliminate all government workers, that leaves only 1.6 private sector workers for every retiree receiving Social Security benefits.
19. Millions of elderly Americans these days are finding it very difficult to survive on just a Social Security check.  The truth is that most Social Security checks simply are not that large.  The following comes directly from the Social Security Administration website…
The average monthly Social Security benefit for a retired worker was about $1,230 at the beginning of 2012. This amount changes monthly based upon the total amount of all benefits paid and the total number of people receiving benefits.
Could you live on about 300 dollars a week?
20. Social Security benefits are not going to stretch as far in future years.  The following is from an article on the AARP website…
Social Security benefits won't go as far, either. In 2002, benefits replaced 39 percent of the average retirees salary, and that will decline to 28 percent in 2030, when the youngest boomers reach full retirement age, according to the Center for Retirement Research at Boston College.
21. In the United States today, more than 61 million Americansreceive some form of Social Security benefits.  By 2035, that number is projected to soar to a whopping 91 million.
22. Overall, the Social Security system is facing a 134 trillion dollar shortfall over the next 75 years.
23. As I wrote about in a previous article, the number of Americans on Medicare is expected to grow from 50.7 million in 2012 to 73.2 million in 2025.
24. Medicare is facing unfunded liabilities of more than 38 trillion dollars over the next 75 years.  That comes to approximately $328,404for each and every household in the United States.
25. Today, only 10 percent of private companies in the U.S. provide guaranteed lifelong pensions for their employees.
26. Verizon's pension plan is underfunded by 3.4 billion dollars.
27. In California, the Orange County Employees Retirement System is estimated to have a 10 billion dollar unfunded pension liability.
28. The state of Illinois has accumulated unfunded pension liabilities of more than 77 billion dollars.
29. Pension consultant Girard Miller told California's Little Hoover Commission that state and local government bodies in the state of California have 325 billion dollars in combined unfunded pension liabilities.
30. According to Northwestern University Professor John Rauh, the latest estimate of the total amount of unfunded pension and healthcare obligations for retirees that state and local governments across the United States have accumulated is 4.4 trillion dollars.
31. In 2010, 28 percent of all American workers with a 401(k) had taken money out of it at some point.
32. Back in 2004, American workers were taking about 30 billion dollars in early withdrawals out of their 401(k) accounts every single year. Right now, American workers are pulling about 70 billion dollars in early withdrawals out of their 401(k) accounts every single year.
33. Today, 49 percent of all American workers are not covered by an employment-based pension plan at all.
34. According to a recent survey conducted by Americans for Secure Retirement, 88 percent of all Americans are worried about "maintaining a comfortable standard of living in retirement".
35. A study conducted by Boston College's Center for Retirement Research found that American workers are $6.6 trillion short of what they need to retire comfortably.
So what is the solution?  Well, one influential organization of business executives says that the solution is to make Americans wait longer for retirement.  The following is from a recent CBS News article…
An influential group of business CEOs is pushing a plan to gradually increase the full retirement age to 70 for both Social Security and Medicare and to partially privatize the health insurance program for older Americans.

The Business Roundtable's plan would protect those 55 and older from cuts but younger workers would face significant changes. The plan unveiled Wednesday would result in smaller annual benefit increases for all Social Security recipients. Initial benefits for wealthy retirees would also be smaller.
But considering the fact that there aren't nearly enough jobs for all Americans already, perhaps that is not such a great idea.  If we expect Americans to work longer, then we are going to need our economy to start producing a lot more good jobs than it is producing right now.
Of course the status quo is not going to work either.  There is no way that we are going to be able to meet the financial obligations that are coming due.
The federal government, our state governments and our local governments are already drowning in debt and we are already spending far more money than we bring in each year.  How in the world are we going to make ends meet as our obligations to retirees absolutely skyrocket in the years ahead?
That is something to think about.
So what do you think?  Do you believe that there is a solution to our retirement crisis?  Do you think that we can actually keep all of the promises that we have made to the Baby Boomers?  Please feel free to post a comment with your thoughts below…
Federal Reserve punishes savers by subsidizing big banking bailouts – Two largest U.S. banks offer a paltry 0.05 annual percentage rate while increasing service fee charges and upping loan interest rates. S&P 500 not cheap.
The challenge most Americans are facing is first, trying to save money.  If that hurdle is accomplished the next tougher question becomes where the money should be placed.  The Federal Reserve by default with a negative interest rate policy has punished savers at the expense of massive debtors.  The Fed for many decades since the 1960s had held the Fed funds rate over 5 percent.  What this also meant was that Americans if they decided to step aside from the risky stock market would at least yield a decent return in U.S. Treasuries.  Those days seem to be long gone with the funds rate near zero.  Banks are using their easy access to the Fed to borrow cheap and to lend at much higher rates.  They are also borrowing cheap and investing in global stock markets.  The two biggest banks in the U.S. give depositors merely a place in the bank's digital vault and pay almost no interest.
Savings accounts the new virtual mattress
Bank of America, the largest U.S. bank in assets offers the below interest rate for depositors: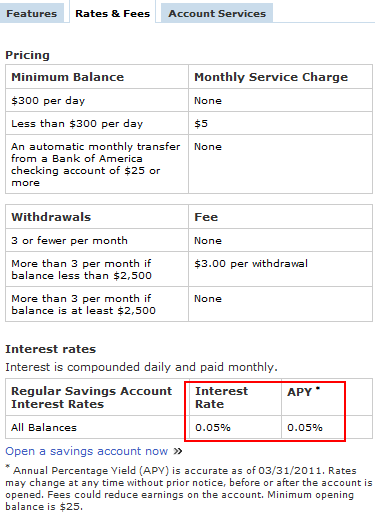 The annual percentage yield is 0.05%.  In other words, if you had $10,000 saved in Bank of America in this savings account you would end up with $50 after one year.  At the same time the average credit card rate is over 14 percent and mortgage rates are still above 5 percent.  This margin is enormous and it is little wonder why banks are doing so well while many Americans are struggling financially.  Bank of America isn't the only one offering this low rate: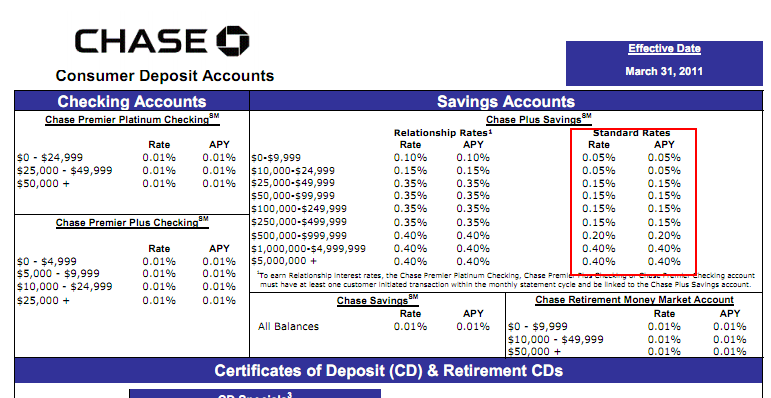 JP Morgan Chase offers the same rates.  After taking over Washington Mutual with free checking they are now charging customers with less than $5,000 or other caveats a $10 or higher monthly service fee.  There goes that $50 assuming you even have $10,000 to begin with.  We already know that 1 out of 3 Americans don't even have a penny to their name saved.  What use is it charging these monthly fees especially when these are the banks that were bailed out to help protect consumers?  The bailouts appear more and more a method for these banks to pickpocket what is left in the wallets of Americans leaving only lint and a penny if you are lucky.
The Federal Reserve is content moving this way because it forces prudent savers into a precarious situation.  Either you are forced to gamble in the overpriced and casino like stock market or suffer terrible rates that will dissolve after inflation is induced.  Even the dubious headline inflation rates will tear apart that 0.05 percent savings rate so you are losing money by having it sit there.  The stock market rally is largely on bailout funds and speculation.  Take a look at the current P/E ratio: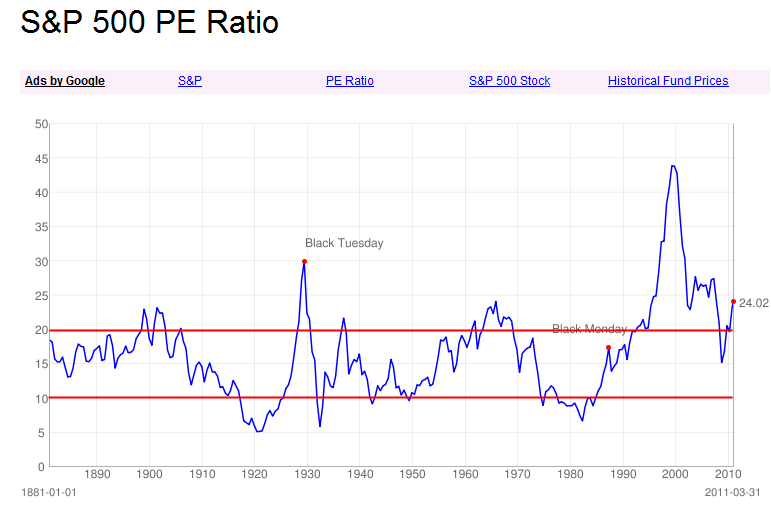 Part of this is orchestrated.  The Federal Reserve is doing everything within its power to get people to spend or speculate in the stock market and hopefully over time create enough inflation to devalue our current debts.  This is why mortgage lending has gotten tougher (aside from government backed loans), getting a credit card is now for credit worthy customers, and getting a small business loan is much more stringent.  The purpose is to work through the current banking led fiasco by pushing on the debt to working and middle class Americans through lower savings rate and a push for higher inflation.  The gamble that most have to take is whether they want to compete with high frequency traders and Wall Street investment banks that have little vested interested in long-term company sustainability.  They can be in and out.  Buy and hold in this current model is tantamount to playing craps at a casino.  This is why last May the stock market fell 1,000 points in a matter of minutes for no apparent reason (we still have no clear answer).  Someone robs a bank for $50,000 and it is front page news but somehow the stock market loses over $1 trillion in wealth in a minute and it is buried in the press?
The challenge for Americans trying to save money with a per capita income of $25,000 after daily expenses is a challenge.  Many younger workers are facing a prospect of a dwindling Social Security future so what will be left for retirement?  The days of sustained 10 or 15 percent stock market gains are largely gone thanks to the technology bubble and real estate bubble.  Those gains were simply unsustainable and even Bernard Madoff struggled to get those returns after a certain point and he wasn't exactly doing things above board.
What people forget is that there is nothing Federal about the Federal Reserve.  It is a quasi-governmental agency largely designed to protect the big banking sector.  The American people cannot audit the Fed in a live meaningful fashion yet this institution has the ability to conduct massive trillion dollar bailouts at the behest of the banks.  If you really think about it, the Fed has done its job since their hidden mission is to protect the giant banking interests.  In that they have succeeded but the cost will be shouldered by the American public.
People think that the bailouts have somehow concluded.  This is not the case.  There are close to $6 trillion in random programs that the Fed and U.S. Treasury are still involved in but we have no way of knowing exactly what is in these programs because there is no ongoing audit: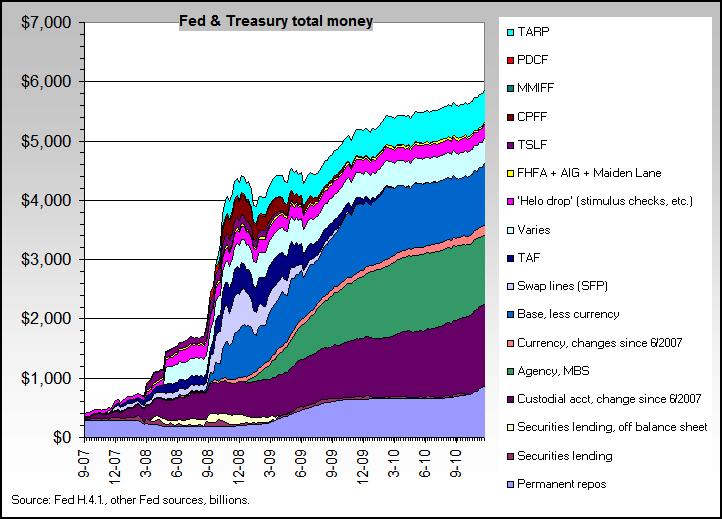 As your purchasing power falls in the next few years just remember that is your little way of contributing to the big bank bailouts.
Let's start with the last first….
That public trust is sacred, and it is the very foundation of the long-term success of your industry.

If bankers and regulators are to uphold that trust, we must demonstrate the ability to work together and engage in long-term thinking that will protect consumers, preserve financial stability, and lay the foundation for a stronger U.S. economy in the years ahead.

Sheila seems to think that there's any sort of trust to regain?  Shirley you jest – or is that Sheila you jest?
Back up the page a bit we find…..
Instead, the biggest long-term risk to the success of the banking industry would be its failure to support the reforms needed to ensure long-term stability in our financial markets and our economy.

The American people have suffered enormous economic losses as a result of the financial crisis.
The American people suffered enormous economic losses as a result of fraud which in turn resulted in the financial crisis.  Yet the people who engaged in that fraud, from top to bottom, have not paid for it.  They have not been indicted, prosecuted or jailed.  Not only have they not suffered criminally, they weren't forced to give back the money they stole either.
In April 2010, a Pew Research poll found that just 22 percent of respondents rated banks and other financial institutions as having "a positive effect on the way things are going in this country."
I suspect if the Pew Research group included a response "hang them all from lamp-posts" that would have gotten the other 78% of the responses.  Of course Pew wouldn't include something that would allow an honest expression of the depth of hatred that many have for the people in this industry. 
Then again, can you blame the public for that hatred?  It's one thing to lose your home and everything you worked for as a result of raw speculation that you knew was dangerous, got involved in anyway, and lost the bet on.  That happens all the time, and most people deal with it.  It's part of the risk:reward paradigm.
But it's an entirely different matter when you're told repeatedly that you can afford this house, you can afford to take on this credit, we're the nice guys in the expensive $5,000 pinstripe suits and we've run our computer models and our simulations and this product is both safe and suitable for you.
Of course all of these representations turned out to be a pack of lies.
When we issued proposed guidance on non-traditional mortgages, industry comments found the guidance too proscriptive, saying that it "overstate[d] the risk of these mortgage products," and that it would stifle innovation and restrict access to credit. Later, when we proposed to extend these guidelines to hybrid adjustable-rate mortgages, which at that time made up about 85 percent of all subprime loans, we received a letter co-signed by nine industry trade associations expressing "strong concerns" and saying that "imposing new underwriting requirements risks denying many borrowers the opportunity for homeownership or needed credit options."

For our part, I think it is clear in hindsight that while our guidance was a step in the right direction, in the end it was too little, too late.
Fraud is fraud Sheila.  Lending people you know they can't pay back and then playing "hot potato" with the paper, lying to the buyer of the paper so he's induced to "invest" in something you have every reason to know is going to explode in his face, isn't "too little, too late."  It's a scam.
At this point we're not speculating any more.  We have sworn testimony that this happened.  That major financial institutions knew they were selling crap to investors – as much as 80% of their production in 2007.  That's in the record in the form of sworn testimony at this point in time.
Oh yes, the non-bank issuers were worse.  But if the regulated banks had 80% of their production represented by fraudulent and bogus paper, does that not mean that the non-bank lenders were probably peddling paper that 100% garbage?  This, of course, leads one to ask – does it really matter whether the so-called box of chocolates you're peddling is in fact 80% or 100% dog turds? 
I think not.
Accidents happen.  Speculation is part of all markets.  But when you have sworn testimony in the record that knowingly bad paper was being peddled and it was the vast majority of all the loans being made at the time, that's not speculation nor is it an accident.
Nether the FDIC or other regulators in Washington have given a damn about this, you've done nothing to stop it, Congress has done nothing to stop it, and nobody has been punished for doing it.  Yet we now know that the only logical explanation in 2007 which I and others put forward – that these loans were in fact both fraudulently issued and sold, was factually true because at least some of the people who were doing it have admitted to the facts under oath.
The balance sheets of households, depository institutions, state and local governments and the federal government all suffered serious damage as a result of the recession. All of these sectors are taking steps to repair that damage, but in some cases it will be a long, painful process.
Now that's a lie.  Very little contraction in systemic debt has taken place, and what has taken place has all been replaced by the federal government.  Shifting liabilities from one hand to another does not change the amount of the liabilities.  It is simply an attempt to hide them.  That's a scam too.
But then again, that's all we have these days in America when it comes to Washington and our so-called "financial markets" and "financial firms", isn't it Sheila? 
Whether you like it or not you're a (major) part of the problem – both past and present.
The 27-page fluff-piece is now out where we can see it….
Let's be blunt: There's no "there" there.
The entire document is a rehash of what servicers had a legal mandate to do right up front.  Accurately apply payments.  Respond to inquiries.  Operate in good faith.  Use a NPV test for HAMP (was in the HAMP program originally.)  Document the assignment chain before foreclosing.
There's exactly one substantive change, in that HAMP did not prohibit "dual-track" (that is, foreclosure while attempting modification.)
Essentially every other item in this 27 pages is something that Servicers already had a legal duty to do, either as a fiduciary to the investor or just through the ordinary covenant of operating in good faith (You know, the original standards that all businesses are held to that aren't actually racketeering outfits and gangsters?  Yes, that.)
There's no prosecution for all the bad affidavits, despite them being apparent acts of perjury.
Some of this is truly laughable:
You're kidding, right?  This is a NEW requirement?
Thou shalt not perjure!  Really!  We mean it this time!
Here's another one:
Servicers have this duty NOW – it is to the investors!  They're required to act in the best interest of the investor when choosing how to handle a defaulted loan.  They're agents for the certificate holders and are not permitted to screw people – they're acting on the behest of, and for the benefit of, the Trust (and therefore the certificateholders!)
There's another one.  HAMP ALREADY REQUIRES THIS!  You make the payments, you're required to be converted.  Of course the banks are not converting in a whole lot of cases.  Why not?  Well they get to lard on more fees.  But that too is against the rules – so why do we need to restate what's already required?
Here's a good one:
Balloons eh?  Remember how I've been talking about Balloon modifications in the context of HAMP?  Well, guess what – they're still there.  These are the very loans that blew up in the 1930s and cost huge numbers of Americans their homes.  Balloon notes are a complete and total screw-job.  The entire purpose of a modification that has a balloon associated with it is to allow the BANK to claim that the loan is "performing" even though it is outrageously underwater or otherwise could not be paid, right up until the inevitable default at the end when the entire loss will wind up occurring.
The only way these notes will not detonate is if we have another housing bubble.  That's not going to happen.  Treasury's willingness to permit these in HAMP in the first place as part of the waterfall process and the allowance by the 50 State AGs to permit these to be included in any form of so-called "mitigation" is an absolute financial rape job served upon the homeowner.  These things need to be outlawed as a "mitigation tool" as they are nothing of the sort but are simply a way for banks to claim that they have "good paper" when in fact they do not.  They prevent mobility to follow job availability and will, in the end, utterly destroy any homeowner dumb enough to accept one of these things, no matter how disguised.
This is also a joke:
What's the ratio?  Notice how it's missing?  28/36 was the standard for 50 years.  It's the right standard.  That's a 36% back end ratio and it results in sustainable payments.  Exceed it materially and things go to hell – fast.  "Consider" tells me nothing.
You have to love things like this:
They already do.  When are we going to see enforcement?  The implied covenant of good faith exists in all transactions. 
Who wrote this pablum?
AGAIN: Who WROTE this crap?  Unfair or deceptive practices are always illegal.
And then, finally….
Puff-piece bilge.  All of the practices "prohibited" in this document are already a breach of the implied covenant of good faith and fair dealing and subject to prosecution on that basis.
This is what we get from the so-called "50 States" AG investigation? 
THIS?
These Attorneys General are not here to help homeowners.  They're blowing the servicers under the table and lying to the citizens in their states.  Virtually all of the "shall nots" in this document are already against the law and many of them are already subject to criminal penalty, such as perjury.
If you sit for this, America, you really are stupid.